St John's student stars in hit musical
St John's undergraduate Jonah Hauer-King is starring in the rock musical Rent at the ADC.

Jonah Hauer-King, a current undergraduate at St John's College, is playing one of the lead roles in the highly-acclaimed show Rent, which is currently being staged at the ADC Theatre.
First year Theology and Religious Studies undergraduate Jonah plays the role of Roger, a once-successful but struggling rock musician who is HIV-positive.
The award-winning musical Rent is a modern-day version of Puccini's La Bohème, and tells the story of a group of artists in New York City who are trying to make it in the world amidst poverty and under the shadow of AIDS/HIV, with the overriding theme 'no day but today'. The show was first performed in 1994, but writer and composer Jonathan Larson was never able to witness the show's success as he suddenly died the night before the premiere. Rent became the tenth longest-running show on Broadway.

This Lent Term production by the Cambridge University Amateur Dramatic Club, directed by Gabbie Bird, runs for 10 nights – Wednesday 11 to Saturday 21 March – making it one of the longest running University productions of the year. Rehearsals took seven weeks – around twice as long as other CUADC shows – and this is mainly due to the fact that every word of the show is sung.
Although he has appeared in several plays since coming to study at St John's, such as Equus and After Miss Julie, Jonah had never previously performed in a musical. "I'd never really considered myself a musical theatre person" Jonah said. "I'd never seen Rent before, but my mum and sister were obsessed with the show, so I had heard a lot about it and knew a couple of the songs. It's fun – demanding, but a lot of fun."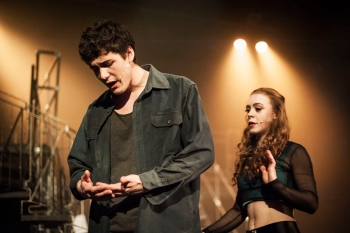 Rent demands a lot from the voices of the cast members who have to ensure their vocal chords stay in good working order for the entire run; they "guzzle honey" and stay hydrated by cutting back on caffeine and alcohol. Jonah has some powerful solos to perform such as the poignant One Song Glory and makes sure he keeps his voice in trim. "Although I've sung in a band, it was nothing like this, so I'm learning how to take care of my voice. I'm finding that drinking honey and lemon and steam inhalation works quite well!"
The show has enjoyed several standing ovations during its run. "There's just a good dynamic with the cast, which shows," Jonah said. "I think it was cast really well, with elements of each person present in the character they play."
Jonah is interested in pursuing an acting career when he finishes his studies and would like to continue singing. Next term he will be singing with Cambridge University Pop Orchestra (CUPO) at Disney in Trinity 3: Be Our Guest  at Trinity College Chapel on 2 May.
Rent is on at the ADC until Saturday 21 March, with performances starting at 7.45pm and a Saturday matinee performance at 2.30pm. Visit the ADC website for further information and to book tickets.
Photo credits: Johannes Hjorth