St John's rower Theo gets second chance at making Boat Race history
"You always want to aim as high as possible but, going into this year, I never imagined that I would end up being selected for the Blue Boat"
Theo Weinberger will be rowing for the Light Blues in the historic Oxford and Cambridge University Boat Race on Easter Sunday after missing out in 2020 due to the pandemic. He told Karen Clare about making his comeback, training in lockdown and why this year's Boat Race will be extra special.
St John's College rower Theo Weinberger had his hopes dashed of competing in the world famous Oxford and Cambridge University Boat Race last year when Covid reared its ugly head.
Now, a year later, the postgraduate student's dream of rowing in the 166th men's race has become a reality after he was named a member of Cambridge's Blue Boat crew at The Gemini Boat Race on Easter Sunday, 4 April.
Theo was in the fourth and final year of his undergraduate degree in Natural Sciences when he was picked for the 2020 Cambridge men's reserve boat, Goldie. The reserves normally compete before the main Blues crews on race day but, on 16 March 2020 – two weeks before the Boat Race – the historic event was cancelled due to the pandemic.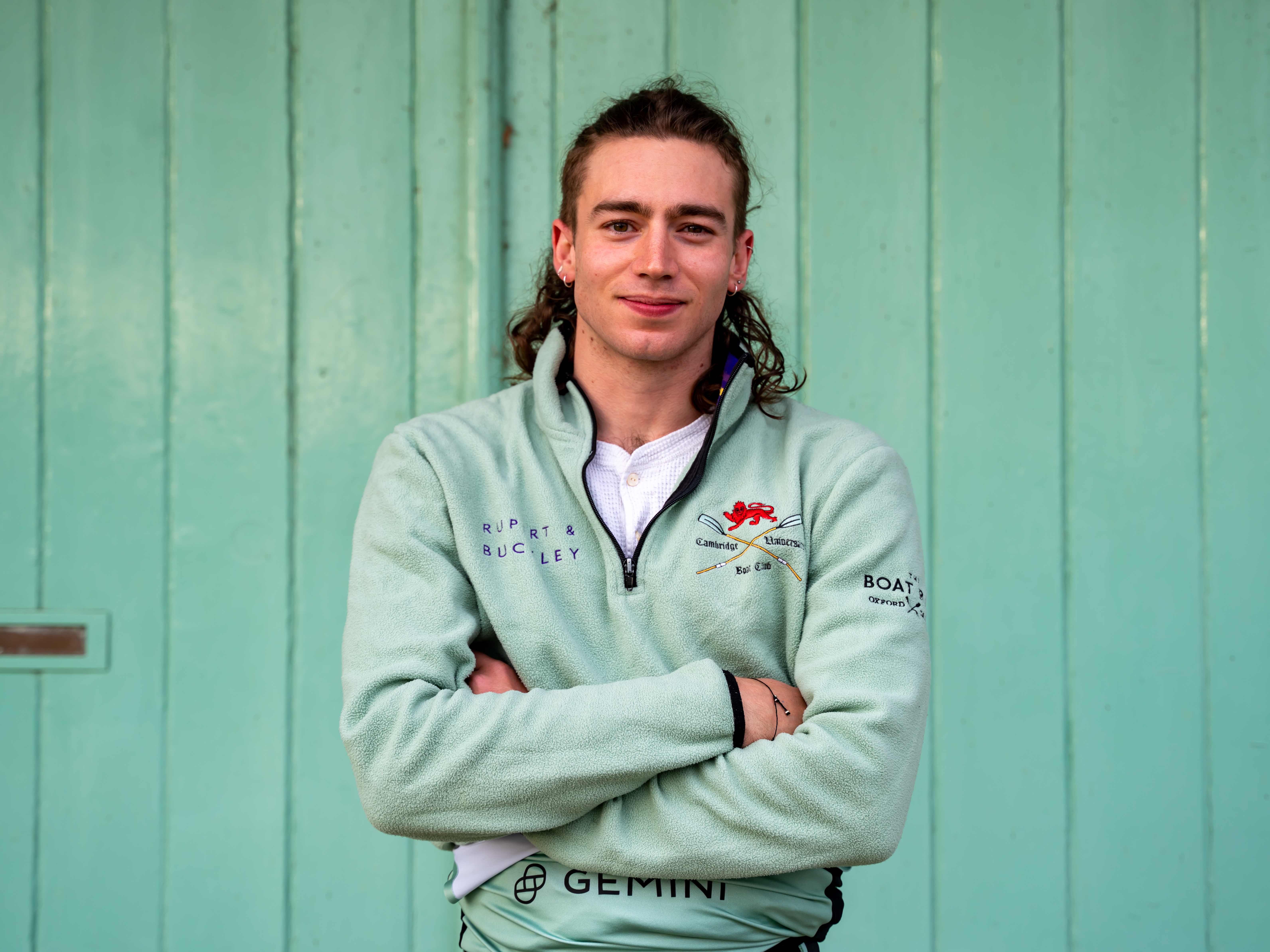 The 2021 Light Blue men's squad includes two returners from the 2020 Blue Boat: U23 world champion and Cambridge President Callum Sullivan, and cox Charlie Marcus, and the disappointment of last year makes Theo's progression to the Blue Boat an even sweeter success. He said: "You always want to aim as high as possible but, going into this year, I never, never imagined that I would end up being selected for the Blue Boat. I am ecstatic about that, absolutely thrilled.
"I'm really excited to be to be able to race this year, having had that opportunity taken away last year. It is a bit of a cliché, but let's make things right for the guys who missed out on their opportunity to race in 2020."
The 22-year-old, who is studying for an MPhil in Scientific Computing, will be in the bow seat – at the opposite end to the cox – when the Light Blues race against Oxford, the Dark Blues. Due to Covid-19 restrictions, the event has moved to Ely, which last hosted a Boat Race in 1944. The 2021 Boat Race will start where the 1944 race finished.
Theo said: "There are some nice parallels with the past, with the wartime Boat Race being held in Ely. It's not the norm but it's a unique opportunity to compete and, in a weird way, it makes the Boat Race more special."
A rower since the age of 13, Theo continued the sport at St John's, rowing for the Lady Margaret Boat Club (LMBC) and Cambridge University Lightweights in his first year. He broke his leg after slipping on an icy pavement in Michaelmas Term, but he returned to rowing in his second year. As an ex-lightweight rower, he said he is 'a typical bow man'. "I'm a reasonable amount shorter and quite a lot lighter than a lot of the other guys in the boat –  I'm actually 10 kilos lighter than the next heaviest – and so the bow is typically more for technical guys who try to set the boat up and give the best platform for the bigger guys with a bit more horsepower to really push and shift the boat along," said Theo. "Of course, I will have to be putting down as much power as I can as well, fundamentally everyone is working as hard as possible to get the boat going as fast as possible."
The student athletes have been training since September and, during the lockdowns, this has meant training on land. British Rowing gave permission for the women's and men's Blue Boat squads to return to the water on 8 March in preparation for the Boat Race under strict Covid guidelines for elite sport, agreed with the UK Government.
Normally in January, the squad would attend a rowing training camp at Banyoles, which was used in the 1992 Barcelona Olympic Games. Instead, Theo returned to Cambridge from his family home in Henley-on-Thames and has been training on a rowing machine in the house he shares with three other members of the squad.
"It's been great for motivation to be in the same household training in a bubble with these guys. Having had that unity and cohesion really helps now some of us are back in the boat as well," said Theo.
Back on the water, the squad has been training two sessions a day, clocking up between 20km and 30km daily, and typically burning around 4,000 to 5,000 calories. Theo doesn't have a specific dietary regime. "It's mostly eating a lot and eating at the right times, and making sure we get the right amounts of each nutrient group… I do spend quite a lot of time eating!"
"There's no better motivation to work hard when you're in a world of pain halfway through a race than doing it for your friends"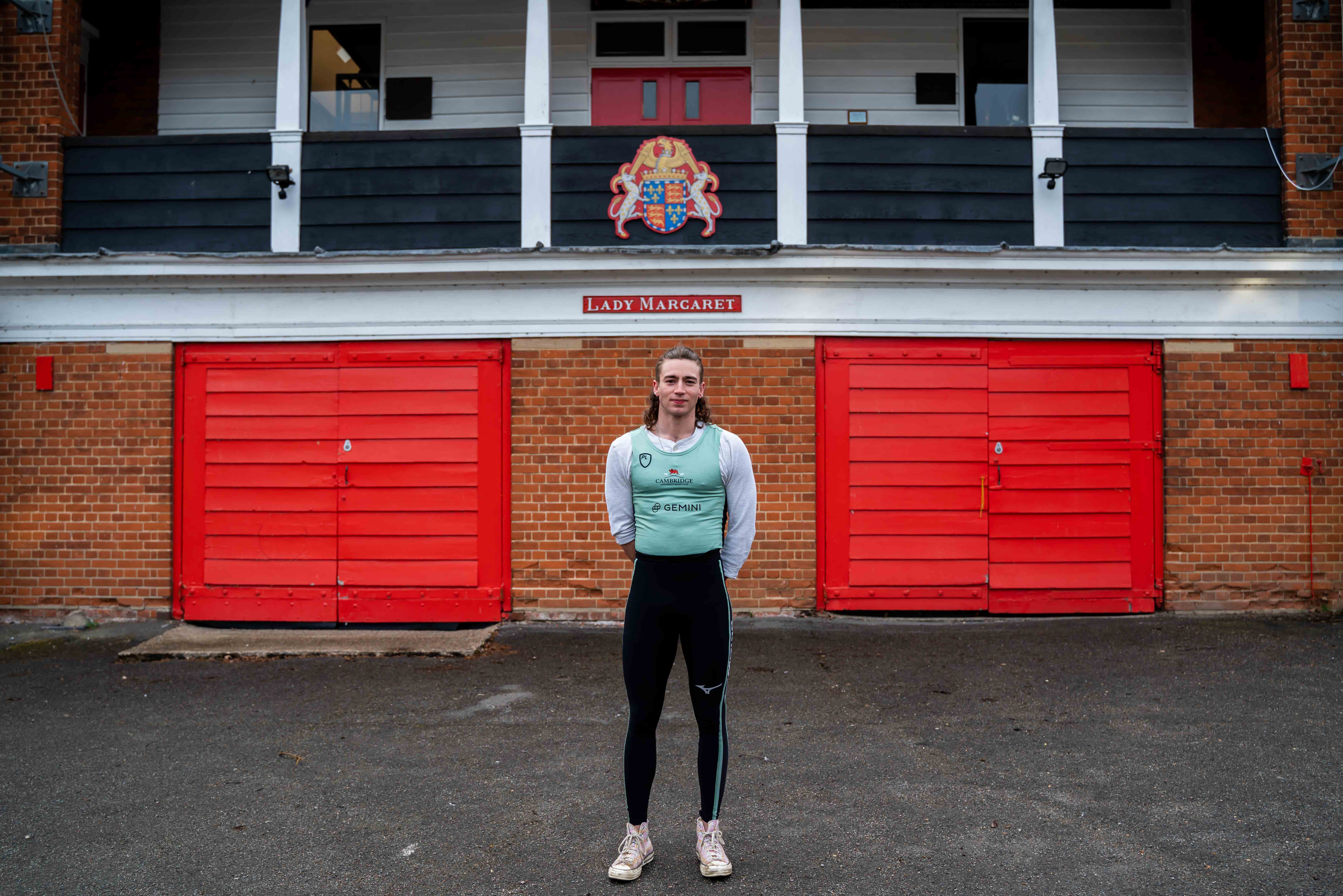 Last Saturday 27 March, the squad relocated to Ely, home to Cambridge University Boat Club, to train. The move has focused bodies and minds. "It's been a really intense three or so weeks but everyone's excited and keen to race. Having moved away from Cambridge, you realise this is real, it's all happening. It's very important to have the right mental attitude as well as the physiology and training."
Without the usual rowing schedule, this year's Boat Race is more of an unknown. "It is weird this year because usually you'd have a lot of external fixtures in the season leading up to the Boat Race where you'd be able to get a feeling as to how good Oxford are. This year there is no benchmark for that but, considering the circumstances, that's quite a good thing because I really think that in order to make the fastest crew it's pretty ideal to be very internally focused rather than starting to worry about Oxford because there's nothing you can do to change their speed," said Theo. "Not having that concern has been really good for just getting the crew to gel and getting the most out of us."
Due to Covid restrictions, the Boat Race will be held without spectators. Theo said: "I guess it is the dream to be racing on the Thames with thousands of people turning up to cheer you on, and I'm sure it's an absolutely amazing experience. At the same time I think everyone's aware that it's not possible this year and the most important thing is firstly to have a race but then also to make the race as safe as possible. It's the most sensible way to do it. I'm just glad that I'm getting the opportunity to race having missed out last year."
The men's Boat Race is one of the world's oldest and most famous amateur sporting events. It first took place in 1829 after being set up by St John's College student Charles Merivale and his old Harrow School chum at Oxford, Charles Wordsworth – nephew of poet William Wordsworth, another St John's alumnus. The challenge took place on 10 June 1829 at Henley-on-Thames. Merivale went on to become a Fellow of St John's and was Dean of Ely Cathedral from 1869 until his death in 1893. St John's LMBC was founded in 1825 and was the first College boat club in Cambridge.
Cambridge are the defending champions in the men's and women's races, which will take place on the River Great Ouse between Queen Adelaide and Littleport, near Ely. Cambridge lead the men's results tally by 84 to 80, with one dead heat recorded in 1877. In the 75th women's race, Cambridge are ahead with 44 wins against Oxford's 30.
The women's race takes place at 3.50pm, followed by the men's at 4.50pm. There will be no access to the public but supporters can watch the Boat Race coverage live on BBC One from 3pm-5.30pm.
The Reserve Races will be in Ely in late April. The event will see third-year St John's undergraduates Gemma King, who is studying Natural Sciences, Biochemistry, and Jo Matthews, who is doing her degree in Medical Science, racing in Blondie, the women's reserve boat. Fellow St John's undergraduate Tassilo Bulfon, a third-year Classics student, is in the running for Goldie.
The last St John's student to be in the Blue Boat at the Boat Race was Charlie Fisher, who was in the winning Cambridge crew in 2018.
After this most unusual Boat Race, Theo plans to take a year off rowing while he starts his PhD in Physics at St John's and Cavendish Laboratory. He fancies swapping oars for bicycle handlebars and competing against his road racing cyclist brother Harvey, who will be in his final year at the University of Oxford.
His love of rowing, however, will remain. "There's a real sense of friendship and camaraderie. In a usual season you'd be training with the squad upwards of four or five hours a day, as a result, you end up with friendships that I haven't seen or experienced elsewhere, and that's one of the things I really love about it.
"The same is true about the guys I'm working with now. They're really, really good friends, which is incredibly important, because there's no better motivation to work hard when you're in a world of pain halfway through a race than doing it for your friends."
Watch a British Pathé news clip below of the 1944 Oxford and Cambridge Boat Race in Ely.
Published: 31/3/21
Updates, April 2021: Cambridge win the 166th Men's Gemini Boat Race and the 75th Women's Boat Race 
The Light Blues win the Men's and Women's Reserve Races