Johnian brews UK's first Trappist beer
"We sustained the hardship of tasting a number of different beers, to find a style we liked!"
The first Trappist ale from the UK has been brewed by monks in a Leicestershire abbey – and the abbot is a Johnian.

Tynt Meadow ale – named after the meadow where Mount Saint Bernard Abbey was founded in 1835 – is the first English Trappist ale in the world. The Abbey, located near Coalville, Leicestershire, is England's only monastery of Cistercian (Trappist) monks, and it is now officially recognised as the world's 12th Trappist brewery. Trappist ales are considered to be some of the finest in the world, with each monastery brewing its own unique beer.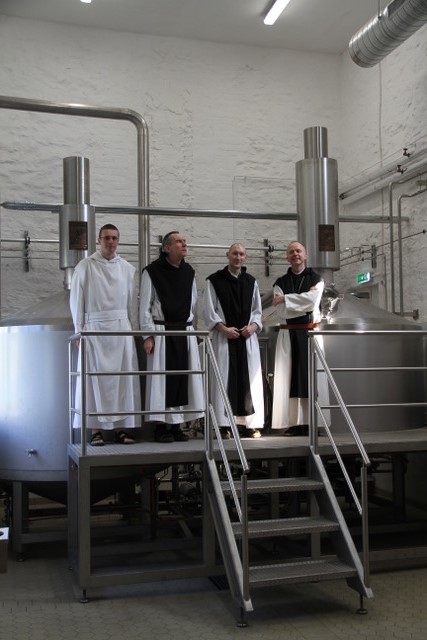 In the brewery, with Brother Robert, Father Joseph, Father Michael and Father Erik. Credit: Bier! Magazine
Father Erik Varden, Abbot of Mount Saint Bernard Abbey, did his PhD at St Johns and was a Fellow in Historical Theology from 2000 to 2002. He subsequently joined the Abbey as a monk and was elected Abbot in 2015. His daily tasks nowadays include looking after the pastoral care of a community of 26 monks from ten countries, with an age range from 29 to 92, as well as being in charge of teaching and running the charitable trust.
Mount Saint Bernard Abbey used to mainly operate as a dairy farm, but in 2013 it was becoming clear that this line of work was no longer a viable option so the monks started to consider alternatives. "Brewing seemed a distinct possibility," Father Erik said. "It is something monks have always done. We visited most of the Trappist brewing monasteries in Holland and Belgium to learn from their experience, and eventually decided to go ahead with the project."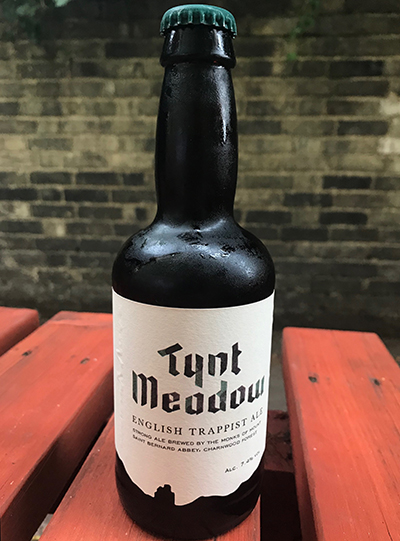 Tynt Meadow ale. Credit: Louise Hanzlik
Beer has been brewed in Europe by monks since the 9th century, and there is evidence that monks used to brew at Mount Saint Bernard Abbey in the 19th century, so they were keen to revive the tradition. Most Trappist breweries are in Belgium, and only beers brewed within the walls of Trappist monasteries and accredited by the International Trappist Association can be recognised as Trappist ales.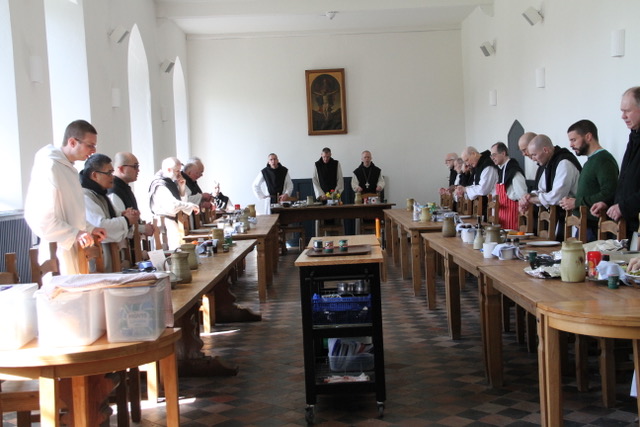 The community at Mount Saint Bernard Abbey. Credit: Bier! Magazine
When the farm closed the monks started performing experimental brews on a small 20-litre plant to learn the craft and understand the procedures with the help of an experienced brewmaster to guide them and to design a programme of training. "We also sustained the hardship of tasting a number of different beers, to find a style we liked!" Father Erik said.

From the outset, the plan was not to brew an imitation of a Belgian beer, but to develop a concept continuous with the British brewing tradition – English barley, hops, and an English strain of yeast are used to brew their ale. "What we have designed belongs within the idiom of a traditional strong British ale, but with a hint of sweetness and fruitiness characteristic of the continental Trappist tradition."
 
Tynt Meadow English Trappist Ale, 7.4% ABV, was released in June, after a five year project. In the long term, the monks plan to brew for one day a week and set another day aside for bottling. All the work in the brewery is done by monks, with Father Michael as the monastery's main brewer, and around eight monks will be directly involved in the brewing, bottling and packaging.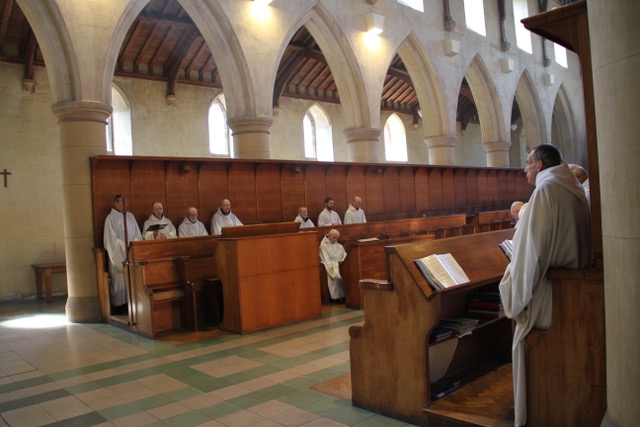 Time for prayer. Credit: Bier! Magazine
Although the monks also produce pottery, honey, greetings cards, rosaries and candles – all for sale in the Abbey's gift shop – brewing is now the Abbey's main activity, with money raised going towards the upkeep of the monastery and towards their charitable commitments. "Initial demand for the beer has been high and enthusiastic," said Father Erik. "The whole community has been involved in the development of our recipe, and I think we must say we are not displeased with what we have come up with. And it has been a joy for us to see, in the past few weeks, that both beer critics and ordinary consumers seem to like it, too."

Tynt Meadow is on sale in the Abbey gift shop, as well as from Beer Ritz, Beer Hawk, Beers of Europe and other selected retailers.

Read more about Saint Bernard Monastery

Pre-order The Shattering of Loneliness by Erik Varden, published by Bloomsbury in September
Tasting Tynt Meadow
St John's resident beer aficionado, Louise Hanzlik, samples Tynt Meadow – here's what she thought
The bottle is eye-catching due to its simplicity– the label design is plain but attractive with ancient calligraphy, the silhouette of the Leicestershire countryside around the Abbey, and the brewery's logo of a sketch of the lancet windows in the Abbey's church. I particularly like how on the back of the bottle it says to store the beer in a 'cool, dark, quiet place' – very in keeping with the Trappist way of life.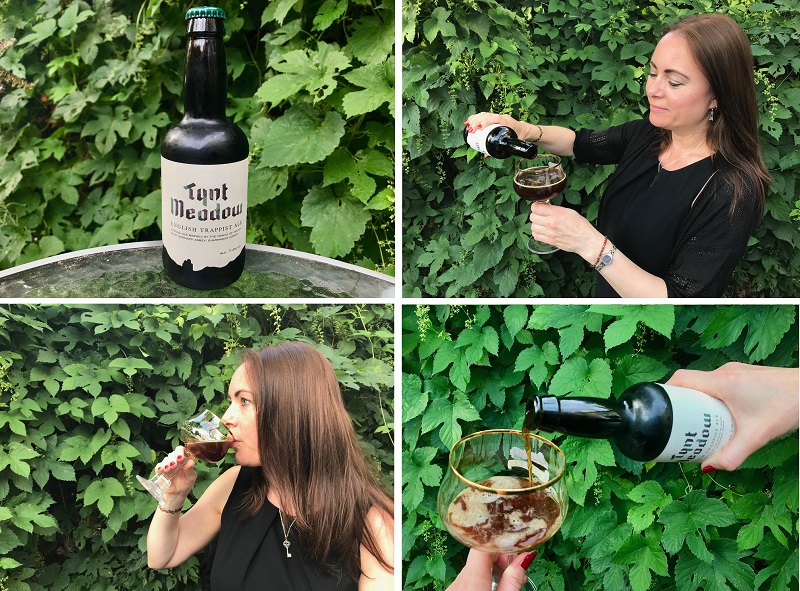 The beer pours a deep red-brown colour with an appealing creamy white head. The aroma is of sweet brown sugar and molasses.
There are treacle toffee flavours mixed with dates, raisins, and dried fruits, with a hint of smokiness. I can also taste caramelised sugar and earthy woodland flavours. It's a smooth, strong, and full-flavoured beer - one for sipping and savouring. It has a very English flavour, and is a good example of a strong English bitter or a barley wine. As the last of the beer and yeast are swirled around in the bottle and poured in (it is a bottle-conditioned real ale, so secondary fermentation takes place in the bottle) and the beer is left to sit for a little while, it produces an even richer, rounder, fuller flavour, leaving me wanting more!
Published: 10/8/018