Professor Stefan C. Reif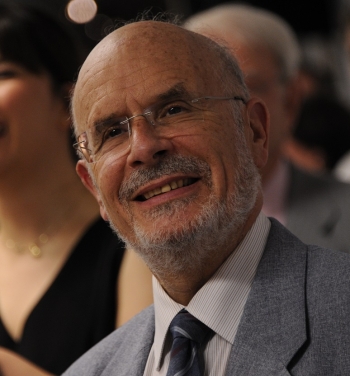 Subject: Medieval Hebrew Studies
Specialisms: Genizah manuscripts and Jewish liturgy
Education and Posts Held
Stefan Reif was born (1944) and schooled in Edinburgh. He graduated at the University of London with first class honours in Hebrew and Aramaic (1964) and obtained his Ph.D. at Jews' College and at University College London (1969) for an edition of a seventeenth-century Hebrew liturgical manuscript. He was awarded the William Lincoln Shelley Studentship (1967). After academic posts (1968-73) at the University of Glasgow and at Dropsie College (Philadelphia), he was appointed to be responsible for the Cairo Genizah Collection at Cambridge University Library and taught Hebrew courses in the Faculty of Oriental Studies. He was Visiting Professor at the Hebrew University in 1989 and 1996–97, at the Centre for Jewish Studies, University of Pennsylvania, in 2001, and at George Washington University in 2004.
Career Highlights
The University Library established the Genizah Research Unit in 1974 and Reif directed it until retirement in 2006. He was elected to a personal chair in medieval Hebrew studies and to a fellowship at St John's College at the University of Cambridge in 1998, and obtained the Litt.D. there in 2002. He was awarded an honorary doctorate by the University of Haifa in 2014 for his Genizah work, his research into Jewish liturgy and his encouragement of young scholars. He has written or edited fifteen volumes, as well as almost four hundred articles and reviews, and organized various international conferences. Among his most important studies are Shabbethai Sofer and his Prayer-book (1979), Judaism and Hebrew Prayer (1993), Hebrew Manuscripts at Cambridge University Library (1997), A Jewish Archive from Old Cairo (2000), Why Medieval Hebrew Studies? (2001), Problems with Prayers (2006), Jewish Prayer Texts from the Cairo Genizah (2016), and Jews, Bible and Prayer (2017).
Major Achievements
Under his directorship, the Cambridge Genizah Collection was transformed from an overlooked, under-used and only partially available resource to a major literary treasure that is now widely exploited by scholars, and that has revolutionised the understanding of medieval Jewish life. He arranged the conservation, microfilming, digitisation and description of many thousands of fragments, the appointment and training of young researchers who later made outstanding academic careers, the publication of catalogues of various parts of the Collection, and the attraction of extensive, external funding. He has contributed significantly to international developments in the historical study of Jewish liturgy, especially clarifying the evolution of Jewish prayer texts in the eastern Mediterranean in Crusader times. A volume of essays by colleagues, entitled From A Sacred Source, was published in his honour in 2010, and also contains some reminiscences and a list of publications. A volume of essays by colleagues, entitled From A Sacred Source, was published in his honour in 2010, and also contains some reminiscences and a list of publications. In 2019, colleagues in the field of Jewish liturgy published another volume in his honour entitled On Wings of Prayer, with an updated list of his publications. His autobiography, entitled Bouncing Back - and Forward was published in January 2021.
Other Activities
Reif has been involved in numerous academic organisations and presided over the Hebraica Libraries' Group (198l–84); the Jewish Historical Society of England (1991–92); the British Association for Jewish Studies (1992); the Cambridge Theological Society (2002–04}; and the National Council on Orientalist Library Resources, 2004-5. He is also a trustee of the Cambridge Traditional Jewish Congregation and a senior academic consultant to the Universities of Haifa and Tel Aviv in Israel. He is on the International Advisory Committees of the ISDCL and of the periodical Ginzei Qedem, and is an Honorary Fellow of the Mekize Nirdamim Society for the Publication of Ancient Hebrew Manuscripts. Reif is a popular lecturer and has addressed many audiences in Europe, Israel, the United States and Canada.
He was appointed Officer of the Order of the British Empire (OBE) in the 2020 Queen's Birthday Honours for services to scholarship.
Publications
List of Publications: Professor S C Reif
Contact Professor Reif at scr3@cam.ac.uk