Dr John Colley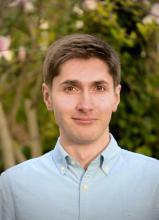 Research interests
Dr Colley works on classical reception and translation across late medieval and Renaissance English literature, with an emphasis on the print and manuscript contexts of literary production. His research contends that translation and classical reception studies offer especially insightful lenses for interrogating broader issues of intellectual history.

In his doctoral thesis on Tudor humanism and the translation of Greek, he took a new, more generically diverse approach to reception scholarship. In particular, he argued that the classical tradition in early Tudor England was as much a matter of Homer's reception as of the reception of authors such as St John Chrysostom and Eusebius: the thesis painted a history of classical reception that was never straightforwardly classical.

At St John's, he is developing his classical reception work with a new monograph project, 'Comedy and the Classical Tradition: Drama in England from Frulovisi to Shakespeare'. Reading extensively between vernacular and neo-Latin texts, this project will revise the history of comedy's evolution in England across an ambitiously broad period, from the 1430s to the 1620s. What were the distinctive features of an emergent English dramatic tradition forged in the wake of classical drama?