Heather Hancock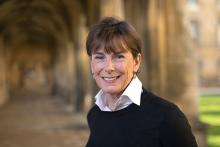 Research interests

Heather Hancock was installed as Master of St John's College in October 2020, returning to St John's having read Land Economy at the College as an undergraduate. Her career and personal interests have always revolved around urban and rural land-use, making places where people want to and can live, work, invest and enjoy sustainably, and on rural environments that deliver public good.

Heather chaired the Food Standards Agency, a non-Ministerial government department, and regulator of the food and feed industries, from 2015-2020. Before this, she was a Managing Partner at Deloitte LLP, with UK leadership for innovation, brand and talent; she also served in Deloitte's global senior leadership. She was a Partner in the firm's strategy consulting business, specialising in governance and strategy for novel ventures and public:private initiatives, and in complex programme leadership. She headed the firm's global services to the Olympic movement. Prior to joining Deloitte in 2003, Heather held a series of CEO and senior civil service roles in the public sector, with a consistent theme of large-scale urban and rural regeneration and land management.

Heather currently holds a number of non-executive roles, including chairing the Prince's Countryside Fund, and as as a non-executive Director of Rural Solutions Ltd and of Urban Logistics REIT plc. She was appointed Lieutenant of the Royal Victorian Order in the 2012 New Year Honours, and is a Deputy Lieutenant of North Yorkshire.

Heather served as a Trustee of the Prince's Trust, the UK's biggest youth charity, for over a decade, chaired the BBC's rural affairs committee from 2003-2010 and, in 2013-14, was commissioned by the BBC Trust to investigate and report on bias and impartiality in the BBC's rural affairs coverage. She was Deputy Chair of the World Athletics Championships and Paralympic Athletics Championships from 2013-2016, is a former trustee of the International Business Leaders Forum and supported the creation of the global Social Progress Index.