The Seven Last Words from the Cross
Father, forgive them; for they know not what they do
Sunday 28 January 2018, 6.30pm
Preacher: The Very Rev'd Dr David Ison, Dean, St Paul's Cathedral
Brought up in Brentwood, Essex, David went to university in Leicester and theological college in Nottingham before a  curacy and part-time PhD in inner-city Deptford in S.E. London, before becoming a tutor at the Church Army training college and then vicar of an outer housing estate in north Coventry. In 1993 he moved to Exeter to work in in-service training for clergy in Devon and became a diocesan canon at Exeter Cathedral, leading in 2005 to appointment as Dean of Bradford with the task of rebuilding the Cathedral's ministry and mission. He became Dean of St Paul's in May 2012, helping the cathedral in its governance and mission, and has been on Synod since 2010, joining the CNC in 2017. He is married to Hilary, also a priest, and they have four children and four grandchildren.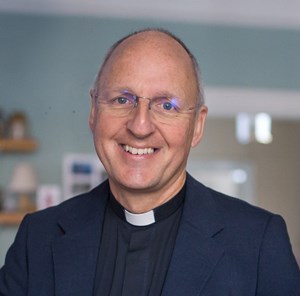 Today shalt thou be with me in paradise
Sunday 4 February 2018, 6.30pm
Preacher: The Rev'd Karen Young, Vicar, St James, Heckmondwike (with All Souls, Norristhorpe) and Liversedge
The Rev'd Karen Young is the Vicar of Heckmondwike and Liversedge in West Yorkshire.  She grew up in Oxford, studied accountancy and law and worked for Oxford University.  From 2004 she was parish finance adviser for the Diocese of Chichester, based in Brighton.   She trained  for ordination  at Cranmer Hall in Durham,  completing an MA in Theology and Ministry in 2014 while serving her curacy in the city of Chichester.  Karen moved to Yorkshire in 2016 and hopes to settle there, after decades of  traversing the country.   Her latest interest  is the medieval angel roofs of East Anglian churches, which she visits rather obsessively during her holidays.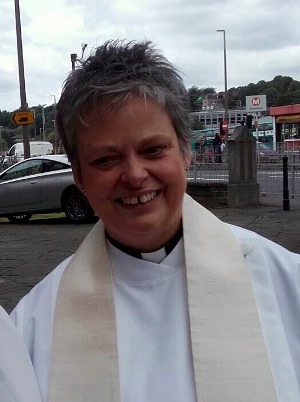 Woman, behold thy son! Behold thy mother!
Preacher: The Rev'd Ellen Eames, Chaplain, St Gabriel's College, Camberwell
Mother Ellen Eames is the Chaplain to St Gabriel's College, Camberwell. She is responsible for the spiritual life of the school, supporting students and staff of all faiths, and she works with the pastoral team to offer care and support to students, families and staff.  Her leadership role includes work with primary schools, community outreach, and helping the school participate in social justice through our membership of South London Citizens.  Mother Ellen was a priest in Scunthorpe, Diocese of Lincoln, before joining the school in 2012. Together with students from Saint Gabriel's, Mother Ellen helped develop the Refugees Welcome Schools programme, of which our school is proud to be a founder member.  Mother Ellen is Assistant Priest at St John the Divine, Kennington, where she can be found on Sundays.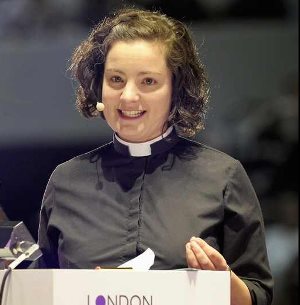 My God, my God, why hast thou forsaken me?
Sunday 18 February 2018, 6.30pm
Preacher: The Rev'd Bryony Taylor, Assistant Curate, St Michael and All Angels, Houghton-le-Spring
Bryony is currently completing her curacy at St Michael and All Angels Church in Houghton-le-Spring, Durham Diocese. From 30 April 2018 she will be Rector of Barlborough and Clowne in Derby Diocese.
The Parish in which she currently serves is in Houghton-le-Spring: a former coal mining town near Durham. Highlights of her ministry so far include the parish's very own beer festival, bible storytelling in primary schools and getting mistaken for the Vicar of Dibley in the local butchers! She has a particular interest in popular culture and has written a book called 'More TV Vicar?' (DLT, 2015) about the portrayal of Christians on British television. Before ordination Bryony worked as a Social Media consultant and is interested in the interface between faith and new technology.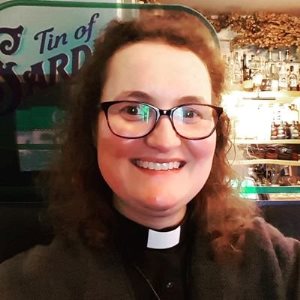 I thirst
Sunday 25 February 2018, 6.30pm
Preacher: The Very Rev'd Jane Hedges, Dean, Norwich Cathedral
Jane was ordained Deaconess in 1980, Deacon in 1987 and Priest in 1994. She was the first woman to be appointed a Residentiary Canon in the Church of England, serving as Canon Pastor at Portsmouth Cathedral. In 2006 she became the first woman Canon at Westminster Abbey, moving from there in 2014 to become the first woman Dean of Norwich. She oversees the life of the Cathedral, chairing the Chapter, and is also a member of the Bishop's Senior Staff Team.
It is finished
Preacher: The Rev'd Canon Dr Nicholas Sagovsky, Kings' College, London
Nicholas Sagovsky is Whitelands Professorial Fellow at Roehampton University and a Visiting Professor at Kings College London.  He has been Canon Theologian at Westminster Abbey, William Leech Professorial Research Fellow in Applied Christian Theology at Newcastle University and Dean of Clare College, Cambridge.  Much of his work has focused on Anglican-Roman Catholic ecumenism: he has been a member of ARCIC (the Anglican-Roman Catholic International Commission) since 1992.  He is a Vice-President of SPCK.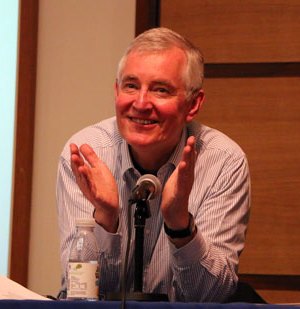 Father, into thy hands I commend my spirit