The Old Library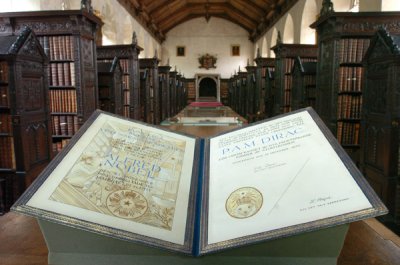 The Old Library is a two-storey, seventeenth-century building situated in Third Court and is accessed via the Working Library. It houses the College's special collections, which may be consulted in the Rare Books Reading Room on the ground floor.
Read about the history of the Old Library.
Opening times
The Old Library and Rare Books Reading Room are open Monday to Friday 9am-1pm and 2pm-5pm. They are closed Christmas Eve to New Year's Day, Good Friday to Easter Monday, and on August Bank Holiday.
Access
All those wishing to consult material from the Old Library should arrange an appointment in advance by contacting the Special Collections Librarian, Kathryn McKee on 01223 339393 indicating the material they wish to consult. All readers will be required to show identification and complete a reader's form upon arrival. Our special collections may only be consulted in the Rare Books Reading Room under the supervision of a member of staff.
Individuals or groups wishing to look round the Old Library should arrange an appointment with the Special Collections Librarian in advance. Members and staff of the College may visit during opening hours without prior appointment, and may bring guests.
Facilities
The Rare Books Reading Room has desk space for ten readers and houses a collection of catalogues and bibliographical reference books. The room offers wireless connectivity and readers are welcome to bring their own laptops. Photography may be permitted at the discretion of the Librarian.