Samuel Butler and Music: an introduction
'…of all dead men Handel has had the largest place in my thoughts. In fact I should say he and his music have been the central fact in my life ever since I was old enough to know of the existence of either music or life. All day long – whether I am writing or painting or walking – but always – I have his music in my head, and if I lose sight of it and of him for an hour or two, as of course I sometimes do, this is as much as I do. I believe I am not exaggerating when I say that I have never been a day since I was 13 without having had Handel in my mind many times over.'                              
–Samuel Butler, Notebooks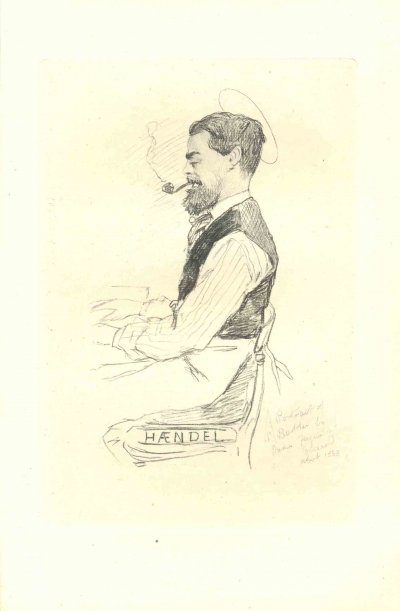 Samuel Butler aged 33, from a drawing by James Ferguson
Samuel Butler's love of music developed early in his life. As a schoolboy he looked forward to hearing his favourite aunt playing Handel overtures on the piano, and soon learned to play them himself. He would sell his school books to finance his collection of Handel's music, published in cheap editions.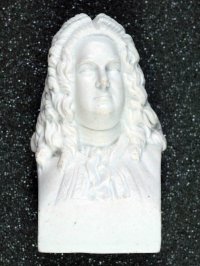 Miniature bust of Handel, owned by Samuel Butler
It wasn't until his father's death, in 1886, that Butler gained the financial independence he needed to dedicate his time to practising and composing music. He straightaway embarked on a musical collaboration with his friend Henry Festing Jones, and together they wrote the words and music for Narcissus: A Dramatic Cantata. With typical Butlerian humour, the piece charts the fate of a shepherding couple who decide to abandon their pastoral way of life to speculate on the Stock Exchange. The value of love is sorely tested when the couple lose the money with which they had intended to marry. Fortunately, Narcissus's aunt dies during the interval and leaves him exactly the amount of money he had lost. With the marriage issue resolved, the only question left to debate is how to invest the remainder of the fortune!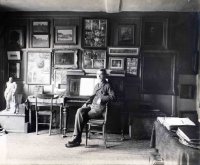 Samuel Butler at the piano
Narcissus was published in June 1888. Alongside his satire of Victorian attitudes to finance and happiness, Butler's reverence for Handel and his detailed knowledge of the composer's style shone through Narcissus. The playwright George Bernard Shaw noted that the music was invested with 'a ridiculously complete command of the Handelian manner and technique'.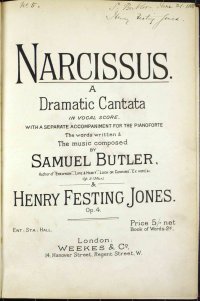 Narcissus, first edition, inscribed 1888
Butler quickly identified Ulysses as the subject of his next musical collaboration with Jones. Researching for the piece, Butler revisited the Odyssey in its original Greek form, and found his literary imagination overtaking his musical one. He embarked on a translation of the entire poem into English prose (eventually published in 1900), and also developed a theory about the authorship of the poem, which he published as a full-length book (The Authoress of the Odyssey) in 1897.
Despite this long and involved distraction, Butler completed his sections of the Ulysses composition long before his death in 1902, and Jones added his parts later to finish the piece. It was published in 1904, and was received very positively: a review in The Times (21 April 1906) declared that the piece 'must command attention from all who care for literature and music'.
Ulysses was another opportunity for Butler to demonstrate his love of Handel, although he occasionally admitted other musical influences. 'I have recognized the existence, under protest, of Mozart and Beethoven, though keeping mainly to Handelian modes of expression and mental attitude', he wrote to the music critic Henry Heathcote Statham in 1901. 'Both my friend Jones and I should regard any poking fun at Handel as a mauvaise plaisanterie of the most odious kind. We adore him.'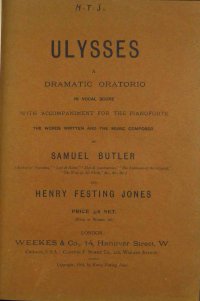 Ulysses, published 1904
While working on Ulysses, Butler took lessons in counterpoint with the celebrated teacher, performer and composer William Smyth Rockstro (who was already teaching Jones). With a devotion to Handel in common, Butler and Rockstro became friends, and Rockstro helped Butler and Jones during their work on Ulysses by offering his criticisms.
Section VII of the Butler Collection at St John's contains a range of items relating to Butler's musical works and interests, including manuscripts, volumes of printed music, and notes and articles written by Butler on musical subjects. Many of the editions of published music from which Butler practised have been preserved, and these include music by Johann Sebastian Bach and Felix Mendelssohn, as well as Butler's beloved Handel. The manuscript notes from Butler's lessons with Rockstro are also in the collection, along with various manuscript versions and early printed editions of Narcissus and Ulysses.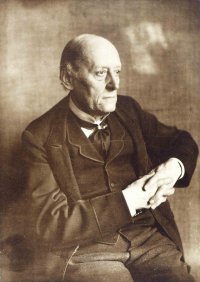 W.S. Rockstro, photographed by Samuel Butler, 1890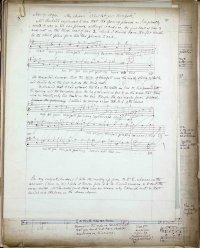 Notes from Samuel Butler's lessons with Rockstro
Cataloguing of the collection is now complete, and you can browse and search the catalogue online.
If you're interested in music and special collections you might enjoy MusiCB3, a blog about the musical collections in Cambridge libraries and museums. An article about the Samuel Butler Collection was published on the blog in December 2011, and new articles on a wide range of musical topics are posted weekly.
Back to Exhibitions and Recordings