From opera singer to College Chaplain
"I am super-available, super-non-judgemental, and super-un-shockable."
A new Chaplain has been appointed to offer welfare support to students, staff and Fellows at St John's College.
The Rev'd Andrew Hammond was an undergraduate at Clare College, University of Cambridge, and worked in classical music for nearly 20 years, mostly as an opera singer, and later in arts administration.
He was ordained in 2007, and has worked in two London parishes and at St Paul's Cathedral. Before coming to St John's, he was Chaplain at King's College, Cambridge.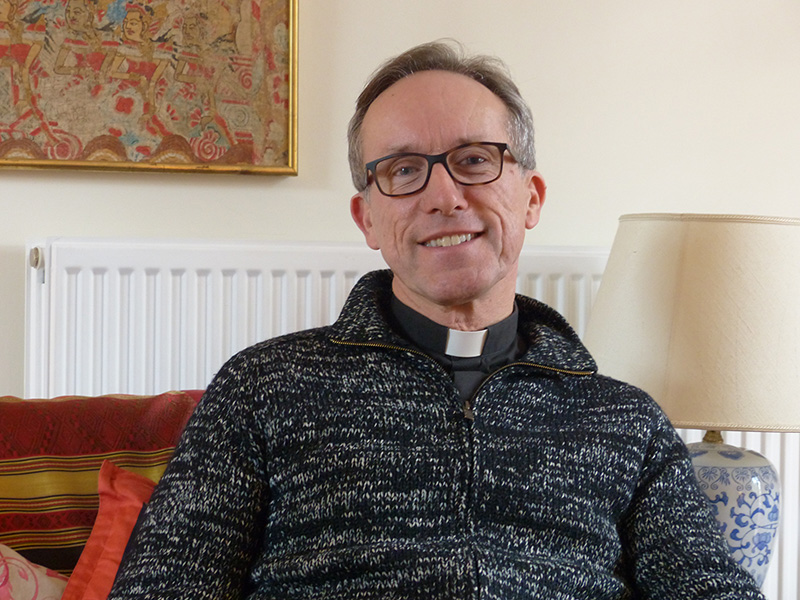 Andrew said: "I came to Cambridge as an undergraduate from a very ordinary background in Nottingham, so it took some getting used to but I absolutely loved it. I then went to The Royal Academy of Music and ended up singing opera professionally. That was tough and incredibly competitive, but brilliant. After a few years I decided to move on, and spent several years in arts admin before rediscovering my teenage sense of vocation.
"I returned to Cambridge after nearly 30 years away because I sensed a strong pull to work with students and live in a college environment. What I'm trying to offer (and live out) at St John's is a hospitable, generous, warm, encouraging and affirming kind of Christianity. And anyone can come and see me – students, staff or Fellows (whatever their beliefs). I don't have set hours – I am infinitely interruptible and accessible."
The Chaplain supports the College Tutors who are the primary point of pastoral care for the 900 undergraduate and postgraduate students at St John's.
Andrew added: "Whatever your worry or distress or problem or hurt, come and have a chat. I am super-available, super-non-judgemental, and super-un-shockable."