A short introduction to Music at St John's College from Professor John Rink and Mr Tim Watts.
Music at St John's
Professor John Rink, Tim Watts and Current Students discuss the Music interviews.
Course Information
The undergraduate Music course ('Tripos') is designed to introduce you to a broad range of music and to an    equally wide variety of ways of thinking about and understanding it. At first the focus is on acquiring the skills you  will need for university-level music studies, giving you a solid grounding in the techniques and history of the  Western musical tradition, as well as an understanding of the many roles that music plays in today's world. As you  progress through the Tripos, you will be able to take specialised courses in different kinds of music as well as different approaches to it.
Although the course has a strong academic component, you can choose to study performance and composition in all three years, and you can also choose to spend most of your final year working with one or more staff members on individually designed projects in areas of particular interest to you, ranging from analysis and history to world music, popular music, traditional music, and so forth.
The Music Tripos leads to the BA degree after three years. Examinations are taken at the end of each year: Part IA after the first year, Part IB after the second, and Part II after the third. Parts IA and IB form a broadly based course, with some specialisation available in Part IB; Part II provides the opportunity to specialise further, as noted above.
The Music Tripos is described in detail on the Faculty of Music website. Although most candidates reading Music take all three parts of the Tripos, candidates who have already taken one part of another Tripos may transfer to Music (subject to approval), normally at the beginning of the second year.
St John's College typically admits five undergraduates each year to read Music. Many Music students at the College are keen composers, instrumentalists (both solo and orchestral) or jazz players who participate in one of our many ensembles or those at different colleges. Some Music students also hold Choral Scholarships and sing in the College's internationally renowned Chapel Choir, while others participate in St John's Voices, the College's mixed-voice choir. The opportunity to take part in an exciting programme of practical music is an invaluable part of the education in Music that St John's offers its students. Music students who are taking courses with an assessed performance element will normally receive funding for their instrumental or vocal lessons, subject to agreement with the Director of Studies. On average, this amounts to approximately £550 per annum although the exact sum depends on the specific course. In addition, St John's has a Learning and Research Fund which can assist with travel costs in respect of instrumental/vocal tuition and with other course-related expenses (e.g. for books, scores, CDs, language study, etc., subject to approval and up to an annual limit); further support for performance tuition may also be available from the Parsons Fund.
Directors of Studies and Music Team 
The Director of Studies in this subject is Professor John Rink, who is College Supervisor in Music and Professor of Musical Performance Studies in the Faculty of Music. Professor Rink works closely with Mr Tim Watts (College Associate Lecturer in Music), who is Sub-Director of Studies for Parts IA and IB. St John's Music students are also taught by Dr Stefano Castelvecchi, who as College Lecturer in Music has had many years of experience as Director of Studies, and by Dr Francesca Vella, who is a College Research Associate. Finally, there are opportunities for regular contact with Mr Andrew Nethsingha (Director of Music), Mr Graham Walker (Musical Director, St John's Voices) and Professor Margaret Faultless (Musician in Residence). This large team provides unrivalled support both academically and musically, in addition to ensuring that the musical environment at St John's is lively, friendly, and intellectually and artistically stimulating and rewarding.
Music Facilities at St John's
St John's provides outstanding facilities both for those reading Music and for students in other disciplines who participate in the College's rich musical culture. There are four fine music practice rooms in the modern Fisher Building, along with recital spaces there and in the New Music Room. A new popular music recording studio (co-designed by one of our Architecture students) opened in the Cripps Building in 2016. In addition to the well-equipped library, which is open to all members of the College, all undergraduate Music students have the opportunity to be loaned an electronic keyboard for use in their College room for the duration of their studies.
St John's has three Steinway grand pianos (one of them an excellent Model C acquired in 2012), three Boston grands, a harpsichord and a recently refurbished organ; furthermore, the Main Theatre in the Old Divinity School (opposite the Great Gate) offers a first-class performance space, which is used by professional musicians, student groups, New Music ensembles, and many other performers.
The College Music Society, which is run by students with input from a range of Fellows and other members of the musical community at St John's, arranges concerts and lunchtime recitals on a regular basis, in addition to which a series of Master's Lodge concerts takes place each year. As previously noted, the College's College Choir has an outstanding reputation and has produced many fine recordings, in recent years on the College's own label. The St John's Voices has become increasingly important in College life, offering a range of opportunities for female and male singers, including recording and touring. Jazz too plays a prominent role at the College, with student concerts of a professional standard run by Jazz @John's, jazz performances in the Master's Lodge and elsewhere, and the annual Reinstein Jazz Prize.
All of this means that Music at St John's is exceptionally well supported, with unique opportunities for all who are studying the subject as well as those specialising in other disciplines.
Entry Details
UCAS Code: W300
Typical Minimum Entry Requirements
A Level: A*AA
International Baccalaureate: 42 points, with 776 at Higher level
Essential Subjects: A Level/IB Higher Level Music. ABRSM Grade 8 Theory at Merit or above may be accepted as a substitute, along with three other A Levels or equivalent
Applicants offering A Levels are not usually required to obtain an A* specifically in Music, although this is nevertheless encouraged.
Desirable Subjects: No grades or other piano qualifications are required, although it is helpful to have some keyboard proficiency, given that Music students are required to take a course in General Musicianship during the first year of the Tripos in which practical tests at the keyboard are conducted. Many Music students are exceptionally good in other areas of music, however, and if you do not have advanced keyboard skills that should not deter you from applying.
Submitted Work: Candidates are required to send samples of recent work. Ideally, we would like to see one or more representative essays or other written work (for example, a marked assignment) ideally on a topic related to music, along with harmony/counterpoint exercises and/or original compositions. We understand, however, that some students receive little technical training so may not be able to submit materials in the latter category; in such cases we evaluate candidates on their other skills as well as their general potential.
Admissions Assessment (Cambridge College registered): Two written tests of approximately 45 minutes each. For the first, you will be given a short musicological essay to read, and you will then be invited to answer a number of questions about it. For the second, you will be asked to analyse a piece of music or an excerpt thereof. Your tests may be discussed with you during your interview with the Music team.
Admissions Interviews
Those invited for interview will have one interview with the Director and the Sub-Director of Studies in Music. The aim of the interview, which will last about 40 minutes, is to find out more about your motivation and your aptitude for the course you have chosen. Your at-interview assessments may be discussed with you during your interview.
We conduct our interviews in a friendly and relaxed manner, and we hope you will not feel daunted by the prospect of attending one. Although the interviewers will want to discuss technical issues with you, no special preparation is necessary. You can expect questions about your musical and general educational background, about the history and analysis of music, and about other matters relevant to the study of music.
People
Tutor
Dr Victoria Harvey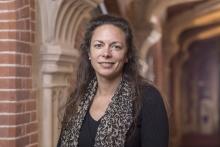 Subject Fellows
Dr Stefano Castelvecchi
Dr Christopher Robinson
Musician in Residence
Professor Margaret Faultless
Further Details
Further Details
Members of the Music team are happy to answer any specific questions you may have. Please contact the Admissions Office at St John's in the first instance.
Visits to the Faculty of Music can also be arranged; please contact the Faculty Secretary, Faculty of Music, 11 West Road, Cambridge, CB3 9DP; tel: 01223 761309.