Discover the College Library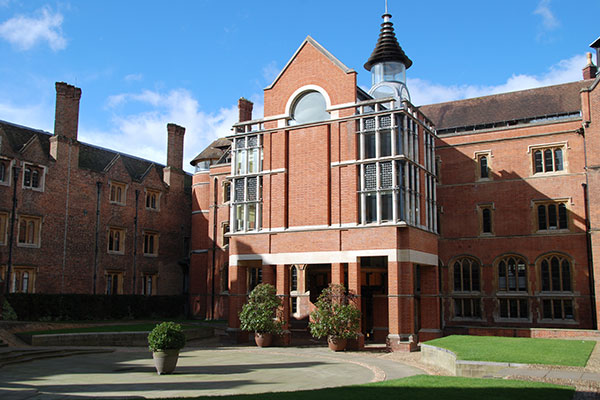 Welcome to the College's Library pages. The College Library is divided into two sections. The Old Library dates from 1624 and houses historic manuscripts, rare books and personal papers (collectively termed Special Collections). The modern Working Library houses borrowable books and current periodicals, as well as computer and work facilities which members can use at any time of day. It has over 120 reader places and capacity for 120,000 books on open access.
The College is also home to extensive Archives and a superb Biographical Office. More information about all these world-class facilities can be found below.
COVID-19 Update
Library Vacation Opening Hours
Starting from Monday 6 December, the Library will be open from Monday-Friday 9.30-5pm. The Library will be closed over the holiday period, from Friday 24 December to Monday 3 January 2022 inclusive.
On-site services
Physical study space
A limited number of desks will be available on a first come, first served basis. Face coverings must be worn at all times (unless you are exempt). Windows must remain open at all times to ensure adequate ventilation.
Printing
For those in self-isolation or quarantine, where printing is essential for academic purposes it may be possible for Library staff to print materials on your behalf and deliver printouts to your College accommodation. Standard printing charges will be added to your College bill. Any essential printing requests should be emailed to library@joh.cam.ac.uk. In your email please specify the purpose for which printing is required, the number of copies required, and the date by which the printouts are required, and we will do our best to help.
Self-service printing is available in the Fisher Building foyer from 8am to 8pm seven days a week.
Borrowing and returning
Students can borrow Library items using the self-issue machine. Alternatively, you can use our 'click & collect' service. When using this service, please first check that the items are available by searching iDiscover. Then email your borrowing requests to library@joh.cam.ac.uk. Include the titles and classmarks of the items in the email. Requests will be processed on weekdays only, so please make sure you allow enough time when submitting your request (e.g. if you need items for the weekend you will need to request them before midday on Friday). Items will be fetched and left on a table in Forecourt Lodge for you to collect. You will be notified by email when the items are ready for collection. Items should be returned to the dropbox in Forecourt Lodge.
Remote services
Scanning of printed resources
For those unable to make use of 'click & collect' services, the University Library is running a dedicated Scan & Deliver service across its extensive collections.
Alternatively, for items held at St John's, College Library staff may be able to provide a digital scan of part of a book/journal (as long as the request complies with copyright rules, i.e. no more than one chapter per book, one article from an issue of a journal, or up to 5% for personal use). Please first check that the item is available by searching iDiscover. Then email your request to library@joh.cam.ac.uk. Please include the book/journal title, classmark or volume and issue number, chapter/article title and page numbers in your email.
Electronic resources
A whole range of e-resources, e-journals and e-books can be accessed via Cambridge LibGuides, or by filtering your iDiscover search for 'Full text online' and then clicking the 'Online access' links below each title.
Old Library and Archives
If you require advice on the Archives service please email archivist@joh.cam.ac.uk. Enquiries about Special Collections should be sent to special.collections@joh.cam.ac.uk.
Biographical Office
Please email the Biographical Librarian at f.colbert@joh.cam.ac.uk for the usual services offered by the Biographical Office.
For any other queries please contact the Library.
Working Library
Under normal circumstances, the Working Library is open to all current members of the College twenty-four hours a day, seven days a week. The Issue Desk is staffed 9am to 5pm, Monday to Friday.
Entrance to the Library is from Chapel Court. Outside staffed hours you will need to use your access card at the card reader beside the door to enter and leave the Library.
Library Catalogue
iDiscover offers a fast, intuitive way to search library collections across the University. A simple search will generate results from all libraries in the University. An advanced search enables you to limit your search to specific libraries.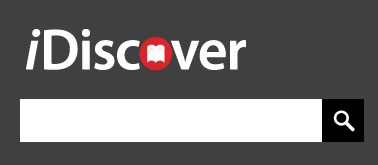 Search iDiscover for items in St John's College Library
The University Library runs a variety of training sessions, and quick guides to using the catalogue are available online. Library staff will also be glad to assist you, so don't hesitate to ask!
Old Library & Special Collections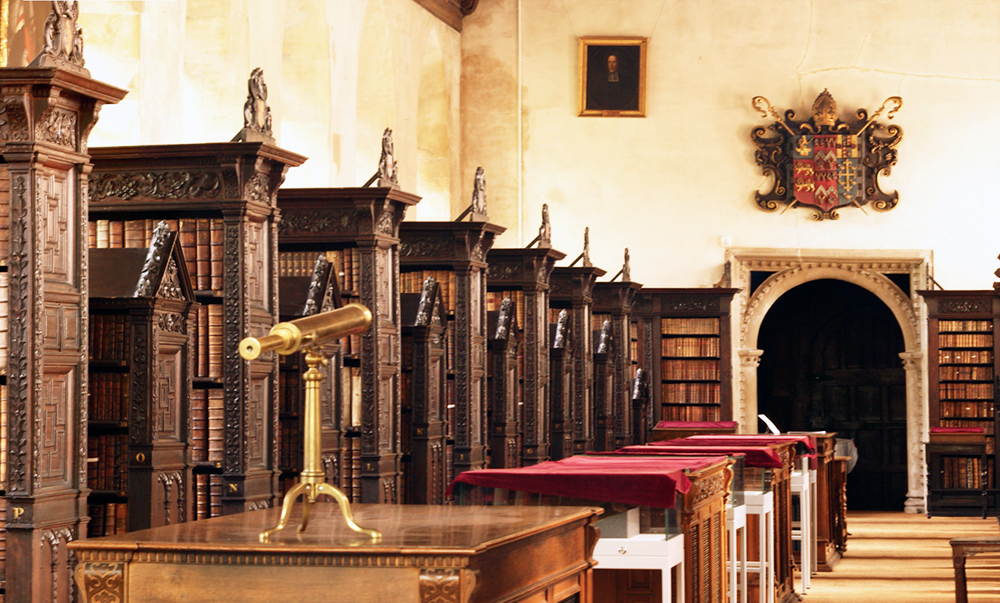 The Old Library is a two-storey, seventeenth-century building situated in Third Court and is accessed via the Working Library. It houses the College's Special Collections, which may be consulted in the Rare Books Reading Room on the ground floor.
Opening times
The Old Library and Rare Books Reading Room are open Monday to Friday 9am-1pm and 2pm-5pm. They are closed Christmas Eve to New Year's Day, Good Friday to Easter Monday, and on August Bank Holiday.
Access
All those wishing to consult material from the Old Library should arrange an appointment in advance by contacting the Special Collections Librarian, Kathryn McKee on 01223 339393 indicating the material they wish to consult. All readers will be required to show identification and complete a reader's form upon arrival. Our Special Collections may only be consulted in the Rare Books Reading Room under the supervision of a member of staff.
Visits to the Old Library for individuals or groups with a specialist/research interest in the history of the building or its collections may be arranged during staffed hours by advance appointment with the Special Collections Librarian. The Old Library is open to the public on several days throughout the year with themed exhibitions in conjunction with University Festivals. Members and staff of the College may visit during opening hours without prior appointment, and may bring guests.
Facilities
The Rare Books Reading Room has desk space for ten readers and houses a collection of catalogues and bibliographical reference books. The room offers wireless connectivity and readers are welcome to bring their own laptops. Photography may be permitted at the discretion of the Librarian.
Copies, images, and licensing
Reproductions may be ordered in a variety of formats, from reading copies for private research to high-resolution images for publication. The College's permission should be sought for the reproduction of materials from the Special Collections in any publication, website, or public presentation. The permissions process is straightforward. Requests and queries should be directed to the Special Collections Librarian.
Biographical Records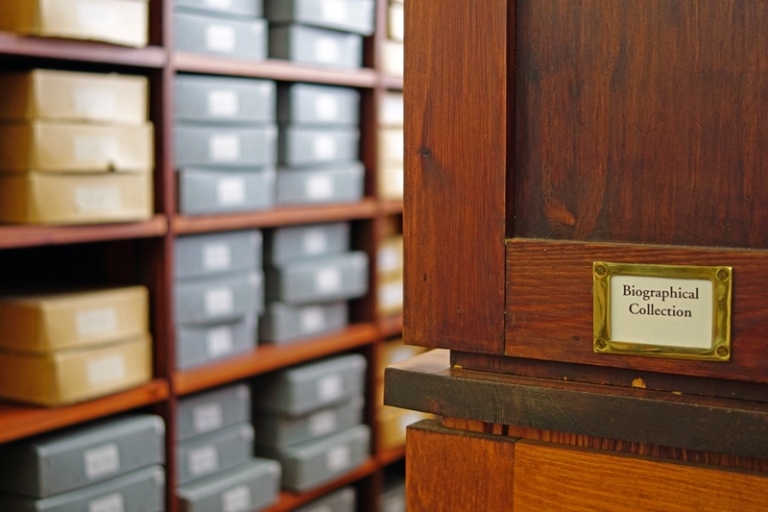 The College Biographical Archive, one of the best collections of its kind, is housed with other special collections in the Lower Library, and covers every Member of the College - over 43,000 - since comprehensive admissions records began in 1629. It combines information on birth, parents, schooling and academic career, drawn from College and University sources, with notes on later lives and careers and an ad hoc collection of press cuttings, letters and miscellaneous documents. It is the cumulative work of College Fellows and others, beginning in the eighteenth century, and is still actively maintained today.
Together with a related collection of books and pamphlets, which are a rich source of biographical information, the archive provides material for genealogists and biographers, and is used to answer a wide variety of enquiries.
College Archives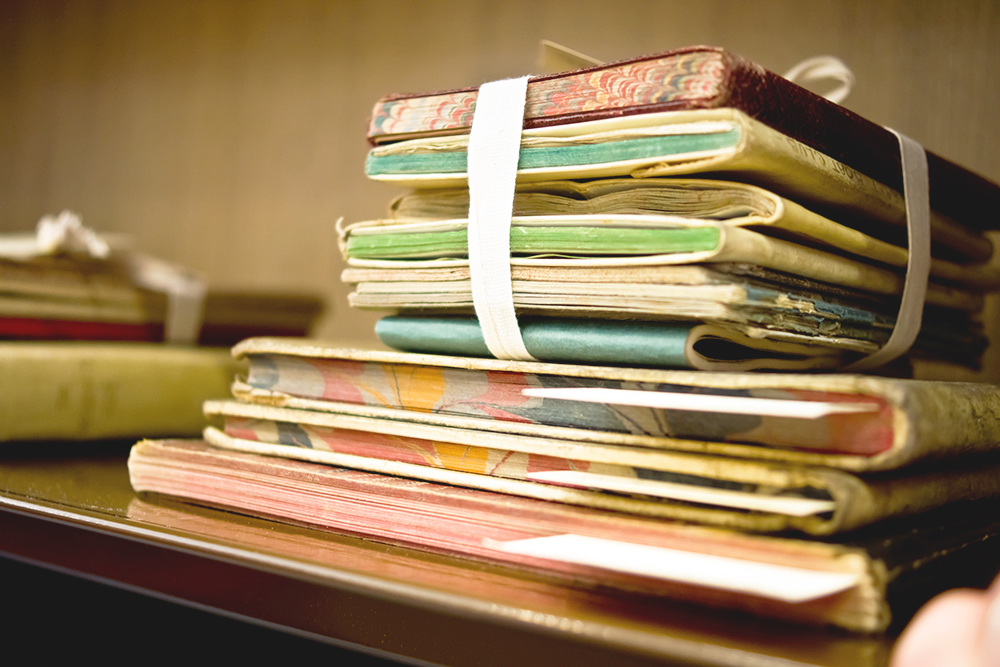 The College Archives contain records of the growth of the administration, benefactions, finances and property of the College since its foundation in 1511. They also include some deeds and financial records of earlier foundations annexed to it, namely the Hospital of St John the Evangelist Cambridge, the Hospital of St Mary at Ospringe, and the Priory of Higham, Kent, and of the Priory of Broomhall, Berks; and household accounts of the Foundress, Lady Margaret Beaufort, 1498-1509. Among the records of the Cambridge Hospital of St John is a thirteenth-century cartulary whose numerous deeds shed light on the people, property and occupations of Cambridge and the surrounding countryside.
These resources are available for use by the members, staff and students of St John's, the wider academic community and the public. The Archives acquire, preserve and make accessible the records of the College, its members, staff and students.
Exhibitions & Outreach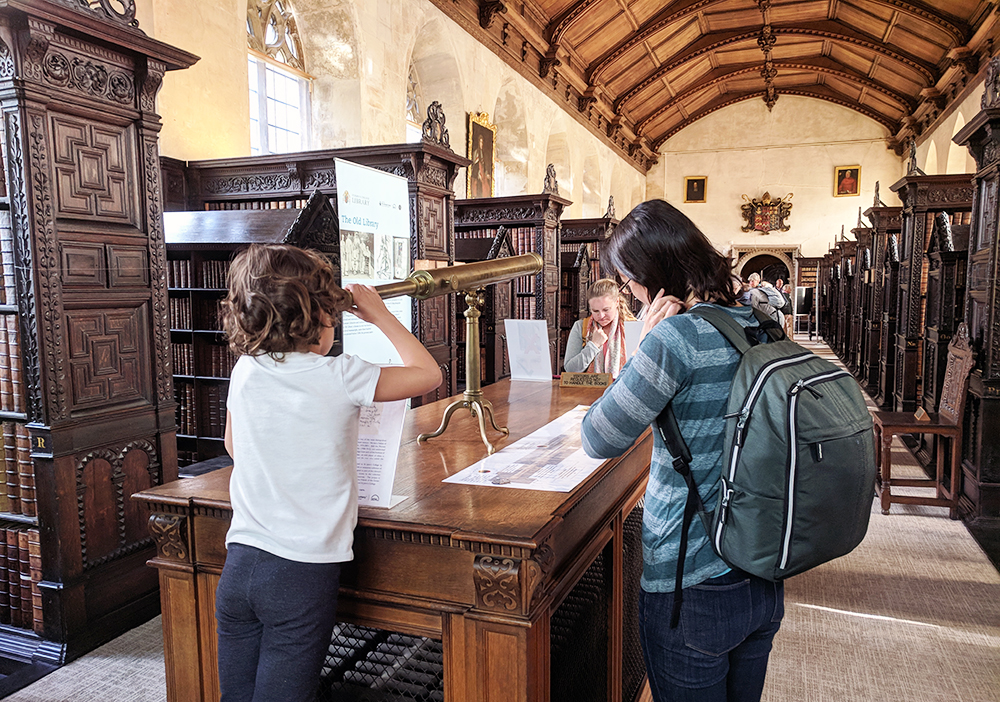 Publications
Working Library 25th Anniversary Brochure
This special publication celebrates 25 years of the Working Library. It features accounts of its historical development, changing functions, and staff and student memories during the past quarter century.
Annual Report
The Library publishes an Annual Report, summarising the department's varied activities over the course of each academic year. You can access the Reports online (from 2009 onwards) or in hard copy in the Library.
Newsletter
The Library produces a termly newsletter, to update College members on the department's activities and to highlight aspects of the Library's collections and services. You can access the newsletters online (from 2017 onwards) or in hard copy in the Library.
User Survey
Every four years, the Library undertakes a thorough survey of readers' responses to the services that we provide. These exercises contribute directly to the development of Library strategy. Below you can find full details of the most recent survey. Previous surveys (from 2013 onwards) can be accessed online. All those who use the Library are particularly urged to provide feedback to the Librarian at any time.
The Eagle Online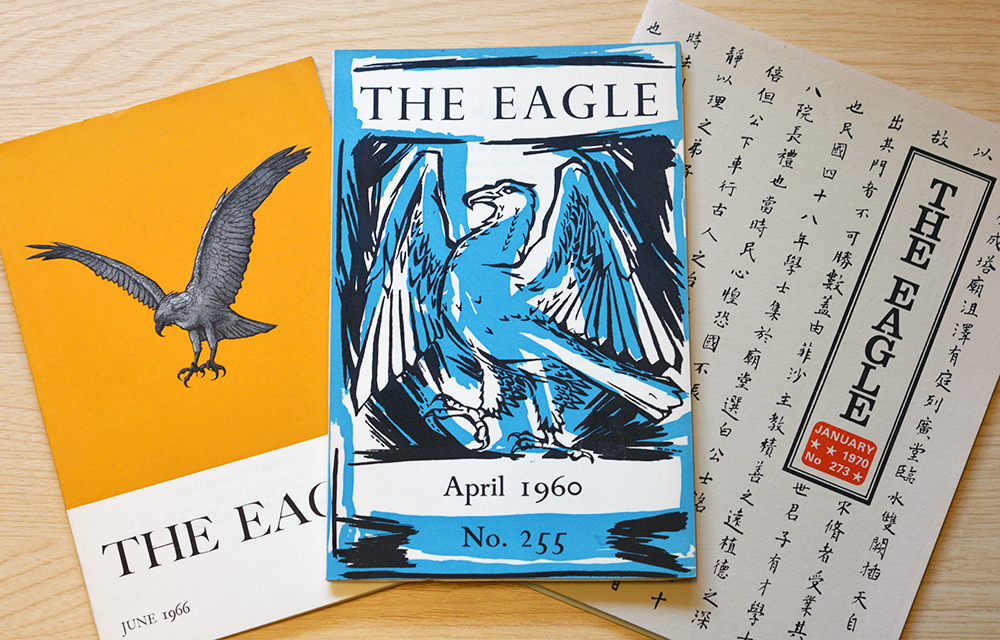 The first issue of the St John's annual record, The Eagle, was published in 1858. Since then, with at least one issue being published each year, The Eagle has become a significant part of College life. Many students, Fellows, staff members, alumni and guest writers have contributed to its pages. The entire run of The Eagle is now available online, thanks to the long-term efforts of Library staff.
Useful Links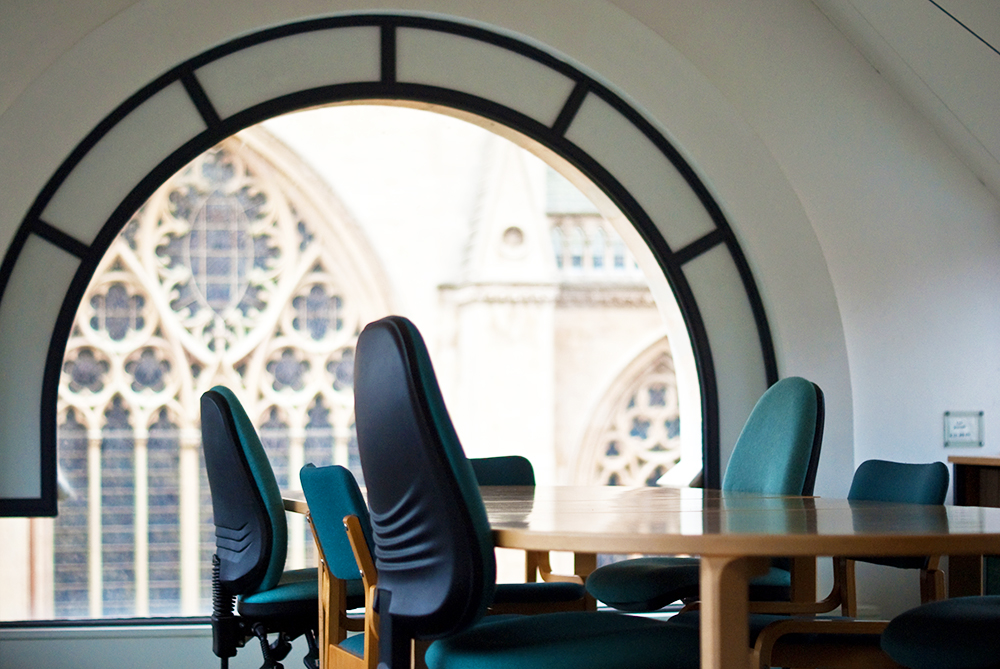 Cambridge University Library
Cambridge University Library gives access to online services including:
Cambridge Departmental and College Libraries
University of Cambridge Libraries Directory gives access to information (i.e. opening times, contact details, web-sites, etc.) on the dependent, departmental and college libraries of the University.
Cambridge University Archival Resources
ArchiveSearch is the union catalogue for archives in Cambridge University and its Colleges.
CamGuides
Designed specifically for undergraduate and Master's students at Cambridge, CamGuides provide information on academic research skills, referencing and using digital resources.
Resources in the UK
The British Library Catalogue, for information on the holdings of the British Library.
Library Hub Discover (formerly COPAC) is a union catalogue giving access to the combined book catalogues of 170 UK national, academic, and specialist libraries.
The National Archives (formerly the Public Record Office and the Historical Manuscripts Commission) site provides useful archival resources relating to the UK.
Archives Hub provides access to the archival collections of over 350 UK institutions. 
The Oxford Dictionary of National Biography offers comprehensive biographical information on over 50,000 individuals who have influenced British history.
Resources further afield
WorldCat is the world's largest library catalogue, and is particularly useful for finding resources in American academic libraries. The European Library is a portal offering access to the combined resources of the 43 national libraries of Europe.