John Dryden: 'Annus Mirabilis 1666'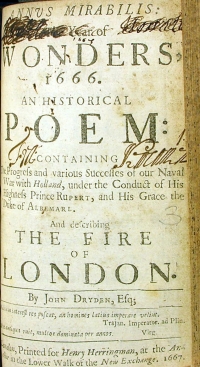 Annus Mirabilis is a poem written by John Dryden and published in 1667. It commemorates the year 1666, which despite the poem's name 'year of wonders' was one of great tragedy, involving both the Plague and the Great Fire of London. Samuel Johnson wrote that Dryden used the phrase 'annus mirabilis' because it was a wonder that things were not worse.
The poem contains over 1200 lines of verse divided into 304 quatrains. Each line is ten syllables long, with an 'ABAB' rhyming scheme, a pattern known as a decasyllabic quatrain.
Dryden's poem narrates the events of the Great Fire of London, from its beginning at night in the bakery on Pudding Lane, to its final extinguishment after King Charles II ordered houses to be torn down or blown up with gunpowder to create 'fire breaks' which prevent the flames from spreading.

In the extract above Dryden describes the streets on the first night of the Fire being 'thronged and busy as by day' as people rush to attempt to put out the flames with buckets of water fetched from local churches, and even early fire-engines of the like shown below in an illustration from Solomon de Caus' work of 1615 on mechanical engineering.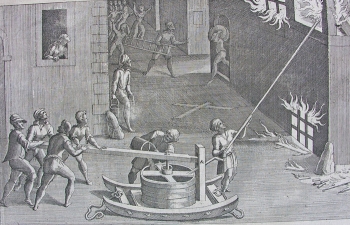 Despite the tragic subject matter, Dryden remains optimistic. After the fire is spent, he imagines a new city of London rising from the ashes 'with silver paved, and all divine with gold' which is to last until the 'death of time'.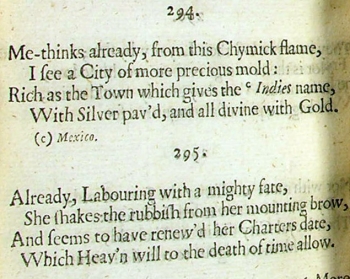 The Great Fire of London raged from Sunday 2 September to Wednesday 5 September 1666, and destroyed the homes of up to 70,000 ihabitants of the city. The death toll traditionally was thought to be small, with only six deaths recorded. This may, however, be a consequence of the social hierarchy of the time, and deaths of poor Londoners may have gone unnoticed and unrecorded.
The Library's copy of Annus Mirabilis is bound together in one volume with several other booklets including works on Biblical exposition and calendrical measurement. It was donated to the College by Charles Otway, a former Fellow of St John's who donated one of the largest personal collections of books to the College Library.
This Special Collections Spotlight article was contributed on 11 June 2014 by Ryan Cronin, Press, Publicity and Communities Officer.