External Directors of Studies
Every student has a Director of Studies (DoS) in their subject area. We have some External Directors of Studies, which means that they are not part of the St John's College Fellowship and usually have an affiliation with another College. They do, however, have exactly the same role as our other Directors of Studies and so advise St John's students on which lectures, seminars and supervisions to attend, and they can be approached regarding reading lists, essays, supervisions or any other subject-related topic or concern. They are the first port of call for any academic concerns or advice.
Mark Breeze
Director of Studies for Architecture
Imre Galambos
(Acting Director of Studies for Asian and Middle Eastern Studies)
Dr Jess Olszynko-Gryn
Director of Studies for 'History and Philosophy of Science' for Natural Sciences 

Dr Theresa Biberauer
Director of Studies in Linguistics (DOW)
Dr Robin Chatterjee
Director of Studies in Management Studies (Judge Business School)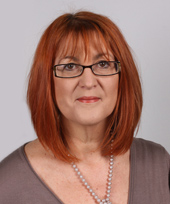 Dr Morag Morrison-Helme
Director of Studies in Education
Specialism: Arts Education: Applied Theatre practice and pedagogy, Teacher Education and Professional Development
Research interests
I am a lecturer in the Faculty of Education where I teach on the Undergraduate Tripos track Education, English, Drama and the Arts, and I Coordinate the MPhil Postgraduate thematic route, Arts, Creativity and Education.  My research interests centre on Applied Arts pedagogies to support, reflective practice, democratic learning and conflict management in cross-disciplinary and cross-professional contexts.  I have an Erasmus exchange position with the University of Gothenburg, Sweden where I collaborate with colleagues teaching and researching the use of Applied Theatre practices in Medical and Health Care Professional Development. My Tripos teaching centres on the Part II papers Research and Investigation and Performance, Education and Society.

Dr Thies Lindenthal
Director of Studies for Land Economy


Specialism:Real Estate Finance
Research interests

My research gravitates around three broad themes: The long-term dynamics in real estate markets, reaching back several centuries, offer new insights on the risk and return of property as an asset class. I am also interested in utilising "big data" such as remotely-sensed property shape data in empirical real estate research. In addition, I have published on the value of locations in virtual spaces linking Information Science and Real Estate Finance. At the department of Land Economy, I mainly teach Real Estate Finance related courses in the MPhil programme.

Dr Richard Dybowski
Director of Studies for Mathematics for Natural Sciences (Biology)

Specialism: Mathematical and Computational Biology

Research interests
My main research focus is the development and application of mathematical and computer science techniques for solving biologically and clinically pressing problems, such as the within-host dynamics of bacterial infections. Of particular interest is the potential of applying deep-learning techniques to the biological sciences. I am also interested in the various systems of inference that have been proposed for clinical decision making.

Departmental Homepage: http://www.infectiousdisease.cam.ac.uk/directory/rd460@cam.ac.uk