Exhibitions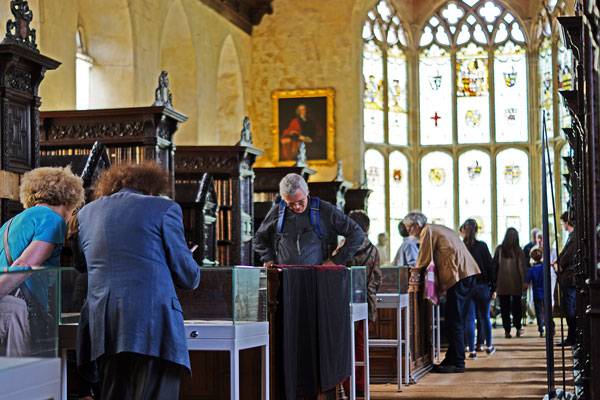 Exhibitions are usually displayed in the Library Exhibition Area, which is accessed via the Working Library in Chapel Court. The Exhibition Area is open to visitors Monday to Friday, 9am to 5pm. Occasional exhibitions are also displayed in the Old Library and in the School of Pythagoras Archive Centre; click on the individual event listings for further information about these venues.
Current and forthcoming exhibitions:
The current exhibition LOOKBOOK: Fashions & fads in historical book design, curated by Caroline Ball, will be on display in the Exhibition Area until 22 September 2023. 
School visits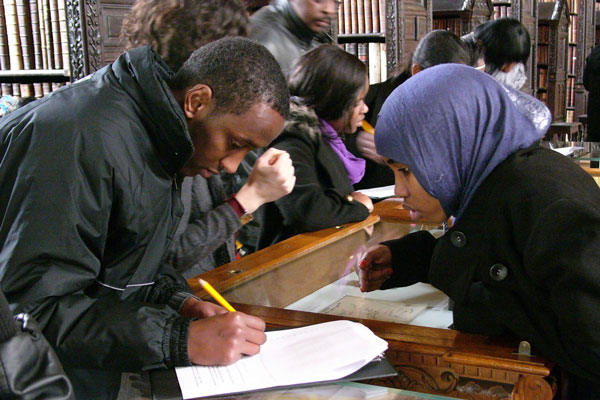 The Library welcomes educational visits from schools, colleges, academies and other organisations. We have worked with local schools to develop sessions delivered in the historical setting of our Old Library, based on our wide-ranging Special Collections. These sessions are very flexible and can be tailored to suit the needs of individual classes.
Some examples of previous educational activities held in the Library are below.
For more information or to arrange a visit please contact Special Collections. Email: special.collections@joh.cam.ac.uk, Tel: 01223 339393.
A risk assessment for school visits is available on request.
Primary Schools
The Tudors

St John's College was founded in 1511 by Lady Margaret Beaufort, mother of Henry VII, so it is a good place to begin a project on the Tudors. Tudor material in the Old Library includes a copy of the Great Bible, charts the progress of the Spanish Armada, and even an eyewitness account of the execution of Mary Queen of Scots.

Who was Samuel Butler? In this interactive workshop children investigate a range of historical artefacts to help them build up a picture of a Victorian writer's world. Using the exhibits as 'clues' they deduce what kind of person Butler was and what he achieved, and view original evidence of the events and developments that occurred during his lifetime. They then work together to place images relating to the events and artefacts on a jumbo timeline – creating a visual display of some of the highlights of the nineteenth century.

Special Books and Sacred Texts

A look at rare and unusual volumes of sacred texts from a variety of faiths, including Christianity, Judaism and Islam, to explore the diversity of world beliefs and what makes certain texts special to different people and cultures. Our collections include a 10th-century Irish Psalter, Henry VIII's Great Bible, and much more.

An opportunity to explore the Library's collection of early printed books and atlases, considering how writers and mapmakers throughout history have presented new and imagined places. Children follow a trail around the exhibition space, then have a go at drawing their own imaginary land.
Secondary Schools
English Language Change 1500-Today

Caxton's earliest printed books, Samuel Johnson's dictionary, Robinson Crusoe, Tristram Shandy, Wordsworth's Lyrical Ballads, William Barnes' Dorset dialect poetry, Philip Larkin, letters, diaries, one penny chapbooks... a walk through over three hundred years of the English language through the literature that shaped, transformed and recorded it.

Curious People: A History of Exploration

Discover how Europeans explored the rest of the world through illustrations and first hand accounts in books, maps and papers. Examples of the Library's range of material on this subject can be accessed through the Curious People online resource. This topic also allows scope to learn about the science of the polar regions and environmental issues.

The Slave Trade and Abolition

William Wilberforce and Thomas Clarkson, partners in the campaign to abolish the Transatlantic Slave Trade, both studied at St John's College. Students have the opportunity to work with primary sources including Clarkson's diaries recording his evidence-gathering trips to English ports where he witnessed the effects of the slave trade. 18th-century pamphlets from the special collections reveal all sides of the debate that raged around the campaign for abolition. 

Find out what it means to 'interpret history', first-hand. Faced with 30 unlabelled artefacts from the wonderfully varied Samuel Butler collection, students take on the role of curator - observing, analysing and comparing items, then identifying a theme or creating a narrative that could link these together to form an exhibition.

Art A-Level and GCSE classes are invited to come and draw in the magnificent seventeenth-century library, with an exhibition of original drawings, paintings and photographs from the Library's Samuel Butler Collection to provide additional inspiration.
Educational resources
The following resources are based upon the Library's manuscripts and early printed books. They aim to support teachers and students by supplementing and extending the National Curriculum, and are freely available to all. School visits to the Library, in conjunction with these resources or otherwise, are encouraged.
If you have any questions or feedback about these resources please contact Special Collections. Email: special.collections@joh.cam.ac.uk, Tel: 01223 339393.
The copyright in the images used in these resources belongs to the Master and Fellows of St John's College, Cambridge. If you would like to publish any of the images in any way please contact the Library for permission.
| | |
| --- | --- |
| | Discover how Europeans explored the rest of the world through illustrations and first hand accounts in books, maps and papers from the Library's special collections. This online resource can be accessed by people, places or topics, as well as by using an interactive timeline. |
| | |
| --- | --- |
| | Learn about the astrolabe, an ancient astronomical instrument, and download a template to build your own to try at home. This resource was created as part of the Library's Fred Hoyle Project. |
| | |
| --- | --- |
| | An instructive or explanatory text with diagrams (PDF 3.5MB). St John's College Library has used book making as a basis for a variety of different projects with schools. Making a simple sewn pamphlet is a creative way of displaying your work. |
|   |   |
| | Samuel Butler (1835-1902) was a prolific photographer, who travelled extensively in southern England and Europe in the 1880s and 1890s. This interactive resource enables you to view his photographs alongside satellite images of their modern locations, or to view photographs by themes, such as 'animals' and 'people at work'. |
|   |   |
| | A downloadable activity suitable for all ages (adults included!), which uses Samuel Butler's characterful nineteenth-century photographs as inspiration for creative writing. |