Dean of Chapel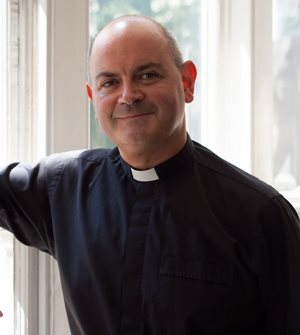 The Dean of Chapel is The Rev'd Canon Mark Oakley. He has overall responsibility for the life of the Chapel and its community: For the conduct of worship, the work of the Choir and for the oversight of pastoral care within the College community.
Mark is the author of a number of publications (see below). Among other duties he is also responsible as secretary to the Livings committee, for the presentation of clergy to 40 parishes in the Church of England with which the College has long historic connections.
St John's College has two Deans - the Dean responsible for discipline is Professor Ernest Laue. For more details please follow this link.
Contact Details
Tel: 01223 338633
Internal tei: 38633
E-mail: mdo26@cam.ac.uk    
Address: E5c New Court
Brief Biography
Canon Mark Oakley read Theology at London and Oxford before being ordained in St Paul's Cathedral in 1993. He served his title at St John's Wood Church and then served as Chaplain to the Bishop of London, Rector of St Paul's, Covent Garden (known as 'the Actors' Church), Archdeacon of Germany and Northern Europe and, from 2010 to 2018, Chancellor and Residentiary Canon of St Paul's Cathedral. He is a Visiting Lecturer in the Department of Theology and Religious Studies, Kings College London and Visiting Scholar at Sarum College. Since 1996 he has also been a Deputy Priest in Ordinary to HM the Queen. He was appointed Dean in 2018.
His duties as Dean include the final responsibility of the conduct of the services in the College Chapel and oversight of pastoral care provided by the Chapel within the College community. He is also responsible for the appointment of clergy to the College's 39 livings (parishes) with which the College has long had official connections. Canon Oakley is the author of several books, the latest being The Splash of Words: Believing in Poetry. He is an Ambassador for StopHate UK, Patron of Tell MAMA (supporting those affected by anti-Muslim hate crime) and a Trustee of the Civil Liberties Trust. His interests include poetry, theatre and human rights.