Commonplace books
Commonplace books were used from early modern times as a useful way to record information. Essentially hand-written scrapbooks, they could be filled with items of every kind: quotations, poetry, letters, summaries of sermons heard or books read, prayers and proverbs, tables of weights and measures, legal formulas, mathematical calculations, anything, in fact, that the writer wished to have recorded for future reference. In 1706, the English Enlightenment philosopher John Locke wrote a manual on how to arrange material in a commonplace book, suggesting topics by which items could be categorised, such as love, politics, and religion.
The Library has quite a few examples of commonplace books dating from the early seventeenth century onwards. Descriptions of them can be found here on the listing of post-medieval manuscripts on the Library's website. Some volumes are thematic, dealing largely with theological questions, or legal matters, or university affairs. Others are more wide-ranging and give an extraordinarily personal insight into the preoccupations of their authors. We feature a selection in this spotlight.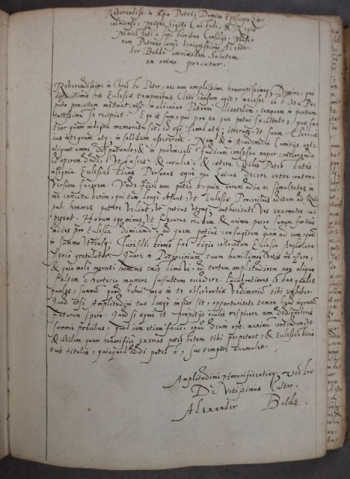 Alexander Bolde, a Fellow of Pembroke College, kept a commonplace (MS S.34) in around 1620. He recorded a selection of themes in it, Latin and English verses, Latin letters, speeches, medicinal recipes, epigrams, and anecdotes, largely on religious topics. His commonplace book was given to the Library in the eighteenth century by the Johnian antiquarian and ejected Fellow, Thomas Baker.
John Allsop was born in 1668. He originally entered St John's as a sizar, continuing at the College as a Fellow. His commonplace book (MS S.17) dates from around 1688. Many of the headings in it have no entries, and around half the book is blank. However, in blithe disregard of the headings, he made a series of notes on Cicero's De Natura Deorum and kept a history of key events since the Creation. These are followed by highly abbreviated lists of books bought, drafts of letters, short themes, and fuller accounts of laboratory experiments, together with abstracts of Descartes' principles. There is also a composition 'The Maids Deniall'. The volume ends with an incomplete index.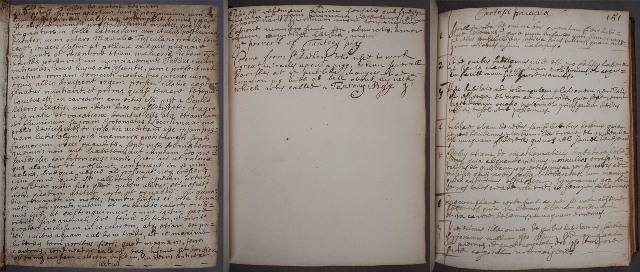 An anonymous commonplace (MS K.38) of a similar date contains a typically wide variety of items in Latin and English. An incomplete account of the trial of the Earl of Strafford sits alongside some Latin exercises and a burlesque speech, evidentally copied from a source that was not wholly legible, as gaps have been left. An address delivered by Bishop Corbett to the clergy of Norwich in 1634 is followed by a list of suitable books for a young scholar's library and directions for theological students. Notes on civil law for clerics, a bibliography of socinian literature and some theological questions in Latin complete the volume.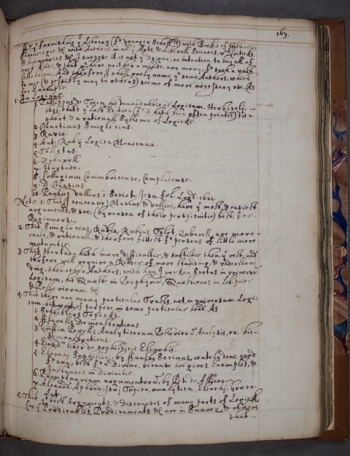 Thomas Holdway began his commonplace book (MS O.71) in 1734. In it he kept a record of memorial inscriptions, largely from graveyards in Hampshire. Manuscript exercises in arithmetic with examples of mercantile calculations occupy about 50 pages. Other content includes music for psalms, poetry, and recipes for medicinal cures.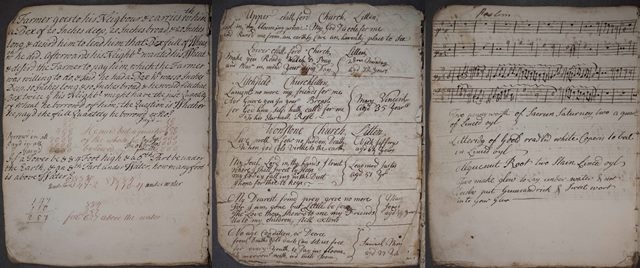 George Whittington kept his commonplace book (MS O.73) from around 1796 through to 1805, covering his final years as a pupil at Eton, through his time at St John's, where he matriculated as a Fellow Commoner in 1799, until 1805, the year he gained his LLB. His commonplace gathers together epigrams and witticisms, poems and speeches, a list of books to get, and a record of books 'read for instruction & amusement at Leisure times accompanied with other Memoranda interesting only to the Owner' which gradually develops into a brief journal of sorts. The volume also includes the minutes of a College debating society, and a travelogue of a continental tour taken in 1802-3.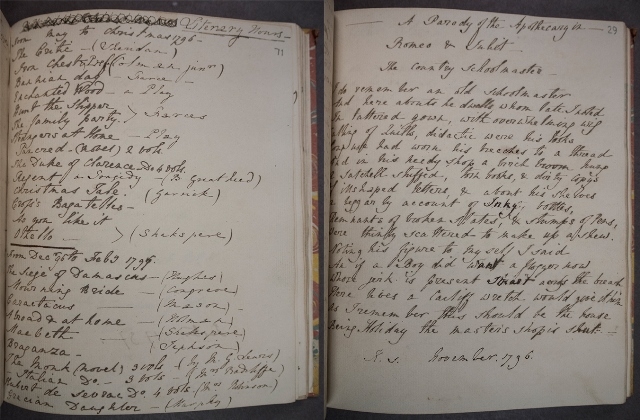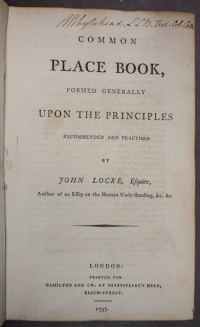 In 1800, commercially produced commonplace books, complete with a printed six-page introduction on their utility and use, were available. William Whytehead used one of these (MS W.25) to record personal entries on many different subjects. Notes on architecture, law, politics, death, freedom, travelling and wit are all included. He records literary quotations in both Latin and English, a list of paintings and pictures, dog Latin phrases, a list of recommended English and European historians, Greek memoranda, epigrams, riddles, Yorkshire dialect words, etymology, and hymns. William Whytehead was admitted to St John's in 1788. He gained his bachelor's degree in law in 1794, and entered Gray's Inn the following year.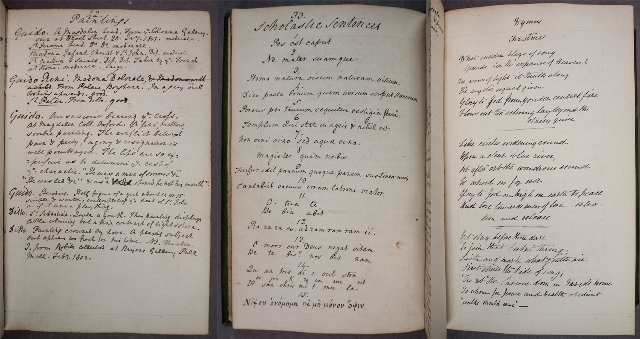 This Special Collections Spotlight article was contributed on 10 October 2016 by the Special Collections Librarian.