From black armbands to withheld wages – the chequered history of women at St John's
"Is a pretty girl less pleasing to us because she can understand us when we speak something better than nonsense?"
Women may not have come to study at St John's until the 1980s, but as Hazel Lawrence finds out, they have played a crucial role in our history.
St John's would not exist if it wasn't for women. One of them you will already be familiar with – Lady Margaret Beaufort. The financial legacy of the mother of King Henry VII enabled the foundation of St John's in 1511. Our Boathouse bears her name and her portrait takes centre-stage in Hall. Other women like Mary Cavendish, the Countess of Shrewsbury, are less well known but her influence on College is unmissable, particularly if you're standing in Second Court which her donations funded in the early 1600s.
The earliest records we have of women's presence at the College show that by 1528 they were at St John's as laundresses. By 1631 St John's also had female cleaners and bedmakers. One of these cleaners, referred to as 'Goodwife Scot', was so good at her job that she was known for her "extraordinary worke in sweeping & brushing". While the presence of female staff in St John's wasn't as controversial as female students would later prove to be, there were still some significant obstacles they had to face.
Letters from Sir Robert Forsyth Scott, the then Master, in 1908 reveal that he didn't want to entrust women with their pay. He explained: "I have never thought and do not think now that it is wise to hand over, what for these women are, very large sums." There were also fears that the presence of young women around College would be disruptive for male students. So until the twentieth century it was written into the College Statutes that all bedmakers had to be married and past childbearing age.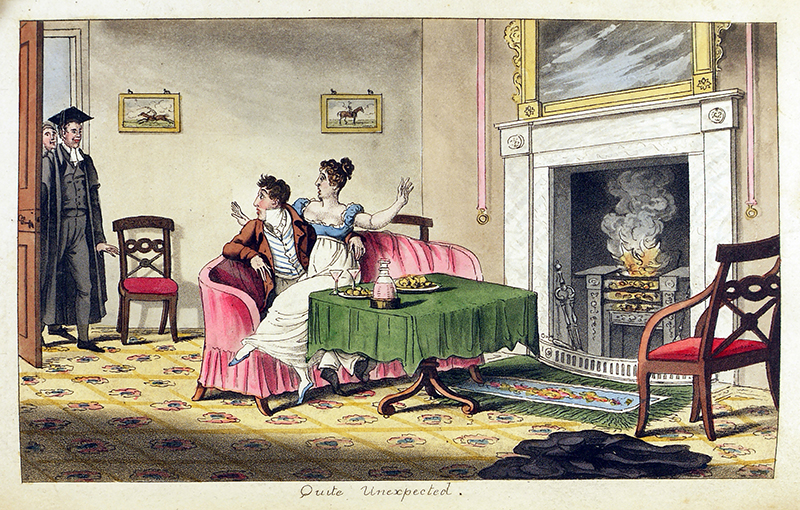 The perceived consequences of employing young female bedders published in Gradus ad Cantabridgiam in 1824
In 1870 a small group of academics, including several Fellows from St John's, had started providing lectures to women in Cambridge
The battle for gender equality in the Cambridge University education system was – and still is – long and difficult. Cambridge was the last university in the United Kingdom to allow women to take full degrees which it finally did in 1948 – nearly 70 years after the University of London became the first English University to grant women degrees in 1880. It was only in the 1970s that the previously all-male Colleges began to admit women, starting with Churchill and followed by Clare and King's in 1972. The first female Fellows and students didn't arrive at St John's until 1981.
Students debated the pros and cons of women's degrees in The Eagle as early as the 1860s. Concerns over how education would affect women's femininity were common, but one Johnian robustly replied, "Is a pretty girl less pleasing to us because she can understand us when we speak something better than nonsense? Can she not be a friend to us as well as a plaything? Is all this fair to her?"
The debate goes quiet in The Eagle after this exchange (at least for a few decades) but the issue had most definitely not gone away. Academics and campaigners had begun to work to give women higher education. In 1870 a small group of academics, including several Fellows from St John's, had started providing lectures to women in Cambridge. These quickly became so popular they needed accommodation for the women who came, and by 1872 some women were living in Merton Hall, the building next to what we now call the School of Pythagoras. They lived here until 1875 when Newnham College was formally established on land leant to them by St John's, in part thanks to Anna Bateson, the wife of William Henry Bateson, Master of St John's from 1857-1881. Anna was a campaigner for the rights and education of women, and her work and influence not only contributed towards the foundation of Newnham but she also founded the Cambridge Women's Suffrage Association with fellow suffragist Millicent Fawcett. Anna died in 1918 – before some women were given the vote in December of the same year. A room at Newnham College has been named after her to commemorate her contribution to women's education.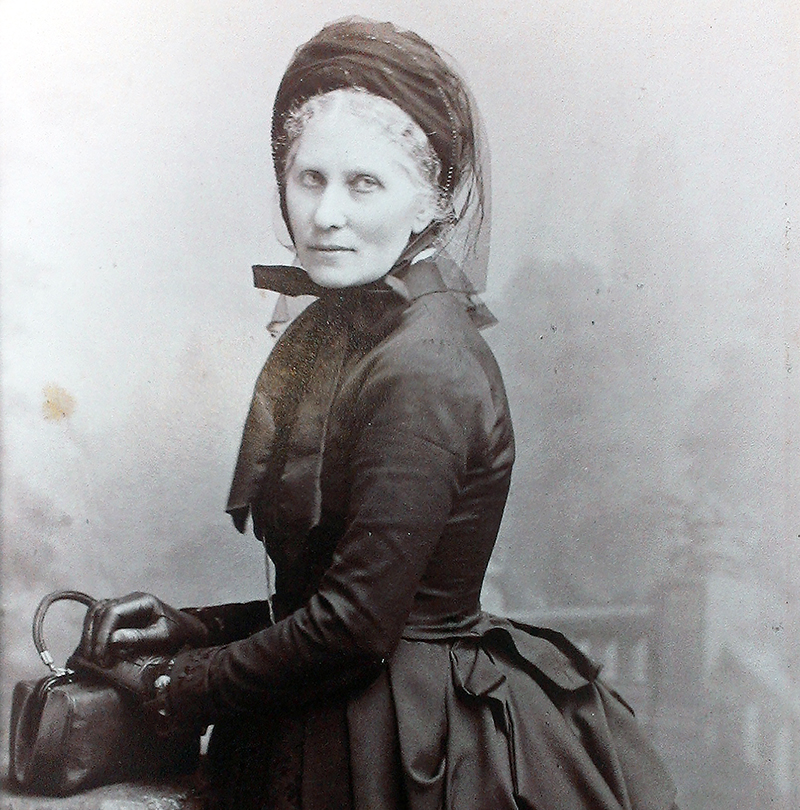 Anna Bateson in 1875
"We hope to have established that co-education is both a feasible and a desirable system on which to run an educational institution"
Even when women were eventually awarded Cambridge degrees in 1947, they could only join the all-women Colleges, which limited their numbers.
By the 1960s students at St John's organised a co-education survey and 289 men responded. The results published in The Eagle showed that 95 per cent of the responders said they would like to see more women undergraduates in Cambridge and 63 per cent wanted St John's to become co-educational. The editor concluded "If nothing else, we hope to have established that co-education is both a feasible and a desirable system on which to run an educational institution, and look forward to witnessing its introduction later this century."
Despite the support for change from the student body it wasn't until 1980 that the Fellows were able to secure a two-thirds majority to change the College Statutes. The vote was close – 57 to 28 – but it was enough. It had been decided that women were going to matriculate at St John's.
And matriculate they did. In October 1981 the first female Fellow, Dr Kathleen Wheeler, arrived along with nine research students, and 43 female undergraduates arrived a year later. They threw themselves into College life, starting the women's rowing club as well as a dining society called the Robins. There were some challenges though: famously the Head Porter 'Big Bob' Fuller flew the College flag at half-mast and wore a black armband on the day women entered the College.
Professor Jane Heal in her room in Third Court
"The message has gone in intellectually but the weight of culture still pushes the genders apart"
Professor Jane Heal, College Supervisor in Philosophy, joined St John's shortly after the first few years of female students in 1986. Was she apprehensive about joining the overwhelmingly male environment? She said: "No. I think many of my contemporaries were, but I'd been in academic life for nearly twenty years at that point." Professor Heal studied her undergraduate and postgraduate degrees at New Hall (now Murray Edwards College) and was appointed a lectureship at Newcastle University where she stayed for ten years. "When I was an undergraduate here I think the ratio at the faculty was something like seven men to every woman. At Newcastle I was one of only two women in a department of seven or eight. So I was used to having more male colleagues than female before I arrived at John's."  
In 1999 she became the first ever female President of College. Professor Heal says her memories of College members' at the time was of them being "extremely supportive". She particularly remembers the late Professor John Crook coaching her in how to pronounce the Latin grace used at Formal Halls.
She still thinks that St John's has an atmosphere of friendliness and moral support in its community, though she acknowledges that women still have ground to cover to gain equality in the wider world. She explained: "We've had a couple of centuries of pushing for women's rights and we've changed a lot of negative attitudes, but there's still work to be done, undoubtedly. The message has gone in intellectually but the weight of culture, to say nothing of commercial activities, still pushes the genders apart. We haven't got it right yet."
St John's now has its first female Director of Education and Senior Tutor, Dr Annis May Timpson, its first female Domestic Bursar, Helen Murley, but there is yet to be a female Master or Senior Bursar. It seems a woman's work is not yet done…
Published: 07/03/19
Heather Hancock, the first female Master of St John's was elected in 2019 and began her role in 2020