Today restricting one's diet is quite common. We all know someone who is vegetarian or vegan, someone who doesn't eat gluten or dairy or someone who is reducing their sugar, fat or salt intake. However, during both wars it was the government encouraging and eventually enforcing Britons to restrict their diet. Rationing was introduced in 1917 and again during World War II. Ration cards did not disappear until 1954. The College's Archive collection contains a number of ration notices for Fellows and junior members from World War I until 1949.
World War I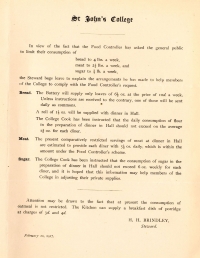 Following three years of war, in January 1917, Germany started using submarines to sink all ships headed to Britain in an attempt to starve Britain into submission. To meet this threat to the food supply voluntary rationing was introduced in February 1917.
The allowance under this scheme was based on three staples of the daily diet - bread, meat, and sugar. The College as a provider of meals, volunteered to reduce its consumption of these foodstuffs.
Although this voluntary scheme had some effect, more was still needed. Shortages continued and although wealthier people could still afford food, malnutrition was seen in poor communities. To try to make things fairer and ensure that everyone received their fair share, the government introduced rationing in 1918. Ration cards were issued and everyone had to register with a local butcher and grocer. The first item to be rationed was sugar in January 1918, but by the end of April meat, butter, cheese and margarine were added to the list. Some foods were still in short supply even after the war ended, for instance butter remained on ration until 1920.
World War II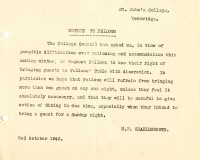 Cambridge itself experienced, during these years, the same round of air-raid precautions, black-out, and steadily increasing shortages as all other places in England. After the Second World War began in September 1939 the first commodity to be controlled was petrol. On 8 January 1940 bacon, butter and sugar were rationed. This was followed by successive ration schemes for meat, tea, jam, biscuits, breakfast cereals, cheese, eggs, lard, milk, and canned and dried fruit.
As in the first war, the College was forced to limit its consumption of rationed foodstuffs. Throughout the war it issued notices to Fellows and undergraduates regarding the rationing of food. A notice from 1943 pasted in the front of the Kitchen Suggestion Book (SJGR/2/8/3) reads: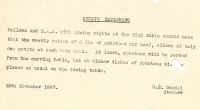 It is the desire of the Steward and the Kitchen that you should be fed as well as possible within the limitations set by the Ministry of Food. Helpful suggestions towards this end are welcomed and will be seriously considered. Complaints should be made direct to the Kitchen Manager. (21 January 1943)
Fourteen years of food rationing in Britain ended at midnight on 4 July 1954 when restrictions on the sale and purchase of meat and bacon were finally lifted.
Below are a series of rationing notices issued to College members during World War II. Note that in addition to bread, meat, sugar and butter potatoes were rationed.