War and Precious Peace: How conflict transformed Professor Robert Hinde's world view
Professor Robert Hinde, who died on 23 December, 2016, aged 93, was one of the College's longest-serving Fellows. Shortly before his death, he wrote a memoir for his family about his experiences during the Second World War. This article, originally published in the College newsletter 'Eagle Eye', reveals how his experience of war as a young man inspired a subsequent, lifelong commitment to abolishing armed conflict. 
Professor Hinde describes the part he played in the War as a "boring tale" in which "I am glad to say that I did not kill anyone and no one specifically tried to kill me". Yet his five years in the armed forces had a profound effect on the way he would see the world for the rest of his life.
As soon as they were old enough, Hinde and his childhood friend Graham Cozens-Hardy, had enthusiastically volunteered for the Royal Air Force. "There were advertisements in the papers for young men to join the RAF and get a pair of silver wings, fly above the clouds and all that. No doubt this was in part due to the role of Fighter Command in the Battle of Britain," Hinde recalls.
After passing his Air Force medical, Hinde waited to be called up for training. During this time, in 1941, Hinde's parents received the devastating news of the death of Hinde's older brother John, a newly qualified doctor who had signed up to the Royal Army Medical Corps within a few days of the declaration of war. After contacting a survivor who had been on the same troopship as John when it was hit by a torpedo, the family were informed of the 'terrific pain' John had suffered on a drifting lifeboat before being 'released of his agony on the 15th day', four days before the few remaining others were rescued. For Hinde, the awful story of John's death was crushing, but it did not turn him against the war effort. "I loved and admired my older brother, but accepted his death as part of the War."
When Hinde finally received his call-up papers, it was only to endure further waiting at RAF receiving centres before being crammed onto a ship usually used to transport frozen meat carcasses and sent to South Africa. "By this time our hopes of ever learning to fly sank to a basic level. We had hoped to learn in England, but it was presumably due to the intrusions of German night fighters that all flying training was moved to Canada or Southern Africa. We had been in the RAF for months and had not even seen an aeroplane."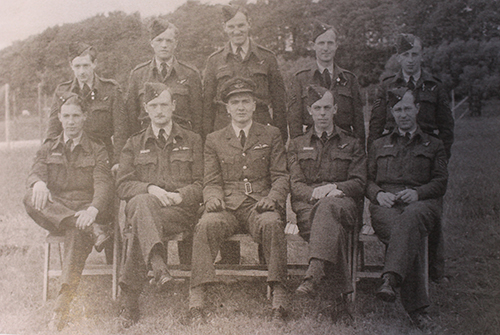 Over the course of the War, Hinde did learn to fly Tiger Moths ("the open cockpit made one feel that one was really flying"), Airspeed Oxfords, Avro Ansons, and Catalina and Sunderland flying boats. He spent many hours in the air and flew across much of the globe.
After three frustrating years of training and waiting, in 1944 Hinde was dispatched to the Far East as a fully-fledged RAF pilot in Coastal Command. The bulk of the work involved flying for hours over featureless ocean, scanning the blue for anything from a ship's lifeboat to a Japanese fleet and then getting back to base on Addu Atoll, the southernmost of the Maldives Islands, before the aircraft ran out of fuel. He was elated to be fully operational at last. 
Between operations, Hinde spent reflective hours walking the beaches of the coral atoll and observing the abundance of tropical wildlife. Looking back on that time, he says: "I do remember, walking alone by the lagoon, reflecting on what a terrible death to die in a damaged submarine stuck on the bottom would be, water pouring in and no means of escape. While maintaining my desire to contribute to the War, I also had a half-hope that I would never be involved in the sinking of a submarine." This is Hinde's first memory of doubting the ethics of war.
A few months after arriving at the Addu Atoll base, Hinde was fed up with "stooging round the empty ocean" and, along with another pilot, went to Command HQ to ask if they could learn to fly medium bombers. "I tried to get a transfer to something more exciting, but we came away with four fleas, one to buzz in each of our ears. It was frustrating to be seen as inferior beings compared with those about to proceed on Bomber Command ops. We did not realise how lucky we were," Hinde reflects.
Soon afterwards Hinde's best friend Graham, who had become a navigator for Bomber Command, was killed in action during a daylight raid over the Ruhr on 9 November 1944 – the day after he had written to his sister to make arrangements for coming home.
On 4 April 1945, Hinde qualified as a Sunderland Captain, but too late to be sent on any military missions as the war in Europe was ending. A scholarship to study Natural Sciences at St John's awaited him, and so he was demobbed in 1946. He had qualified for the Burma Star for flights over the Indian Ocean, and the Atlantic Star for operational trips from Killadeas, Oban and Alness.  However he elected not to apply for the latter:  "As I was filling in the form I felt so strongly that I had done so little compared with my brother John or Graham that I did not request the Atlantic Star. In retrospect, that was silly and pretentious."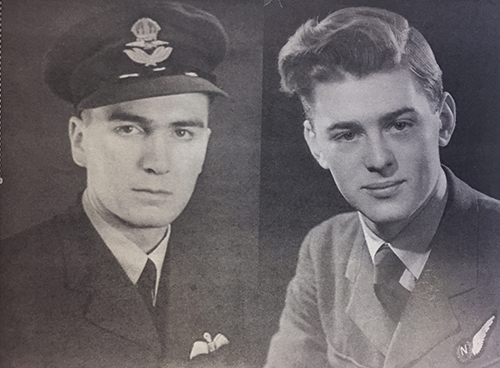 After leaving the military, Hinde mixed with other ex-service men studying at Cambridge and their shared experience brought home the true scale of the suffering. Hinde gradually grew accustomed to the post-war atmosphere of peace, and rejected not only the violence that had taken loved ones away, but also the mundane aspects of war that were responsible for the continuation of rationing.
Now an Emeritus Royal Society Research Professor at St John's, Hinde has dedicated the latter part of his career to eliminating the causes of war, writing papers and books on the subject, including War No More (HInde & Rotblat, 2003). He has been Chair and President of the Nobel Peace Prize-winning organisation the British Pugwash Group and the President of the Movement for the Abolition of War. "Post-war my world was transformed from one in which the main thing that mattered was winning the War to one where the preciousness of peace was dominant." So what exactly brought about this dramatic reversal of views?
The War had claimed the lives of Hinde's brother and best friend, but he had accepted their loss, becoming accustomed to the fact that in a conflict people get killed. "When the War was over I came to a different perspective and saw all its individual horrors rolled up into one gigantic horror. Every day members of all the services were dying. It was all those millions, on both sides of the conflict, only a few of whom I actually knew and many more who were not even names to me, the countless bereaved. Perhaps I should say 'especially the bereaved' for they had to go on living, when for many their lives had been impoverished and saddened forever."
Hinde believes that both before and after the War he was influenced by the attitudes of those around him. "Two men I came into contact with post-war had a huge impact on the way I, and many others see the world. One was Bruce Kent, the co-founder of the Campaign for Nuclear Disarmament and later a founder of the Movement for the Abolition of War. The other was Professor Sir Joseph Rotblat, formerly a member of the 'Manhattan Project', engaged in developing the first atom bomb. When it became known to the Allies that Germany had abandoned production of such a bomb, Jo left the project on grounds of conscience – the only scientist to do so."
As a consequence of his experiences, Hinde believes that efforts to abolish war must focus on normal people, "changing the popular view of war as heroic, inevitable, or a solution to disputes, must be an important strategy for peace".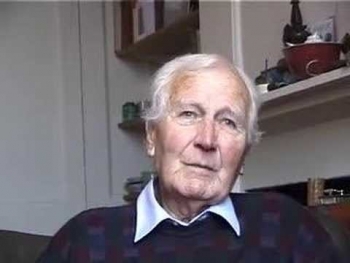 My 'War' (2016) is available to purchase through Spokesman Books: http://www.spokesmanbooks.com
Inset images: Sunderland Crew, with Hinde in the centre as Captain; Hinde (left) and his best friend, Graham, newly commissioned. Graham was later killed serving in Bomber Command; Robert Hinde photographed towards the end of his life.