Undergraduate Applications
Applying can seem daunting, but the process is actually more straightforward than you might think. To find out more, take a look at the information below.
Subjects
The following undergraduate subjects can be studied at St John's. When applying for a subject please make sure to carefully read the information on its webpage:
Application forms
Applications to St John's are made online via the UCAS website, further information about the UCAS application can be found here. Applications should be submitted by 18:00 BST on the 15th October for entry in October of the next year, or for deferred entry the following year.
When applying to Cambridge you will need to use a Campus Code to nominate your chosen College. St John's College's Campus Code is X. If you do not have a preference College you can make an Open application (Campus Code 9) and your application will be allocated to a College after the application deadline.
You'll then be asked to supply extra information through a Supplementary Application Questionnaire (SAQ), which ensures that we have complete and consistent information about applicants. 
More information about the SAQ can be found here.
Personal statement
As part of a UCAS form, you will be asked to complete a personal statement. This is an opportunity to give specific information about yourself that you feel it is important for us to know. This could be detailed reasons for why you want to study your chosen course, what motivated you, your hobbies and interests outside school, or your future aspirations, to name but a few. Interviewers at St John's may use your personal statement as a basis for discussion.
The SAQ includes space to provide an additional personal statement. This gives you the opportunity to expand on your UCAS personal statement, allowing you to include information specific to Cambridge.
Application types
The information displayed on this webpage applies to the vast majority of applicants to St John's. However an applicant's circumstances can affect what they must submit in order for their application to be considered, or specific deadlines for when they must apply.
If any of the below circumstances apply to your application, please look for further information on this webpage:
You live outside the UK or EU
English is not your first language
You are planning to take a year out between school and university
You will be over the age of 21 in the 1st October of the year you hope to come to Cambridge
You already have a degree from another university
You wish to apply for a Choral studentship or Organ scholarship
Admission assessments
Some subjects require applicants to complete a written assessment, either pre-interview or at-interview. A list of these subjects and the type of assessment they require can be found on the University website, each subject webpage above will also state whether a pre- or at- interview assessment is applicable.
At-interview Assessments
A list of subjects with an At-interview Assessment, with further information on the format of each assessment, can be found on this University webpage. You do not need to register for an At-interview Assessment, and there is no charge associated with taking an assessment at interview.
Pre-interview Assessments
A list of subjects with a Pre-interview Assessment, with further information on the format of each assessment, can be found on this University webpage. You must register for pre-interview assessments before 15th October.  If you require access arrangements you must be registered by 30th September.
Subject-specific tasks
The following subjects have additional requirements for applicants:

Submitted written work should be essays or pieces of coursework you have produced in the course of your school work and marked by a teacher, not specially written for your application. Please see the following section for how to submit written work.
Interview dates
For the 2018 Admissions Round interviews will take place between Friday 30th November and Thursday 13th December. We will try to give each applicant at least two weeks advance notice of the timing of interviews but there may be occasions when this is not possible. Applicants for Medicine will not be informed about interviews until the results of the BMAT are known.
Dates for each subject's interviews will be listed here as they become available. All dates are provisional and subject to change should unforeseen circumstances arise.
Interview dates by subject 2018
Please avoid other fixed commitments that might clash with interviews during this period as we may not be able to re-arrange interview times assigned to you. The College does not normally offer undergraduate places to candidates who are unavailable for interview.
Interviews can start as early as 8.30am, with the later ones finishing at 6.30pm. It may not be possible to make any changes after you have been notified of your interview times. Any special arrangements for interviews in individual subjects will be communicated when you are notified of your interview date.
Interviews
Who is interviewed?
Interviewees are typically predicted to achieve our minimum conditional offer. This is A*AA at A level (excluding General Studies and Critical Thinking) for arts subjects, and A*A*A at A level for sciences. There are, however, no set rules, and we always take individual circumstances into account.
If you feel that you have what it takes and are uncertain about your subject choices or predicted grades, contact the admissions team for advice. Some subjects require qualifications in certain subjects, so check your subject's requirements before you apply.
If you are taking qualifications other than A-Levels, don't worry. We regularly make offers based on other qualifications, such as Scottish Advanced Highers, or the International Baccalaureate.
Preparing for your interview
When you have received your invitation to interview by e-mail you must confirm attendance by completing and submitting this online form as soon as possible.
Read the University's general guide to preparing for interviews, and also consult the web page of the course you have applied for to learn the specific format of your interviews.
How interviews work
In general, St John's applicants are given two interviews of 20-30 minutes in length held by two interviewers each. The first 'general' interview is typically given by the Tutor for that subject and a Fellow outside of the area you have applied for, who will want to establish your motivation for studying at St John's. The second 'subject' interview is usually held by the Director of Studies and a Fellow within that subject, who will wish to learn more about your aptitude for the course.
Interviews are informal; we do not expect you to wear your Sunday best. We try to make the interviews as relaxed as possible, so if you have any questions or problems do let us know in advance and we will do our best to help. Our interviews are designed to find out what you know, not what you don't. The interviewers want to see how you think on your feet, and where your interests and enthusiasms lie, particularly in relation to the course you are applying for.
Getting to your interview
The majority of interviews will be held in St John's College, most likely in one of the interviewers' rooms.
The only cases where interviews are not held on site are in some of the smaller subjects where one of the interviewers works in another college or department. If this is the case, you will be given clear directions to where your interview is taking place or current undergraduates will escort you to your interview.
This webpage gives information on how to travel to St John's. When planning your journey, arrange to set off in plenty of time. If you are running late, please contact the Admissions Office.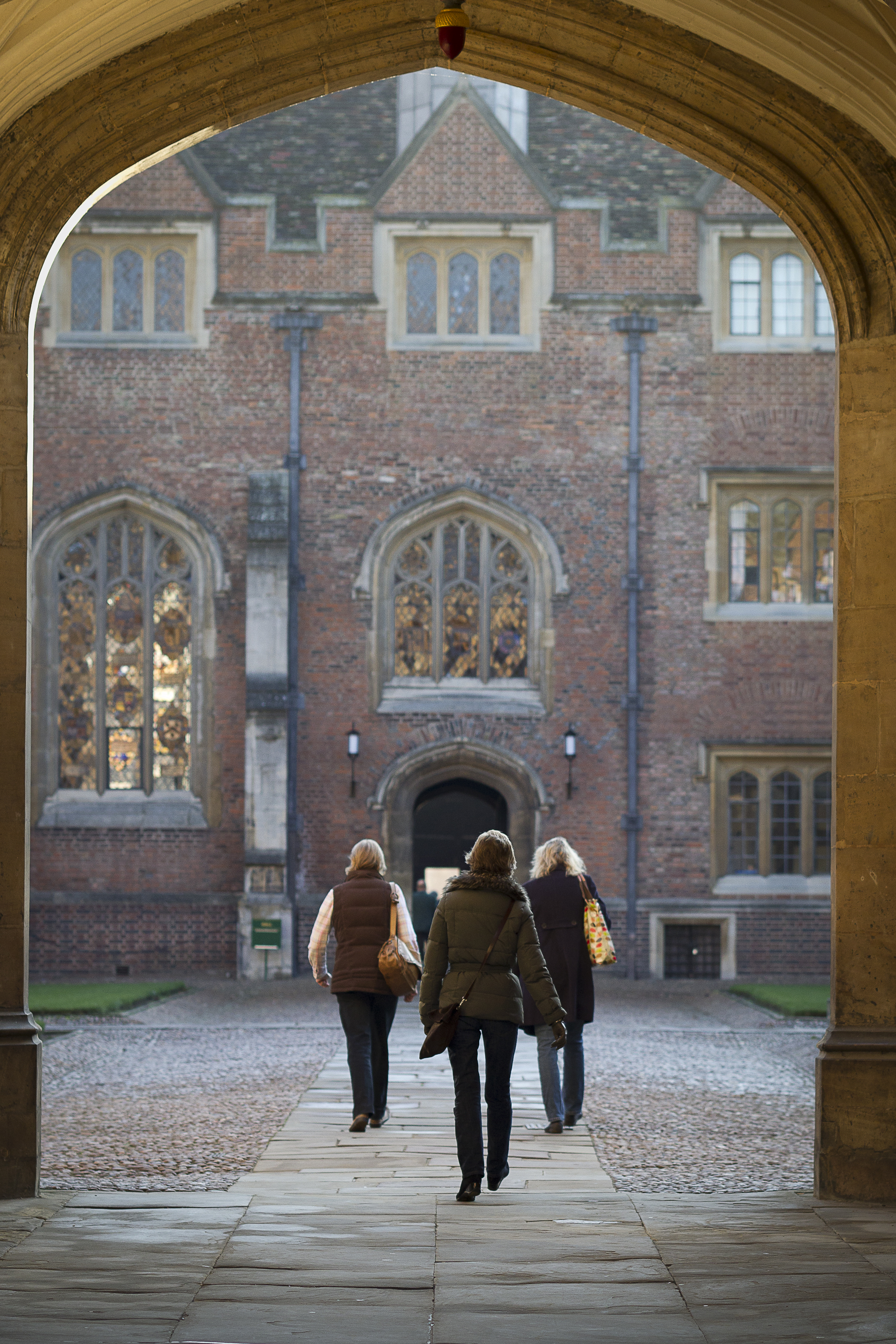 Arriving at the college
This map of St John's is designed to show the common locations needed for interviewees. On arrival at St John's College, please go to the Old Divinity School across from the Great Gate. You will be met by current undergraduates who will show you where your interviews and tests (if applicable) will take place and help you with any questions you may have.
You can use the Old Divinity School's Central Hall at any point during the day, where there will be staff and current students for you to talk to, newspapers to read and information about St John's and Cambridge. If you have parents/friends with you, they are also welcome to wait in Central Hall. Bags may be left in a secure room next to the hall, but you do so at your own risk.
Accommodation
St John's College has a limited number of single rooms available for candidates to use whilst attending their interviews. These rooms will be offered for one night only and are allocated on a priority basis by the College. Consideration is given to travel time, mobility requirements, and finance, as stated in a candidate's application. If accommodation is arranged for you please collect the keys to your room at the Forecourt Porter's Lodge when you arrive at St John's.
Please note that accommodation is only offered to candidates, except those travelling with their registered carer. Guests or candidates who would like to stay in Cambridge but do not meet the above criteria may find this website useful when booking accommodation in Cambridge.
Financial support for travel costs
To enable applicants to come to interview in Cambridge, the Colleges are pleased to provide support for travel costs to students who are in local authority care and/or are currently in receipt of free school meals and who attend a UK maintained sector school/college. Public transport costs between £20 and £80 can be reimbursed, and the Colleges will contact eligible applicants directly with further information when they're invited to interview.
Outcomes
All applicants for entry in 2019 and deferred entry in 2020 will be emailed with the outcome of their application in mid-January (a specific date will be available nearer the time). 
Decisions on which candidates are to receive offers of places are made on the basis of a combination of performance in interviews, the school or college reference, actual and predicted exam results, and any other relevant factors concerning the application. So far as possible, both intellectual achievement and potential are taken into consideration. Our aim is to choose students of high ability who have a keen interest in their subject, and who are likely to benefit most from the unique opportunities in this field of education at Cambridge.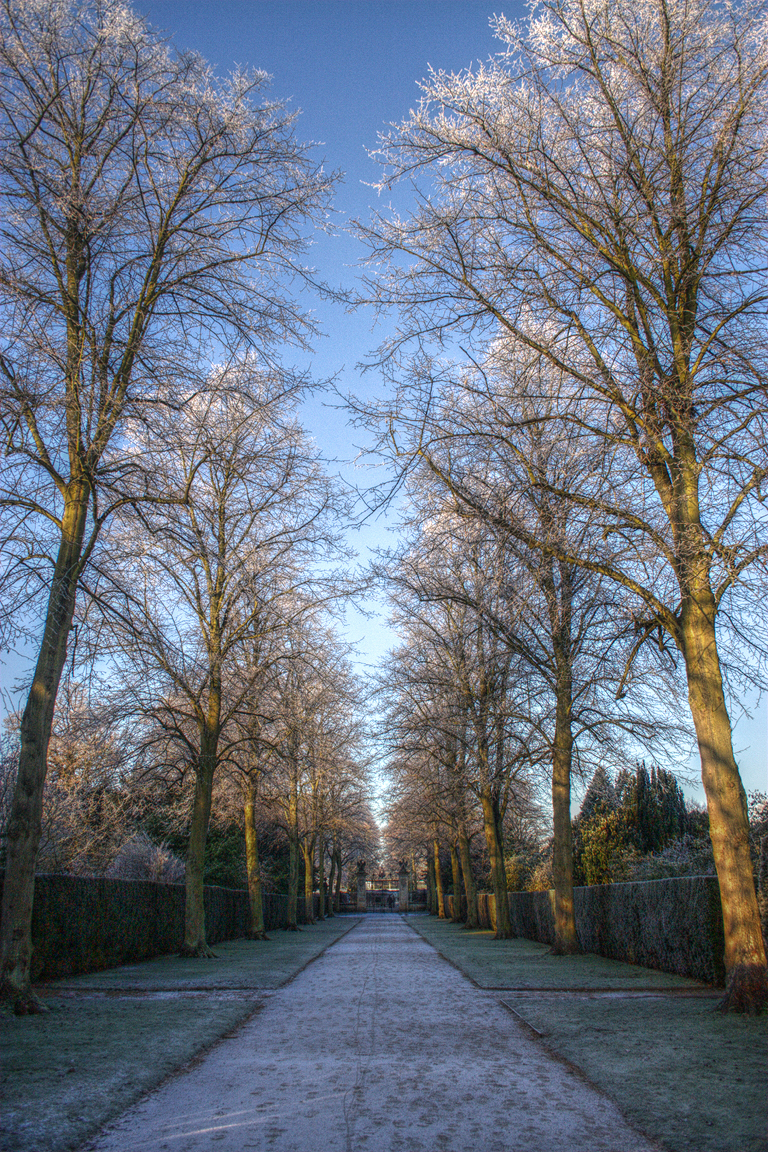 There are three possible outcomes of the application process:
Your application is successful and you receive a conditional offer to study at St John's. You will receive an e-mail confirming your offer, after which you will need to accept your offer via UCAS. A web page holding information for offer holders will be published in the new year.
Your application is "pooled". This means that we feel that you are suitable for a place at Cambridge, but cannot offer you a place at St John's. If this happens, you might be invited to interview at another College, or receive a place there without being interviewed at all.
Your application is unsuccessful.
Whatever happens, don't let the fear of being unsuccessful put you off – we can't offer you a place if you don't apply!
Feedback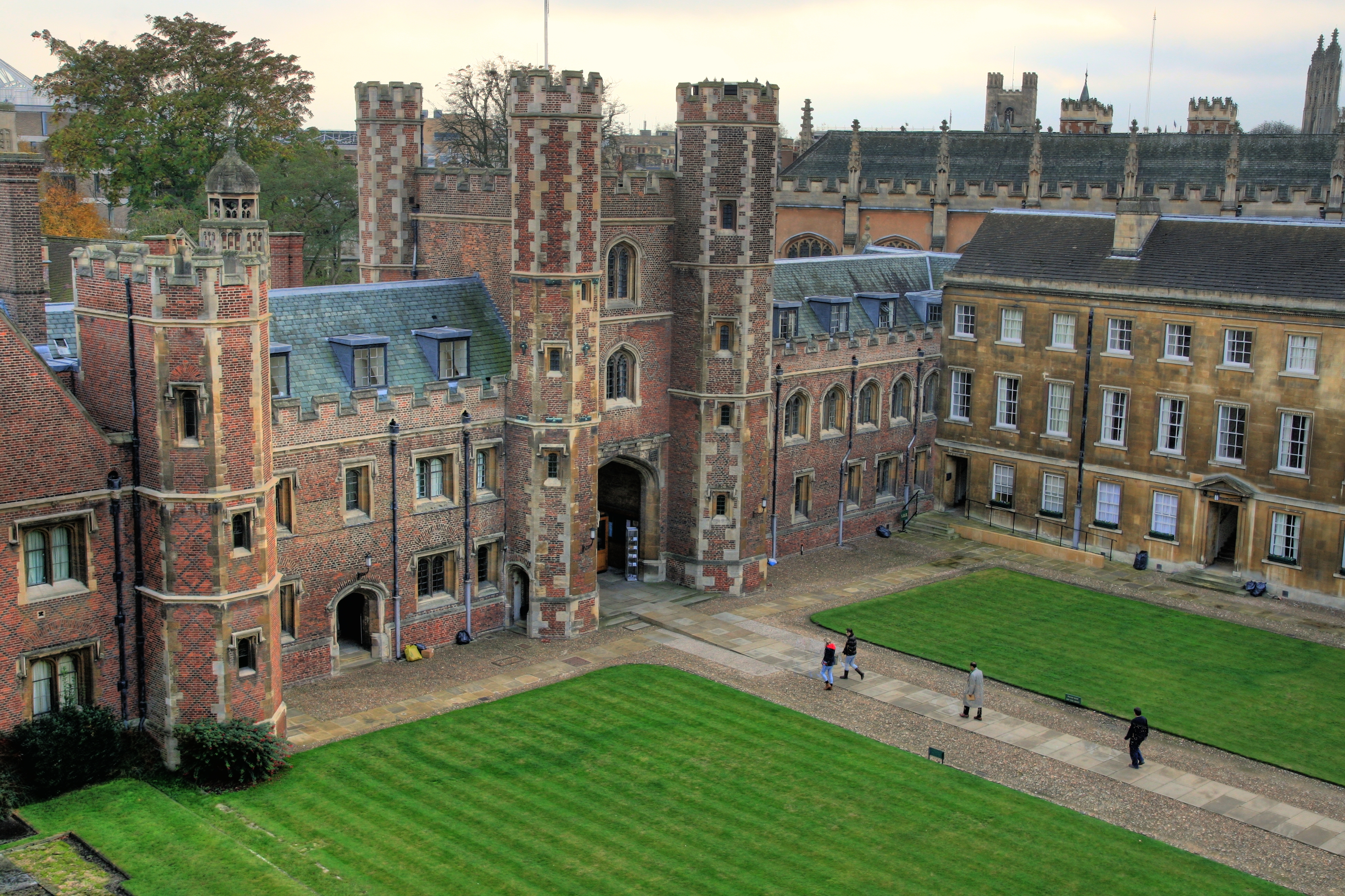 If you have been disappointed about the outcome of your application, the Admissions Tutor will be happy to offer individual feedback to your school.
Please contact your school as soon as possible and ask them to contact the Admissions Office no later than January 31st.
Frequently Asked Questions
Due to the volume of applicants it can take time for the College's Admissions Office to respond to enquiries. This web page has been designed to provide as much information as possible to applicants, so before contacting the Admissions Office please carefully read the content presented here as your query might already be answered.
The University also provides a list of questions frequently asked each year by undergraduate applicants, below are frequently asked questions specific to St John's College. If you still require assistance then please contact the Admissions Office and they will be happy to help you.
Is my combination of subjects at A-Level acceptable for my chosen course?
Many Triposes accept applications from students with a wide variety of subjects studied at A-Level (or equivalent) which may not be directly related to the course they have applied for. Every Tripos is different however so you are encouraged to consult your course's subject web page on the College website for further information on essential and desirable subjects, where appropriate. For more general advice you may like to consult a helpful leaflet produced by the University.
My written work is ready but the cover sheet is not, can I send in my cover sheet later?
All written work must be submitted with a completed cover sheet to be considered a valid part of your application. Each piece of written work, including the cover sheet, should be submitted as a single document. Applicants are encouraged to prepare their work in good time ahead of the deadline and to allow for any planned school closures which could delay completion of the cover sheet. Incomplete written work, or submitting written work after the deadline, may disadvantage your application.
I have left school and will not be able to have my cover sheet completed by my teacher – what should I do?
Please contact the Admissions Office for further advice.
What should I write about in my personal statement?
The content of your personal statement is entirely up to you. It is useful for those assessing your application however to understand what draws you to the course you have applied for and why you feel you would be well suited to studying this subject.
I cannot attend an interview on one of the dates listed for my course, what should I do?
Applicants who know that they will not be available on certain days in the interview period should note this in their SAQ. If you discover that you will be unavailable for part of the interview period after submitting your application please contact the Admissions Office as soon as possible for advice. Due to the time pressures of the interview period interviews for each subject take place only on certain days, these are set in advance.
I have been offered an interview but would prefer a different date or time, can I change this?
Due to the time pressures of the interview period and the number of applicants being interviewed we are very rarely able to amend an applicant's interview date or time once they have been notified of their interview timetable. If you are aware of certain dates or times that you will be unavailable for interview please note this in your SAQ or contact the Admissions Office as soon as possible. If you become aware that you will not be able to attend you interview at the allocated date and time after receiving your interview timetable please contact the Admissions Office as soon as possible for advice.
I have not been offered accommodation on the day before/day of my interview, can I request accommodation?
We have a limited quantity of accommodation available for use by applicants at interview and we are very rarely able to accommodate applicants if accommodation has not already been offered with their interview timetable. If you would like to request additional accommodation please note this when responding to your interview invitation, you will be informed if a room becomes available.
I have special arrangements for my exams at School, what do I need to do for the interviews?
Please submit a Disability/Specific Learning Difficulties interview adjustment form by 31st October. If your arrangements only become necessary after you have submitted your application please submit the Disability/Specific Learning Difficulties interview adjustment form as soon as possible and contact the Admissions Office for further advice.