Three shillings a ball and bring your own bat: Founding rules of College Cricket Club return to St John's
A small snippet of St John's sporting history has resurfaced in the form of a list of rules for the College Cricket club, which may date back to its foundation in 1861.
The document contains 16 rules, specifying, among other things, subscription fees, fines for failing to turn up, and a limit on the number of balls during practice. If it is indeed the original list, it marks the beginning of a club which would later help to launch the careers of several famous professionals, including England players such as Trevor Bailey and Mike Brearley.
Until now, little was known about the early days of cricket at St John's. While the college supplied cricketers for the university team during the earlier part of the 19th Century, it was not until 1861 that a club was established at St John's itself.
The College record, The Eagle, reports that on March 7 that year "an important meeting" had been held to agree "new Laws for the regulation of the Cricket Club". The Fellows of the College were apparently very supportive, seeing the initiative as "securing healthy exercise and amusement for the Undergraduates, and themselves occasionally mingling in such sports."
The rules themselves, however, were unavailable for publication. Readers desperate to know more were promised that further details would appear in a forthcoming issue, but they never did. Little else is known about the club's formation; the first known photograph of Johnian cricketers, for example, is from 1886.
Now, 156 years after they were first advertised, the elusive rules can finally be read, after they were offered to the College Library having been acquired by the booksellers Christopher Saunders, who specialise in cricketing memorabilia.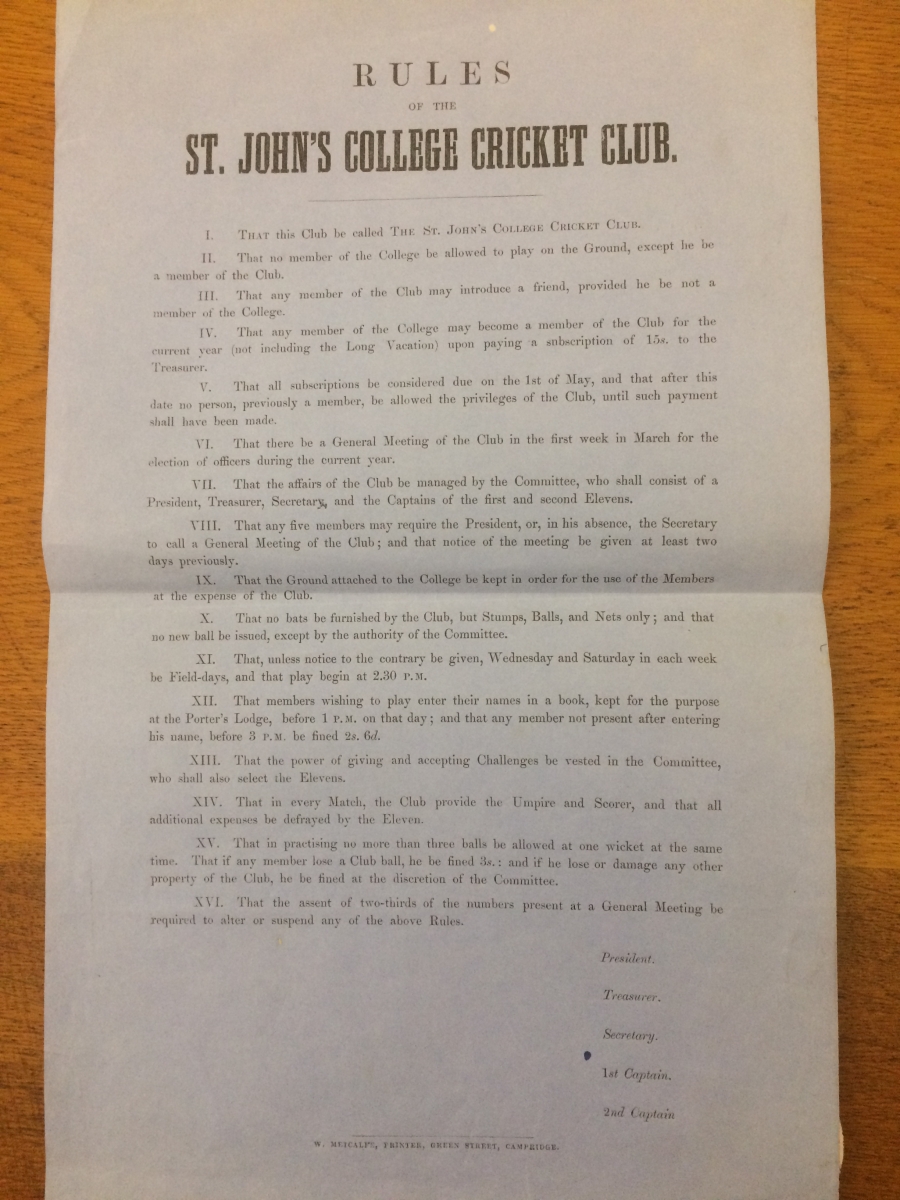 The document is undated, but was printed by W. Metcalfe of Green Street, Cambridge. As luck would have it, the same printer was also responsible forThe Eagle, was at Green Street in 1859 (when the first issue was published), but is known to have moved to Trinity Street by 1871. This means that the list must have been produced during the first decade of the club's existence – and may well be the missing set mentioned in 1861.
To modern eyes, and perhaps even those of the 1860s, some of the provisions seem a little too thorough. Rule 1, for example, is: "That this Club be called The St John's College Cricket Club", which critics might argue did not merit a full statute in its own right.
Elsewhere, the difficulties of running a cricket club are clear. Wednesdays and Saturdays were designated "field days", with play starting at 2.30pm. Any member wishing to take part had to add their name to a book kept at the Porter's Lodge before 1pm, and anyone who had promised to play but failed to turn up by 3pm was to be fined 2 shillings and sixpence. Subscriptions for the entire year cost 15 shillings.
Cricket at St John's also seems to have been a "bring your own bat" affair. Rule 10 demands: "That no bats be furnished by the Club, but Stumps, Balls and Nets only".
Balls were also at a premium, presumably because of the cost. Not only does Rule 10 go on to specify that no new ball be issued without the Committee's permission; Rule 15 then stipulates that when practising "no more than three balls be allowed at one wicket at the same time" and that "if any member loses a club ball, he be fined 3s."
Despite the difficulties of guaranteeing players and losing equipment, however, the club went from strength to strength. Some of its alumni include Freddie Brown, widely acclaimed for his captaincy of England during a difficult tour of Australia in 1950-1; Norman Yardley, of England and Yorkshire; Trevor Bailey, who played 61 matches for England and later became a commentator on Test Match Special; and Mike Brearley, who famously captained England to an unlikely Ashes success in 1981.
St John's was also the venue for early cricketing feats by a number of other notable figures. Rob Andrew, better known as one of English rugby's greatest ever fly-halves, was also a gifted cricketer who played for the College and the University. Another, less recent alumnus, was C. Aubrey Smith, who captained early England tours to South Africa and Australia, before becoming a successful stage and film actor. Later in life, he founded the Hollywood Cricket Club, whose players included Basil Rathbone and Laurence Olivier.