St John's College Studentships
The Scheme
From 2016, undergraduate students whose household income is less than £25,000 will be considered for additional financial support from St John's, designed to help with their living costs while at Cambridge. Studentships are offered to all undergraduate students at the College who qualify for Home/EU fee status as determined in accordance with the Education (Fees and Awards) (England) Regulations 2007 (SI 2007, No 779).
The studentship scheme has been set up to help reduce financial pressure on students from lower-income backgrounds. Combined with the Cambridge Bursary Scheme – a scheme already run by the University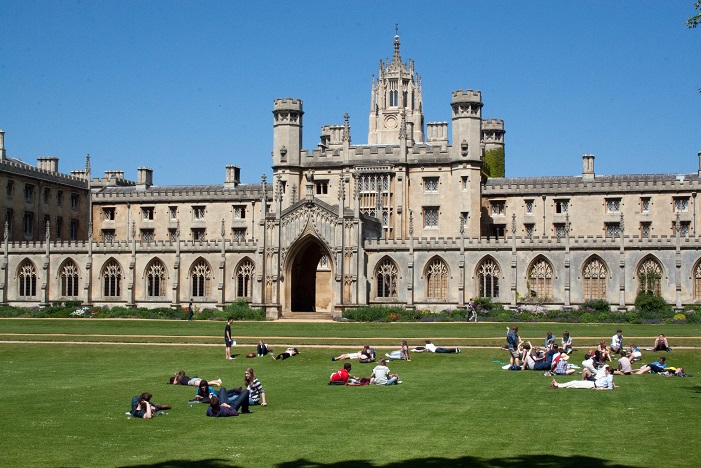 of Cambridge which entitles students whose annual household income is below £42,620 to a non-repayable sum of up to £3,500 per year – the studentships will enable recipients to receive an annual grant of £10,310* to cover day-to-day living expenses during the academic year, from October to June.
The studentships will be paid for using a new fund comprising contributions from alumni, which has been created as part of the College's ongoing efforts to raise money to invest in education and research. St John's aims to ensure that every student capable of studying here is able to do so regardless of their financial circumstances, and that those students who need the most help are fully supported from start to finish.
The scheme will initially run for five years, during which the College will assess its effectiveness and financial sustainability with a view to continuing it in the long term.
* £10,310 is the rate for academic year 2018-19
Eligibility
Who is eligible for the Studentships?
The scheme is open to Home and EU students on undergraduate courses only, who are commencing their courses as first year students from October 2016, and if their household income is below £25,000. MVST students will be eligible for a St John's College Studentship only during the first three years of their studies (pre-clinical studies). Anyone benefitting from the scheme must have been offered a place to study at St John's and they must have already satisfied the entry requirements of their offer in subsequent A-level examinations (or equivalent).
If a year abroad is an integral part of their course at St John's, the students will be eligible to receive the Studentship during their year abroad, provided they meet the other requirements. For year abroad students, the College will also ask for information about any other potential funding they may receive during their year abroad and take this into account.
How will financial eligibility be calculated?
The College will base its financial assessment on Government Student Finance data. The basic measure, household income, refers to a family's income before tax but after pension contributions. In order to prove eligibility, students will need to apply to Student Finance for a Financial Assessment and disclose the outcome of this assessment to the College. Please note that the College reserves the right to ask for additional information and/or evidence if required, and potentially to withhold any award until all requirements have been satisfied. The financial eligibility for the St John's Studentship is initially assessed upon admission to the College and is reassessed in any following years of undergraduate studies at St John's.
How much will you receive?
Combined with the Cambridge Bursary, any student benefiting from this scheme will receive a sum of £10,310. This is a non-repayable grant (and not a loan) and is designed to cover living costs at Cambridge during the academic year from October to June.
Will eligibility for other forms of support be affected?
No, students will remain eligible for all other standard forms of financial support.
Application Procedure
I believe that I am eligible - what should I do now?
If you are an offer holder for admission in October 2018 and you believe that you are eligible for the St John's College Studentship, please:
let us know by email, so that we look out for your assessment from Student Finance
apply to Student Finance for a financial assessment - make sure that you and your parents/sponsors have not 'opted out' of giving SLC consent to share information with the University, so leave the box 'Opt out' unticked
if possible, keep copies of the forms that you submit to Student Finance England
You don't need to submit a separate application to St John's; the College will contact you in August and will ask you to complete a form with financial information
For any enquiries, please contact the Scholarship Administrator.
Please note that the provision of fraudulent information in order to obtain a studentship, or any attempt to mislead the College in this regard, will be treated as a disciplinary offence and may result in serious disciplinary action by the College.
Links