St John's College Studentships
The Scheme
In 2016, St John's College introduced the St John's College Studentships Scheme to offer additional support to undergraduate students whose household income is less than £25,000. In the academic year 2018-19, the Studentships Scheme was extended to include students from families with income up to £42,620.
Studentships are non-repayable grants offered by St John's College and are designed to help reduce financial pressure on students from lower-income and middle-income backgrounds. They are offered to all undergraduate students at the College who qualify for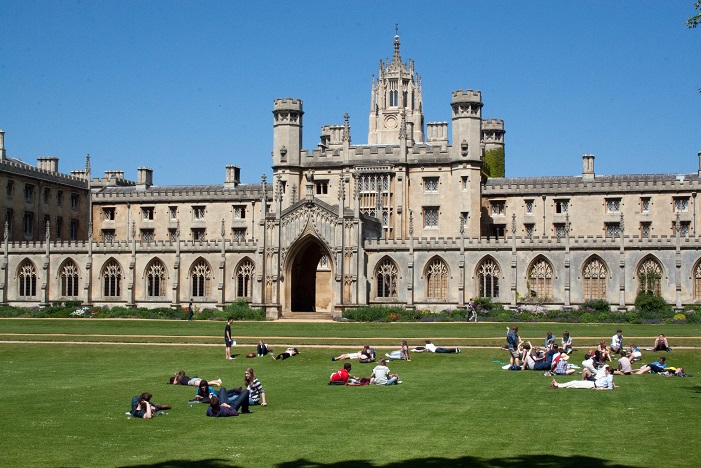 Home/EU fee status as determined in accordance with the Education (Fees and Awards) (England) Regulations 2007 (SI 2007, No 779) and meet the financial criteria mentioned above. The students in receipt of a St John's College Studentship are still eligible to receive funding from the University-wide Cambridge Bursary Scheme.
The studentships are funded entirely by recent donations from alumni and friends of the college who support St John's aim to ensure that every student capable of studying and thriving here is able to do so regardless of their financial circumstances.
The scheme will initially run for five years, during which the College will assess its effectiveness and financial sustainability with a view to continuing it in the long term.
Rates
Rates for the Academic Year 2020-21
Students with a household income of up to £25,000 are eligible for the full amount of £7,380. Combined with the Cambridge Bursary of £3,500, the total amount of £10,880 is expected to fully cover the living costs at Cambridge during the academic year from October to June.
For students with a household income between £25,001 and £42,620, the yearly award will be between £100 and £7,380
Please see some examples which give an indication of the amount of the Studentship depending on the household income.
| Household Income | Studentship 2020-21 |
| --- | --- |
| <= £25,000 | £7,380 |
| £27,000 | £6,560 |
| £30,000 | £5,320 |
| £33,000 | £4,080 |
| £35,000 | £3,250 |
| £38,000 | £2,010 |
| £40,000 | £1,190 |
| £42,000 | £360 |
Eligibility
Who is eligible for the Studentships?
The scheme is open to Home and EU undergraduate students who are commencing their courses from October 2016 and their household income is up to £42,620. MVST students will be eligible for a St John's College Studentship only during the first three years of their studies (pre-clinical studies). Anyone benefitting from the scheme must have been offered a place to study at St John's and they must have already satisfied the entry requirements of their offer in subsequent A-level examinations (or equivalent).
If a year abroad is an integral part of their course at St John's, the students will be eligible to receive the Studentship during their year abroad, provided they meet the other requirements. For year abroad students, the College will also ask for information about any other potential funding they may receive during their year abroad and take this into account.
How will financial eligibility be calculated?
The College will base its financial assessment on Government Student Finance data. The basic measure, household income, refers to a family's income before tax but after pension contributions. In order to prove eligibility, students will need to apply to Student Finance for a Financial Assessment. The College reserves the right to ask for additional information and/or evidence if required, and potentially to withhold any award until all requirements have been satisfied.
For the academic year 2020-21, Student Finance England base the assessment of the household income on the tax year 2018-19 for Home students and on the tax year 2018 for EU students. The same tax years will be used by the College for the assessment of eligibility for the Studentships. If a student's income has decreased since then, we will consider a request for the income in the following year to be used for our assessment.
Will eligibility for other forms of support be affected?
Students in receipt of a St John's College Studentship will remain eligible for all other standard forms of financial support, including the University-wide Cambridge Bursary and other College support, for example grants from the Learning and Research Fund.
Will I receive the Studentship for one year or for the duration of my studies?
The financial eligibility for the St John's Studentship is initially assessed upon admission to the College and is reassessed in any following years of undergraduate studies at St John's.
St John's College MPhil Studentships
From October 2019, the students who are in receipt of a St John's College Studentship in the final year of their undergraduate studies at St John's College and are accepted to read for an MPhil at St John's the year after the completion of their undergraduate studies will be eligible to receive a means-tested Studentship towards the cost of their tuition fees and maintenance during the year of their MPhil course. The amount of the MPhil Studentship awarded will depend on the student's household income as this was assessed by Student Finance England in the final year of their undergraduate studies. Any funding secured from other sources, for example from the College graduate scholarship competitions, will also be taken into account.
Application Procedure
I believe that I am eligible - what should I do now?
If you are an offer holder for admission in October 2020 and you believe that you are eligible for the St John's College Studentship, please:
apply for a means-tested assessment to Student Finance England - or to the relevant body if you live in Scotland, Wales or Ireland. The procedure is the same as with the Cambridge Bursary so please review the information on the University's website as well.
let us know by email, so that we look out for your assessment from Student Finance
if possible, keep copies of the forms that you submit to Student Finance England
Eligible students will also be asked to complete a form with financial information about their (or their family's) income and submit relevant evidence to the College. Offer holders will receive the form from the College in the August preceding the commencement of their course.
For any enquiries or to let us know that you may be eligible , please contact the Scholarship Administrator.
Please note that the provision of fraudulent information in order to obtain a studentship, or any attempt to mislead the College in this regard, will be treated as a disciplinary offence and may result in serious disciplinary action by the College.
Links