Prize Details
£5,000 to kick-start your career at St John's
These range from one-off prizes and scholarships to academic essay prizes for current students. The College also aims to give constructive financial support to students who are in need, and all students are offered grants to help them purchase the essentials for their course.
More broadly, the University of Cambridge as a whole also offers students generous bursaries to ensure that they can meet the costs of their education, regardless of background.
It doesn't matter where you went to school or what your circumstances are; if you've got what it takes to make the most of everything that life at St John's has to offer, then we want you.
So, for the academic year 2017-18, every UK student who is offered a place for undergraduate study at St John's will have the chance of winning a pre-admissions prize, each worth £5,000. The recipients will be able to spend the money however they want – on living costs like accommodation and food, a new laptop, or simply to put aside as savings for a rainy day.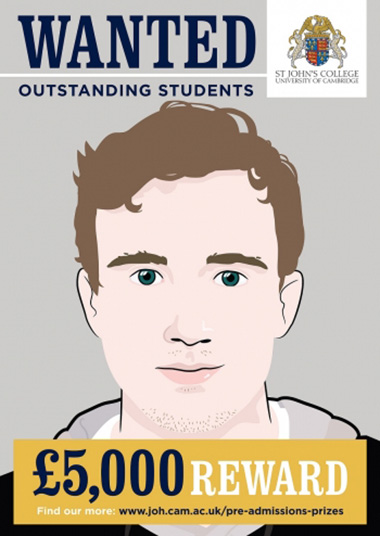 How the prizes will work
Entry will be automatic for all UK students who are offered places after interview. The prizes will be offered across all subject areas, so anyone who applies will be in the running.
A shortlist of possible prize-winners will be drawn up during the spring of 2017. The College's decision will be based on more than candidates' academic track record alone; students' progress, potential,and their suitability
for the course will also be taken into account. Consideration will also be given to whether or not the student is likely to benefit from extra money to help them get started at St John's.
When examination results are announced over the summer and the College's offers for undergraduate applicants are finalised, those who have also received pre-admissions prizes will be notified.
Other opportunities
The College believes that nobody should be prevented from studying here because of their financial circumstances. In addition to the pre-admissions prizes, therefore, we have a range of other initiatives in place to make sure that students get the most out of their College experience.