Mathematics Summer Camp for Girls launches at St John's
"I want them to know that if they want to study here, it is possible for them"
A group of Year 12 girls took part in the inaugural St John's Mathematics Summer Camp for Girls to find out what it is really like to study maths at Cambridge.
The 24 students came from all over the world including Malaysia, Africa, and Japan with the majority from the UK. They spent nearly two weeks living and studying at St John's and had the opportunity to explore Cambridge and visit several University departments. The summer camp was fully funded by St John's to encourage more girls to consider applying to study maths at the University of Cambridge.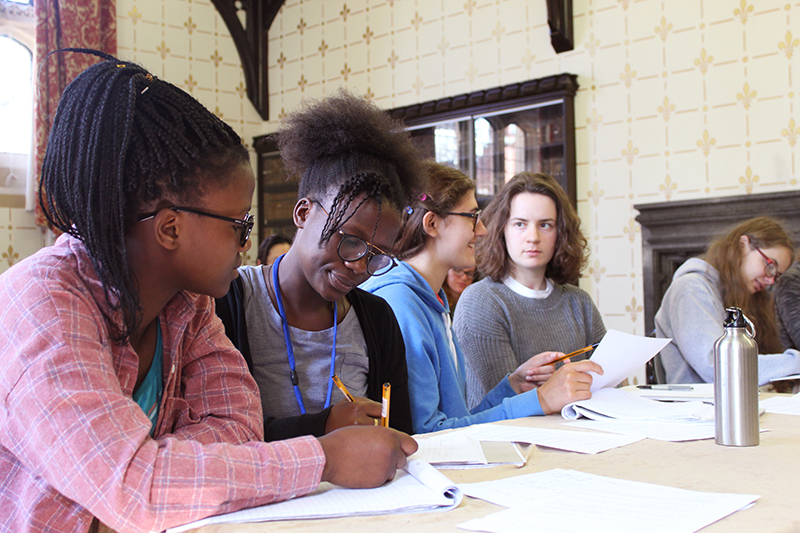 Students on the St John's Mathematics Summer Camp for Girls
The girls experienced lectures from high-profile academics, academically challenging problem-solving exercises, and guidance and support for STEP – a mathematics examination used by Cambridge before admission that is designed to test candidates on questions that are similar in style to undergraduate mathematics.
The topics studied on the Summer Camp ranged from combinatorics to geometry and number theory. As well as showing the students what University study could be like, the academics also provided training sessions for the European Girls Mathematical Olympiad and the International Mathematical Olympiad.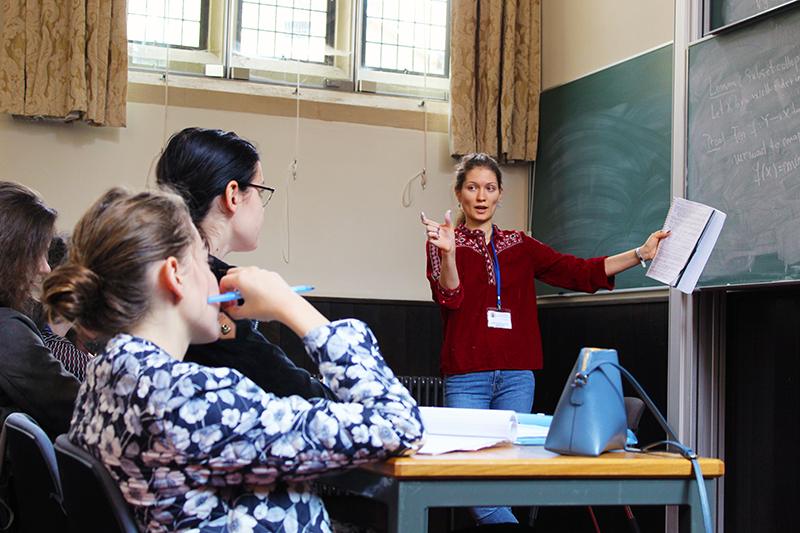 Maria-Romina Ivan teaches some of the students on the Summer Camp
Course leader Maria-Romina Ivan, a St John's maths graduate who will begin her PhD at St John's in October, said: "I was once like these students – I didn't know anything about how Cambridge worked and I thought that the cost of studying here would mean I wouldn't be able to apply.
"But then someone I knew went to study at St John's and I realised that if you are passionate about your subject then there is a lot of support here to help you financially and pastorally to make sure you can focus on your studies.
"I hope that in showing these students that Cambridge is accessible we can help them make fully informed decisions about their future. I want them to know that if they want to come here, it is possible for them."
Find out more about studying maths at St John's.