Master's Chefs: College catering through the centuries
According to popular consensus, dining in a Cambridge college was, until the modern era, a highly exclusive experience, not least thanks to a strict hierarchy in which the academic Fellows were supposedly pre-eminent.
Now a new exhibition, which unusually tells the culinary history of St John's College from the staff's point of view, suggests that the reality may have been rather more nuanced. Not only was the cooking rather patchy at times; college chefs in the 18th and 19th centuries were also often more like enterprising businessmen than subordinate employees. Some, in fact, probably enjoyed a better standard of living than the Fellows.
"Master's Chefs", which opens this week, draws on the College's extensive archives to examine the stories of the institution's kitchen staff - among them cooks, butlers, waiters and plate washers - during its 506 years of existence.
It shows that for much of that time, the catering arrangements were inconsistent and confused. Without clear direction from the top, Head Cooks and others sometimes made a handsome living from the business of feeding the academic community - though the deal for junior employees tended to be less lucrative.
"People often imagine that the staff in colleges were like the servants in Downton Abbey," Tracy Deakin, Archivist at St John's College, said. "That may have been true for some, but most staff were self-employed. Many of them were running their own, successful businesses; many were also getting perks and making money on the side."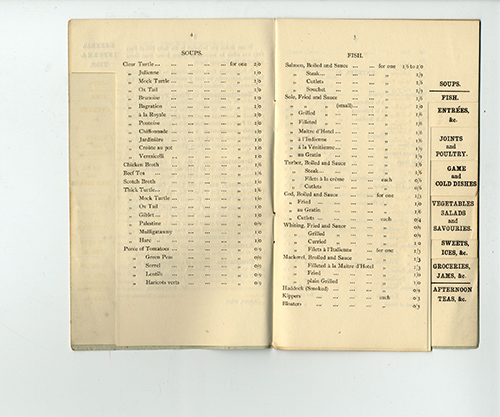 There are few records of how food and drink was provided during the earliest days of St John's in the 16th century - although there are tales of appallingly unhygienic conditions, with rats and cockroaches a common sight in the dining Hall. From the following century onwards, however, information becomes more plentiful. By 1850, the college had 120 staff, many of whom worked in catering.
Rather than holding down salaried posts, however, some - such as the Head Cook - were often independent businesspeople, with whom the College struck an agreement to provide food at a fixed rate. Using the kitchens almost as a base for their own company, they not only produced meals for Hall, but also supplied private customers around Cambridge. The exhibition features a tariff from 1893, for example, detailing the rates for fish entrees, meats, vegetables, salads, desserts, groceries, jams and afternoon teas.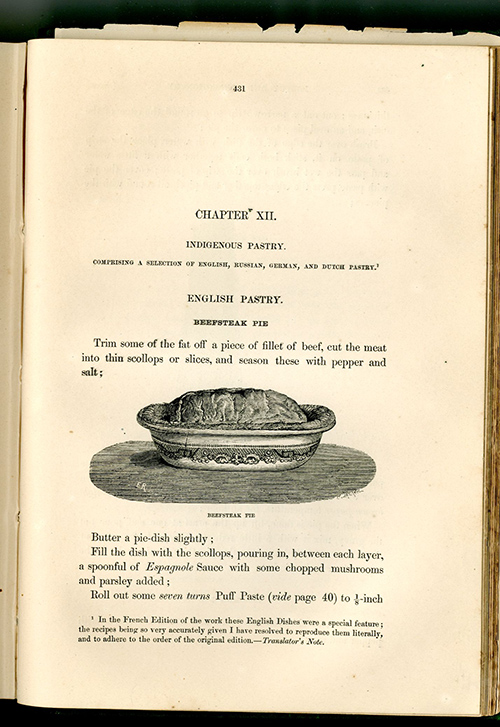 Head Cooks even supplied their own crockery - and charged the college for using it. "Some chefs became very wealthy," Deakin said. "They are listed in local directories from the time and were living in houses that most of the Fellows couldn't afford."
Until the 1870s, the college also had two Butlers (one for the Fellows and one for the Scholars). Unlike the Head Cook, they were paid a stipend, but drew additional income by selling butter and ale, carrying letters and performing other tasks. They were also responsible for employing junior staff, like waiters, and claimed expenses for this purpose.
Technically, the system was managed by the Fellows, but for long periods few seem to have taken much of an interest. This often created loopholes which more enterprising staff could exploit. In the late 1860s, for example, undergraduates petitioned the College because they felt they were being overcharged, but "under-provided for".
Similarly, in 1854, a College committee found that butlers "took too great an income for the nature of their duties". Among other excesses, the Fellows' butler had apparently claimed money to pay "a considerable salary to superintend the washing of the dishes". The implication is that not all of this was ultimately disbursed to the employee.
Although the system varied erratically over the years, lower-status staff rarely enjoyed the same benefits. Many of those who worked in the kitchens were also extremely dedicated and long-serving. The exhibition records some of these college institutions, such as Sid Dring, who joined as an apprentice cook in 1925, and left as Kitchen Manager in 1972.
Throughout the centuries many staff could supplement their limited income with "perquisites". Waiters, for example, were at one point entitled to leftover meat that had not been consumed in Hall. As a concerned letter to the Master records in 1867, this sometimes led to chaotic scenes as waiters desperately tried to stop rowdy undergraduates from eating all the food.
The display also reveals the truth about one of St John's College's most celebrated myths - namely that its Fellowship eat swan; a privilege otherwise enjoyed by the Royal Family.
Contrary to the suggestions of many local tourist guides, swan does not appear to have been consumed for more than 120 years - last appearing on a menu in 1896. Imitation "swans" have appeared since on grand occasions such as College Balls, however. Photographs, letters and recipes reveal that these were chicken, turkey or goose in disguise. A letter from 1950, for example, records the use of wax swan wings and a white béchamel sauce to create the effect.
"Master's Chefs: Kitchen staff at St John's College" is open from 5 June to 28 July in the College's Archive Centre. Members of the public are extremely welcome and can visit on Wednesdays and Thursdays from 10am to 4pm, or at other times by appointment; please arrange a viewing by calling 01223 338631 or email archivist@joh.cam.ac.uk. 
Inset images: Kitchen Tariff from 1893 / An old recipe book which features in the exhibition / "Swans" (usually duck or turkey in practice) c.1950.