MS C.18 f.70v
Appears in manuscript:
Manuscript description
Historiated initial Q at the opening of Psalm 51, showing Ahimelech handing a sword to David, who sits behind a table with shewbread. In the tail of the initial a hooded Doeg crouches watching them. The story comes from 1 Samuel 22. To escape Saul, David fled to the city of Nob, to Ahimelech the priest. Doeg witnessed their meeting and reported to Saul that 'Ahimelech consulted the Lord on his [David's] behalf, then gave him food and handed over to him the sword of Goliath the Philistine'. From f.70v of MS C.18, the Saint-Bertin Psalter (French Flanders or Southern England, c. 1175).
© The Master and Fellows of St John's College Cambridge
Manuscript image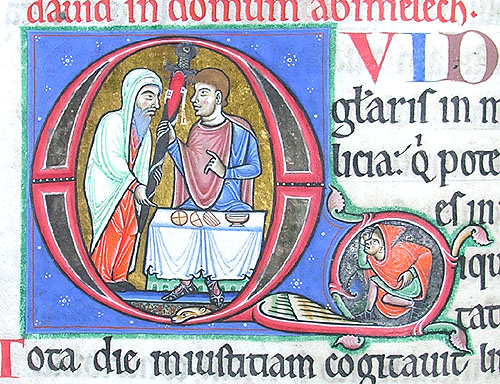 Related manuscript images