Student shares her battle with depression and anxiety to highlight importance of Mental Health Awareness Week
"It's ok not to be ok. But with the St John's family you are not really alone, even in isolation."
"It's ok not to be ok. But with the St John's family you are not really alone, even in isolation."
That's the message from JCR Mental Health Officer Becca Gutteridge during this week's Mental Health Awareness Week, when the St John's College community is spread far and wide away from Cambridge during the coronavirus pandemic.
"We are still here for you," said Becca, a second year English undergraduate. She has created a range of easy wellbeing-boosting activities running through the week to help everyone connected to College stay mentally healthy and happy during the crisis.
Becca struggled with her own mental health before coming to St John's. She suffered from depression and anxiety and took two years out from school while taking her A'levels. Coming to Cambridge at the age of 20 was a real turning point. "The thing that lifted me out of it was being able to get away and have a new start. I have had struggles on and off in Cambridge but the thing is keeping in routine, and keeping social. It's obviously hard to do in this isolation period so I feel for everyone who is struggling right now. When you are on your own, with your own thoughts, it can be really tough."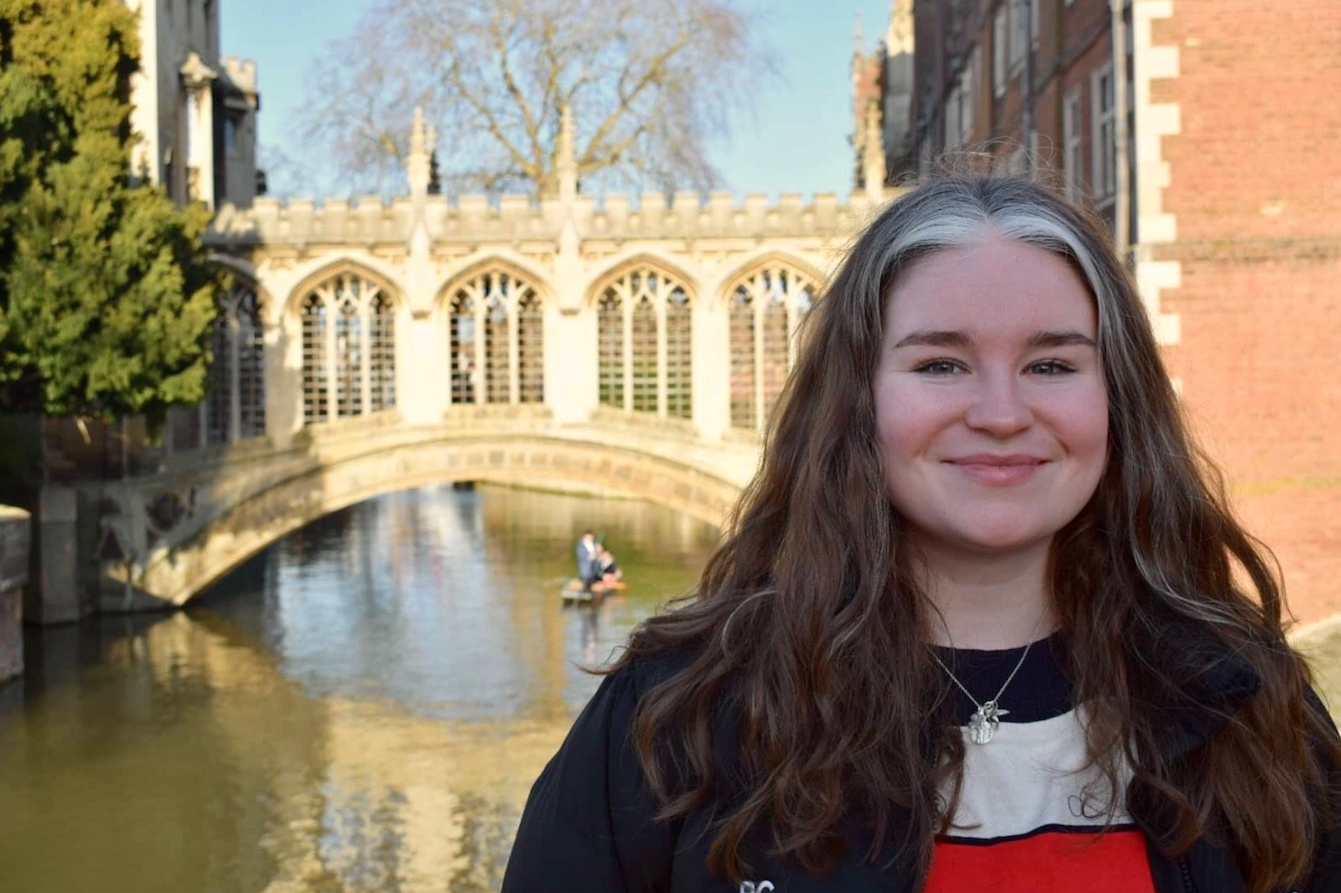 Exercise in the fresh air – particularly becoming a rowing cox – is an activity that Becca found especially beneficial for her mental health. Following her own experiences, she was keen to get involved with the JCR Committee as Mental Health Officer. "It means a lot to me to be involved and help to get mental health talked about," she said.
The lockdown has presented new mental health challenges and events normally organised by the JCR Committee are not possible this term.
"I personally found it difficult to adapt to this new lockdown routine at home and keep everyone engaged about mental health digitally," said Becca. "So I went back to the drawing board and I've made a pack of relaxing activities people can do at home for Mental Health Awareness Week to de-stress."
There are 20 activities to choose from in the digital 'pack', from taking time to sit in the sun and making a mug cake, to doing 10 minutes of cardio, writing to a friend and making a Tik Tok.
Becca is calling for participants from all areas of the College community to send in photo submissions of themselves undertaking activities in isolation for her JCR 20:20 challenge. You can use Becca's suggestions (see the full album on the SJC Welfare & Mental Health Facebook page) or come up with your own.
Send your photos to Becca at rg603@cam.ac.uk, PM her on Facebook (Rebecca Gutteridge), or PM them to the SJC Welfare and Mental Health Facebook page. The randomly selected winner will receive a wellness Happiness Project Box (RRP £20).
Other events this week include a Zoom Wellbeing Drop-in on Thursday 21 May at 3-3.40pm when you are invited to sit down with a cup of tea and chat with Becca on Zoom. "If you want to attend a drop-in but can't make the times above, email me and we can set up a zoom call or PM me on Facebook," said Becca. 
There's also a Mental Health Awareness-themed Zoom Bar Quiz with a wellbeing app subscription up for grabs.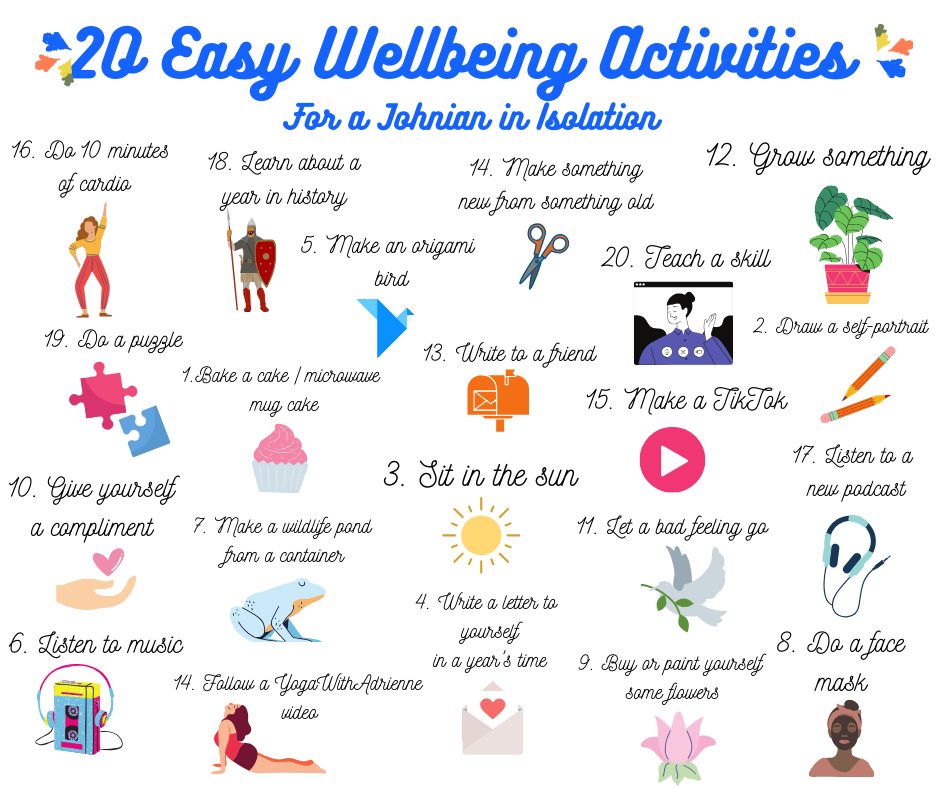 Becca points out there is much to be positive about during these strange times. "This period has shown me how many things and people I usually take for granted while rushing around, and has made me appreciate them so much more. Positive thoughts, of course, won't fix everything. But curbing negative thoughts can be the difference between a good day and a bad one, particularly right now when we are spending a lot of time with ourselves and our thoughts," she said.
"The way the John's community has pulled together in the face of this crisis, from some of our medics volunteering for the NHS, to Mark Wells reading bedtime stories and making Easter egg hunts in College, to the Vice Master's Q&As, to the Welfare Bake-off, to friends checking in on each other across what can be sometimes thousands of miles, all remind us how resilient and caring the John's family is. We aren't really alone, even in isolation."
Becca has been using the Couch to 5k running app to keep herself mentally well in isolation. "I've also been just doing a lot of nothing and to reiterate that getting by is OK too. Part of this campaign is telling people that while they can occupy themselves with the activity pack, it's also ok to relax in any way that feels best for them, as I know there's a lot of pressure from 'toxic productivity' online at the moment."
Keep up to date on events through the week on the JCR Facebook and SJC Welfare & Mental Health Facebook pages or contact Becca directly. After fighting her own battles with mental health, her door is always open.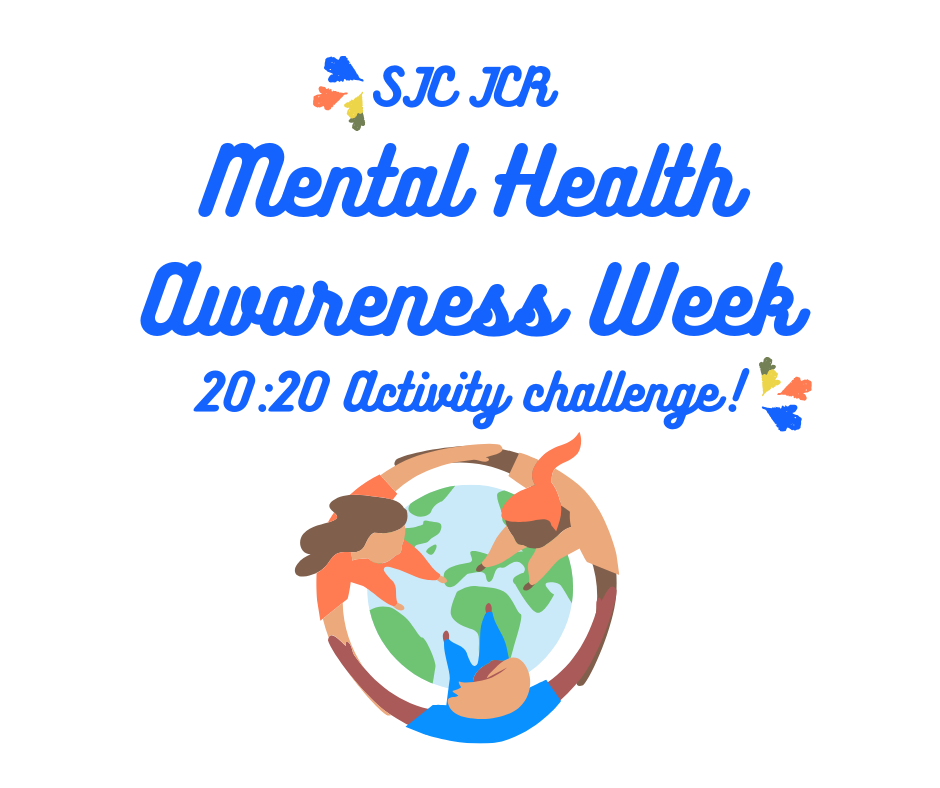 Becca's top tips for ways to de-stress during isolation:
• Fearne Cotton's 'Happy Place' podcast.
• FaceTime circuit workouts and Netflix parties with friends.
• Yoga with Adrienne (short yoga vids on YouTube).
• Couch to 5k running app. 
• Breathscape Zoom yoga.
• Circuits with Dom & Monday JCR Zoom(ba) with Zac. See JCR Facebook and JCR Bulletin for more details.
• The JCR Welfare Bakeoff with Izzy and Bhanu.
• This is Us (Amazon TV show).
Published: 18/05/20