St John's markswoman shoots and scores in inaugural University sports awards
"The results indisputably make CUSBC the most successful university shooting club in the country"
Third year St John's student Cecilia Catuogno-Cal is on a winning streak after helping to break two shooting records and being named in the 'Team of the Year' in the first University of Cambridge Sports Awards.
Cecilia is a member of the University's Small Bore Club (CUSBC) 1st VI, which won first place at the annual British Universities and Colleges Sport (BUCS) Short Range Championships in February for the fourth year in a row. The mixed team scored 2323 points out of 2400.
The Chemical Engineering undergraduate's nerves of steel also helped the club break two Varsity records this year. The 1st VIII set a new record of 1555 points from a possible 1600, beating Oxford's score of 1517. Cecilia is also a member of the 1st Ladies IV which set a new record of 772 out of 800, against Oxford's score of 740, as well as the previous record of 768 (2008).
CUSBC has now been named Team of the Year in the inaugural University of Cambridge Sports Awards. Winners were announced online and the judges remarked: "The results indisputably make CUSBC the most successful university shooting club in the country."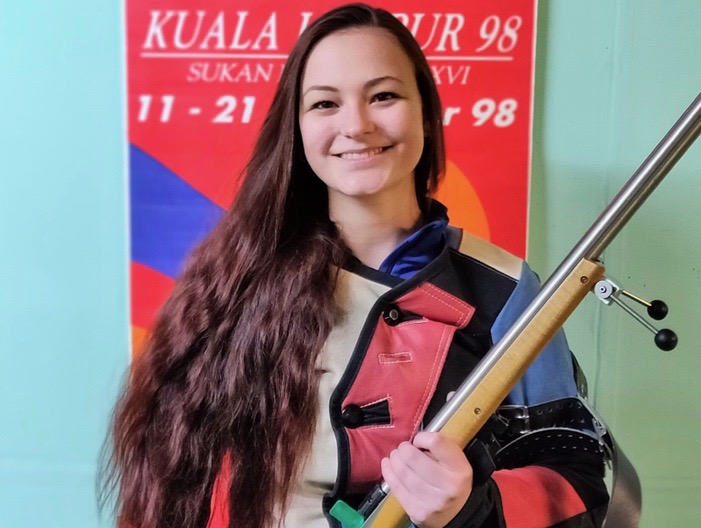 Cecilia said: "We are all genuinely surprised to win, and really happy and really proud, of course, because we are quite a small sport and we don't get a lot of recognition. We've had one of the best squads we have ever had this year so we had the opportunity to do really well and we pulled it together when it mattered. The fact that we managed to set records as well was lovely for everyone who's been training really hard this year."
Cecilia first picked up a rifle when she was 11 and began taking the sport seriously aged 15. She ran her school shooting club and joined CUSBC as a fresher.
CUSBC uses .22 calibre small bore rifles, which are smaller and lower power single shot rifles, and shoots at targets 25 yards away. Cecilia also shoots with, and is the secretary of CUSBC's sister shooting club, Cambridge University Rifle Association (CURA), which uses larger target rifles with a range of 300-1,200 yards.  
Shooters wear special jackets to take the weight of the rifles but still have to keep fit because the sport can be physically tiring, especially on hot summer days. Cecilia is president of the University's Jiu-Jitsu Club and has recently taken up Judo.
Having the right mindset is crucial for shooting and being able to detach yourself from what you're doing is the key to success. "You spend all of your training time working on refining your process, making it repeatable, getting familiar with it so that every time you get behind a rifle you do exactly the same thing and that's how you get consistent," explained Cecilia.
"It is meditative in a way. I find it helps me take a bit of distance from stress of term and just focus on one thing. Just being able to detach yourself, calm down, relax, just do what you know how to do, that's the hardest part about it."
In Michaelmas Term Cecilia plans to start a Masters degree in Chemical Engineering at St John's, where she has found a lot of support. She is also a recipient of the College's Beard and Blues sports grants.
"My Director of Studies is incredible, my tutor is amazing and they're always really helpful when I've got a problem," she said. "It's been a massive help as well to have sports funding because shooting is quite an expensive sport and I couldn't afford to do as much shooting as I do otherwise to get good at it. And I want to send a huge thank you to the whole rifle team because they have been so great and supportive."
Next Cecilia is aiming for the GB under-25 squad. She was planning to apply this year, but sadly there won't be a season this summer due to the coronavirus pandemic.
She also has the Commonwealth Games in her sights, hoping to eventually follow in the footsteps of UK gold medallist David Calvert, who shoots at the same range in Cambridge. Cecilia added: "He is a real inspiration and I can only hope to be half as good as him some day."
Full report on the University Sports Awards Team of the Year  
Published: 06/05/2020