If you're thinking about studying at St John's,
we're here to help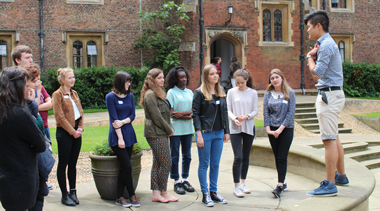 St John's is committed to admitting students who are capable of making the most of studying here, regardless of where they went to school, or where they are from. The Admissions Team provides information, advice and guidance to those considering their higher education options and are there to help students with little or no experience of Cambridge to explore their options.
If you are a teacher and would like to discuss arranging a visit or event for your students, please don't hesitate to contact the Admissions Office (details are under "Contact", below).
Experience St John's
Drop-in Hours
We are generally open for drop-in visitors Monday to Friday from 10am to 4pm. If you would like to visit us outside of these times please contact the Admissions Office by emailing admissions@joh.cam.ac.uk and we will try to accommodate your request.
The Admissions Office is situated on the ground floor of the Old Divinity School on St John's Street (entrance door on All Saints Passage) directly opposite the main entrance (Great Gate) to St John's College. 
View the map to see how to reach us - the Old Divinity School is marked as item 30.
Sutton Trust summer schools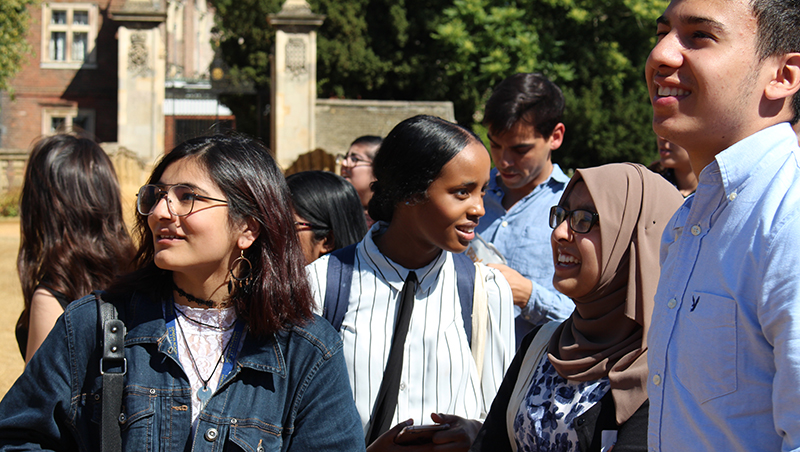 The Sutton Trust Summer Schools are free subject-specific residential courses for Year 12 students from UK state-maintained schools. St John's is one of the host Colleges.
Area link scheme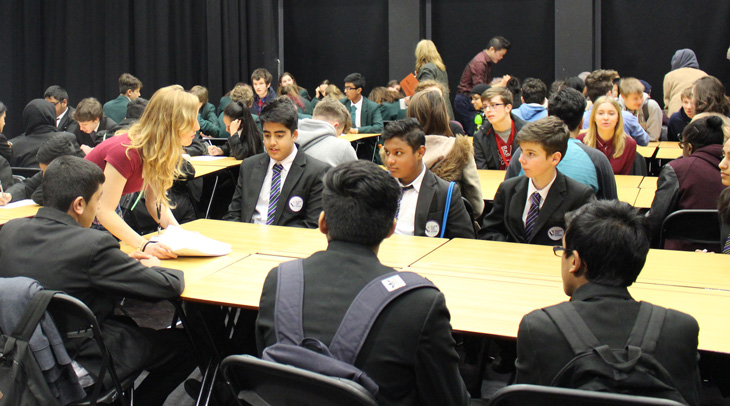 As part of the University of Cambridge's Area Link scheme, St John's works with six local education authorities in particular (although not exclusively) – Blackburn with Darwen, Bolton, Rochdale, Shropshire, Telford and Wrekin, and Lambeth.
The Area Links Scheme enables Cambridge Colleges to build effective relationships with schools and colleges across the UK. It gives the schools a direct way of staying in touch with the University, and for the Cambridge Colleges involved, it offers an opportunity to get to know specific regions and the local educational environment.
If you are not in one of our link areas, don't worry – we would still love to work with you! Please take a look at "School Visits" below for more information.
School visits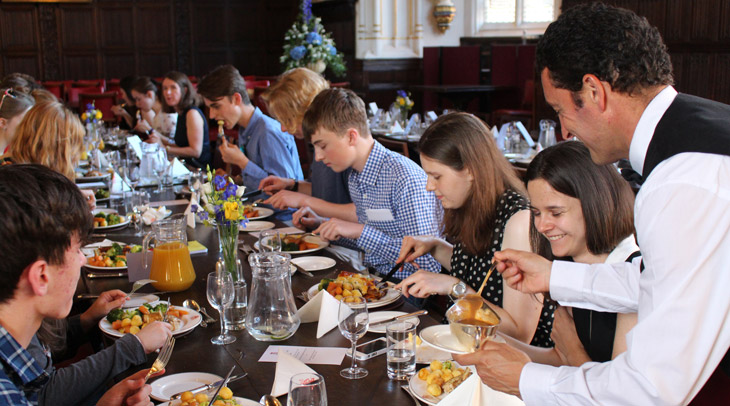 We are very keen to welcome groups of students into St John's, and we can also come and visit your school. To arrange either, please use the Contact information at the end of this page.
Schools can participate in both day and residential visits, and we can provide presentations and workshops covering a range of topics, including life at St John's and Cambridge, advice about choosing a course and a college, information about the admissions process, and student finance. In addition, it is possible to organise other educational and social activities in and around the College.
Our Admissions Tutor is also available to visit schools, sixth forms and colleges to talk to students, teachers or parents on a similar range of topics to those listed above.
Upcoming events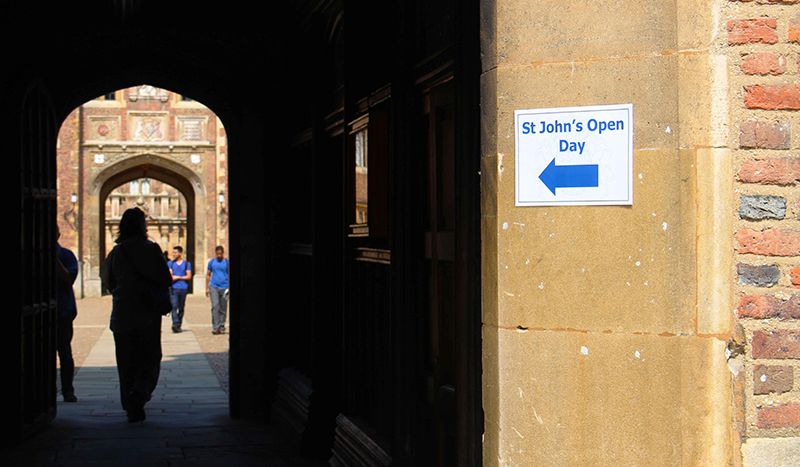 Maths Open Days 2019
St John's College will be holding Maths Open Days for prospective applicants on the mornings of Saturday 27th April 2019 and Saturday 4th May 2019, to coincide with the Faculty of Mathematics Open Days in the afternoon. The Faculty Open Day consists of short lectures intended to give sixth formers an idea of what it is like to study Mathematics at a high level, together with STEP talks and talks for parents.
The programme for the morning session at St John's will include a talk given by one of the Directors of Studies in Maths and a Q&A session with some of our current Maths undergraduate students.  It will also include lunch and a short tour of College. If you wish to attend the morning session of the Maths Open Day at St John's and with the Faculty in the afternoon, please complete the booking form on the Faculty site. Please see here. 
Please choose to attend on either 27th April or on 4th May as the  programme at St John's is the same on both days.
We will supply those who book to attend with further details of the arrangements for the Open Day and Mathematics course information in due course.
Depending on the number of attendees, parents and supporters may not be able to accompany you to the Open Day.  Please note if numbers exceed those permitted by fire regulations in any of the venues, non-students will be asked to leave.
Subject Taster Days
We will be holding more Subject Taster Days later on in the year and all details will be posted once dates and programmes have been finalised.
Open Days
College Open Days
College Arts Open Day 2019
Booking has now closed for the St John's College Arts Open Day taking place on Monday 24th June 2019, as the day is fully booked. Please email admissions@joh.cam.ac.uk if you would like to be added to the waiting list
College Sciences Open Day 2019
Booking has now closed for the St John's College Sciences Open Day taking place on Tuesday 25th June 2019, as the day is fully booked. Please email admissions@joh.cam.ac.uk if you would like to be added to the waiting list
Open Days give prospective undergraduates the opportunity to see the College and learn something about it from Teaching Fellows and current undergraduates.
Our June Open Days are a great opportunity for you:
To find out more about St John's

Learn about the admissions process and all aspects of student life at St Johns and the opportunities it provides

Meet with Directors of Studies and current undergraduates

Take a tour of College

View student accommodation
A draft timetable is detailed below and a list of Directors of Studies attending the Open Days will be available shortly.
DRAFT PROGRAMME (may be subject to change)    
11.30

Registration

12.00

Welcome and Introduction, Dr Watson, Admissions Tutor

12.30

Studying & Support, Dr AM Timpson, Director of Education, Senior Tutor

13.00

Buffet lunch

13.45

 

13.45

Directors of Studies Sessions (students only)

Further information on Directors of Studies availability to follow

Parents Session with Dr Watson

14.45

Competitive Applications, Dr Watson

15.00

Student Perspective, Q&A with current undergraduates

15.30

Tours of College, Depart College at 16.00
Please complete the booking form below if you would like to attend the Arts Open Day.
University Open Days
For further information on these Open Days for 2019 and to book a place please go to the University website. St John's College will be open to drop-in visitors on both days, for further information please click here.
Department Open Days
It may be the case that you want to attend a Department Open Day, with a particular focus on a subject within a faculty or department. These are usually between March and July, and will often be held outside Colleges, in buildings housing a subject's offices, lecture rooms and library. If you are coming to Cambridge for a Department Open Day, and have some free time, do take the opportunity to visit St John's and to meet the Admissions staff. The Admissions department keeps 'drop-in' hours (see above) when we will be happy to welcome you to St John's and to answer any questions you might have.
Open Day Travel Fund
The University of Cambridge Open Day Travel Fund assists children in (or previously in) care to travel to any of the open day events organised by the University and Colleges of Cambridge. For more information on the support available to Care Leavers please click here.
Booking Form for Open Days
Taster Days
Throughout the year St John's runs Taster Days in different subjects. These are great opportunities for prospective students from around the country to experience Cambridge life and find out more about what to expect when they apply for a particular course.
Participants also have the chance to attend sample lectures from researchers at St John's, to meet current undergraduates, and to ask plenty of questions.
More information can be found on our Upcoming Events listings.
Contact
If you would like to book a visit to St John's, arrange for someone to come and visit your school, or if you have questions about our access events, we would love to hear from you. Please contact:
The Admissions Team
Admissions Office
Old Divinity School
St John's College
Cambridge
CB2 1TP
Tel: 01223 338703
Email: admissions@joh.cam.ac.uk