Celebrate the end of term with music from Fleabag and Beethoven
Jazz bands, vocal groups, orchestras and choirs perform to bring Lent to a close
Music composed for Fleabag and big jazz band numbers will entertain audiences at St John's during an eclectic series of concerts to mark the final week of the Lent term. 
The female a cappella vocal group Aquila will be performing in a special concert on 9 March to mark International Women's Day. The group, which is directed by Joanna Forbes L'Estrange, will sing a mixture of folk, pop, jazz and gospel songs which have been written by women and arranged for women's voices, including a song called You which was written by Joanna and featured in the second series of the award-winning TV programme Fleabag.
The free concert will take place in the Main Lecture Theatre in the Old Divinity School from 8-9pm, and complementary wine will be served afterwards in the Central Hall.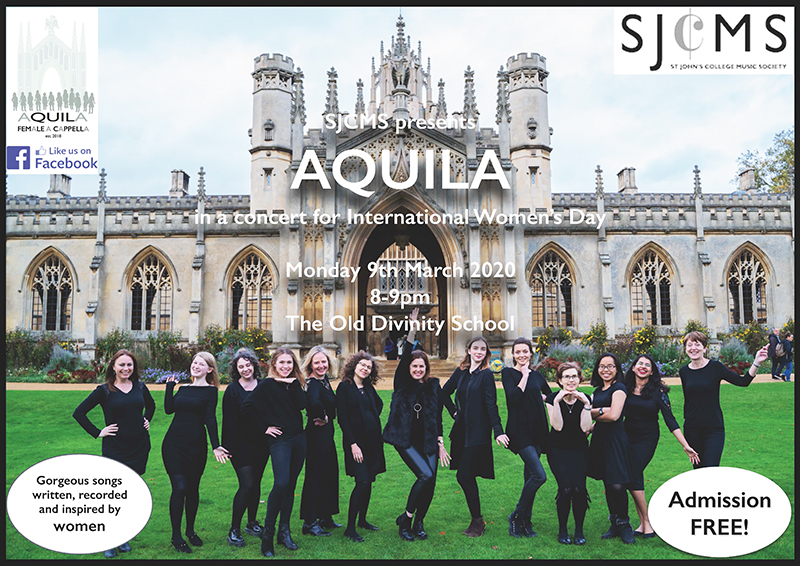 St John's Big Band and Small Band will be playing in the Central Hall in the Old Divinity School on Tuesday 10 March from 8-9.30pm. Directed by Ollie Lepage-Dean and featuring Lily Waterton on vocals, the band will perform classic jazz numbers and well-known favourites in a relaxed, informal atmosphere. Complimentary drinks will be served throughout the free concert, and seating will be available.
2020 marks the 250th anniversary of the birth of composer Beethoven, and as part of the Cambridge-wide Beethoven Celebration, St John's College Music Society (SJCMS) will be holding a big orchestral concert in the Chapel on Thursday 12 March at 8pm. Conducted by former SJCMS President Matthew Gibson, and with second-year Music undergraduate Aida Lahlou on piano, the concert will feature Beethoven's Coriolan Overture, Symphony No. 2, and Piano Concerto No. 3. Tickets are £10, £5 for students/concessions, or free for members of St John's, and can be purchased online or on the door.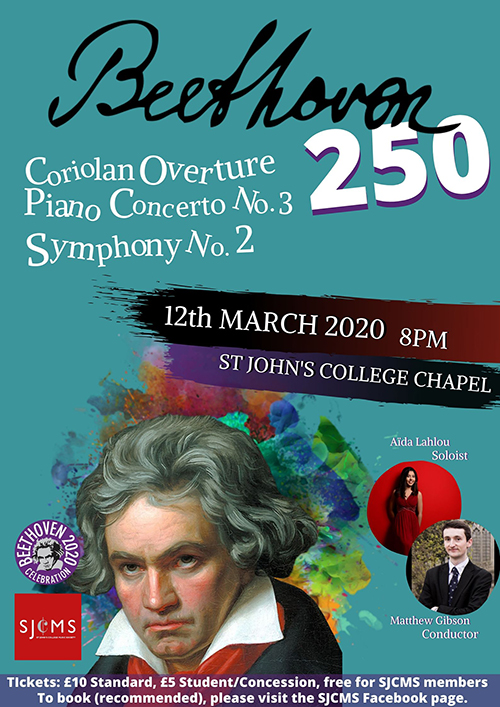 The final concert of term will be performed by the College's mixed-voice Choir St John's Voices, and features intense and inspiring music for the Lent period. The concert, which takes place in the Chapel on Saturday 14 March at 7.30pm, features Bach's motet Jesu Meine Freunde, considered to be one of the masterpieces of baroque choral writing, Howell's Requiem, and Scarlatti's epic Stabat Mater, written for 10-part chorus. Tickets are £15 and are available on the door, online via ADV Ticketing, or by phoning the box office on 01223 300 085. £5 student tickets will be available on the door.
Published: 6/03/2020