Green Week 2014
St John's College Green Week was launched on 10 November, an initiative to raise awareness of how all of us can help the College improve its environmental performance. During the week we ran a series of events to inform members of what they can do to reduce energy consumption, increase the amount of waste we recycle, and source food more sustainably.
Posters and videos on energy reduction were shown in the BDR, Common Rooms, and Porters' Lodges which asked each of us to turn off electrical appliances or turn down the heating and wear more jumpers! To monitor the impact of these approaches, we measured energy consumption across all College properties before, during, and after Green Week, and the results are set out below:

We were able to make significant savings in gas consumption by wearing more jumpers and taking shorter showers! But it was harder to persuade people not to overfill kettles or turn computers off overnight. So, there is room for improvement for next year.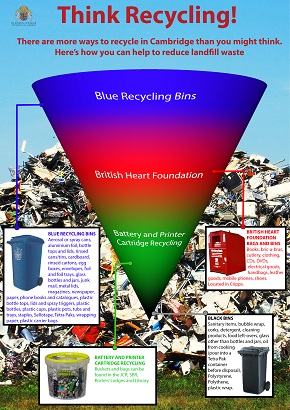 On the recycling side we put notices up in kitchens reminding people how much waste is recycled in College.
Cambridge City has one of the most progressive environmental policies in the UK and almost everything we throw out of our offices and rooms can be put into those blue recycling bins to be separated out at the Waterbeach recycling centre and reused.
Larger items like furniture, clothes, and electrical appliances can be collected from Cripps by the British Heart Foundation and used to help fund their research into Heart disease.
Our staff have set up battery and printer cartridge recycling points in the Porters' Lodges and Library.
That leaves just food, crisp packets and polystyrene to be sent to landfill. This amount is now so small that in Corfield Court we are running a pilot where the bedders empty the larger recycling bins for the students so that they only have to empty the smaller black bins.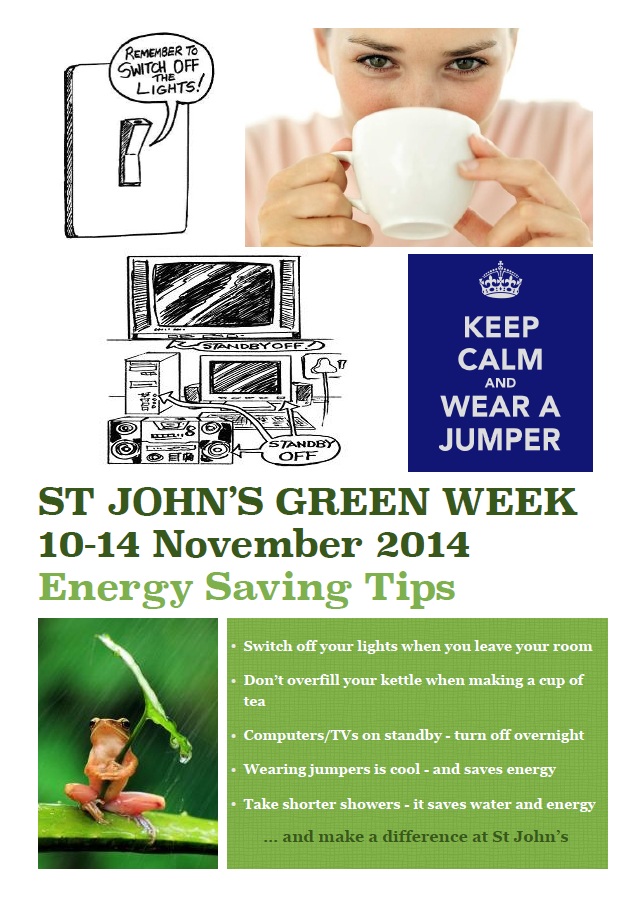 Finally, many members and staff were unaware of how much of the food and drink that we serve in the BDR, Hall, and Bar is sourced locally to save on our carbon footprint. So we hosted our first ever Green Superhall featuring meat and vegetables that are grown on local farms, and the local Beer and Cheese tasting evening was a sellout (no surprise there then!).
To cap off a great week, the College then won Bronze in the Cambridge Colleges Environmental Awards held at Trinity Hall and we were also noted for having the best Sustainability Policy within a Catering Department within the Cambridge Colleges.
There's clearly more we can do to reduce energy, waste and food miles, but we have made a good  start. While Green Week may be over, the messages are as valid today as they were then. So please think before you turn on that kettle, open the black bin, or buy your fruit and veg from Sainsburys. Even small changes make a huge difference over time, and St John's College is here for the long haul.
—Mark Wells, Domestic Bursar