Essex students take lessons in university life at Cambridge
Pupils from the King John School and the Appleton School in Benfleet, Essex, came to Cambridge this week to experience university-style teaching with The Brilliant Club.

Over 60 GCSE students from The King John School and The Appleton School in Essex came to St John's College, part of the University of Cambridge, today to kick-start a six week programme of university-style teaching organised by educational charity The Brilliant Club.
The Year 9 and 10 (13-15 year old) students visited Cambridge for a day to take part in The Brilliant Club's Scholars Programme, which teams up school pupils with PhD tutors. Split into small groups, the students were able to experience university-style tutorials and discussions, as well as go on a behind-the-scenes tour of the 504 year old St John's College, whose members have included nine Nobel Prize winners. The groups then came together for an informal discussion with students at the College about higher education and why they might want to apply to university.
Colleges across the University of Cambridge are also hosting visits from The Brilliant Club this week. Students from the Basildon Lower Academy visited Corpus Christi College, and Emmanuel College will welcome students from Harris Academy Chafford Hundred on 16 June, to take part in similar university-style tutorials with PhD researchers.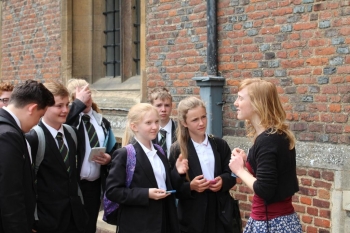 Charlie Perella, teacher at The King John School said: "The Brilliant Club has provided an amazing and unique opportunity for students from all walks of life to experience the thrill of university style learning and understanding of the skills that are required to make the transition into higher education. Here at King John, we have some fantastic students taking part and we are hoping that they will come away from the programme with a new passion for learning and perhaps an interest in applying for higher education."
Hollie Brown, regional director of The Brilliant Club, said: "Our Scholars Programmes start with a visit to a highly selective university, at which our pupils meet undergraduates, tour the campus, and enjoy their first tutorial with their PhD tutors. These tutorials aim to get our pupils as close as possible to a university experience – studying with a researcher, in small groups – at the very start of the programme. After this, the tutors will visit the school to deliver further tutorials. We look forward to seeing the pupils in September to receive their certificates and to congratulate them on their achievement in completing the programme".
For more information, visit www.thebrilliantclub.org or email martha@thebrilliantclub.org
For more information about applying to St John's College, visit www.joh.cam.ac.uk/applying or email the Access Officer, Megan Goldman-Roberts accessofficer@joh.cam.ac.uk