Dr Metaxas presented with Lifetime Achievement Award
Dr Metaxas has been awarded a 'Lifetime Achievement Award' at the 2nd Global Congress on Microwave Applications held at Long Beach, USA during July 2012. This award was presented at the gala dinner held at the RMS Queen Mary docked at Long Beach.
This award recognises the outstanding contributions made by Dr Metaxas to the field of electrical engineering, specialising in the use of radio frequency and microwave energy. Over the years he has been invited to lecture worldwide and has co-authored over two hundred publications, including 'Industrial Microwave Heating' a book which is regarded as the 'Bible' for researchers working in the field of microwave heating. Dr Metaxas was seconded to the Engineering Department, University of Cambridge, in 1982 in order to teach and research methods of more effective use of electricity in industry.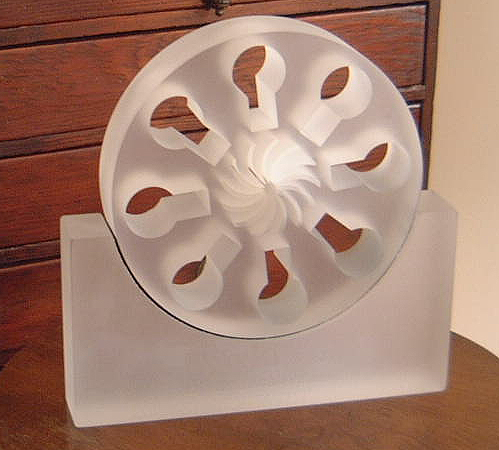 'I would like to add', says Dr Metaxas, 'that this award is extremely rewarding as it was totally unexpected and especially because it was instigated by one's own peers.'
The award itself depicts a model of a magnetron source for generating microwave energy. The glass, made at Corning Incorporated, is of the same composition as Steuben glass. The glass block was cut using jets of water, then laser engraving used for the wording. Finally, it was polished to give it a frosted appearance. The same glass composition has been used for gifts of state, notably from the Reagans to Prince Charles and Princess Diana on their wedding day.