Conductor, student activist and international kayaker amongst winners of the 2018 Larmor Awards
Exceptional students honoured with Larmor Awards
Six exceptional St John's students have been honoured with Larmor Awards – an annual prize begun in the 1940s to recognise "intellectual qualifications, moral conduct, or practical activities".

Named after Sir Joseph Larmor, the 20th-century physicist and mathematician who was both a student and Fellow at St John's, the awards are presented in the Master's Lodge on the morning of graduation.  Each recipient of a Larmor Award receives a unique piece of silver designed by a contemporary British silversmith and a cheque.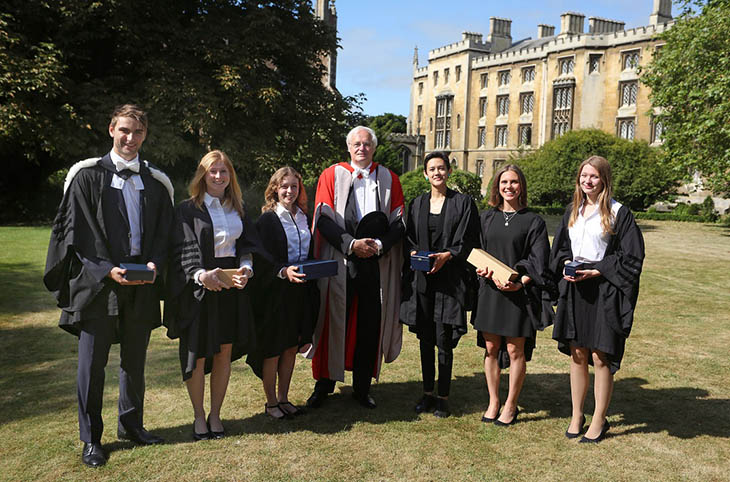 The winners of this year's awards were: Stephanie Childress, Russell Hughes, Daisy Irving-Hyman, Katherine Ladd, Jennifer McGaley and Caroline Soderman.
Stephanie Childress, a violinist and conductor, was described by her Director of Studies as "a phenomenon and one of the most remarkable students I have ever met". She joined St John's at just 16 years-old to study Music and performed extensively as a solo violinist and chamber musician during her time in Cambridge. In 2016 and 2018 she was a finalist in the BBC Young Musician competition and she graduated with a 2:1. Stephanie not only served as President of the St John's Music Society, she also conducted Beethoven's Ninth Symphony in the College Chapel. She played on countless occasions at St John's and in the University, in addition to major national performances including one with the Southbank Sinfonia when she appeared as both a violin soloist and conductor.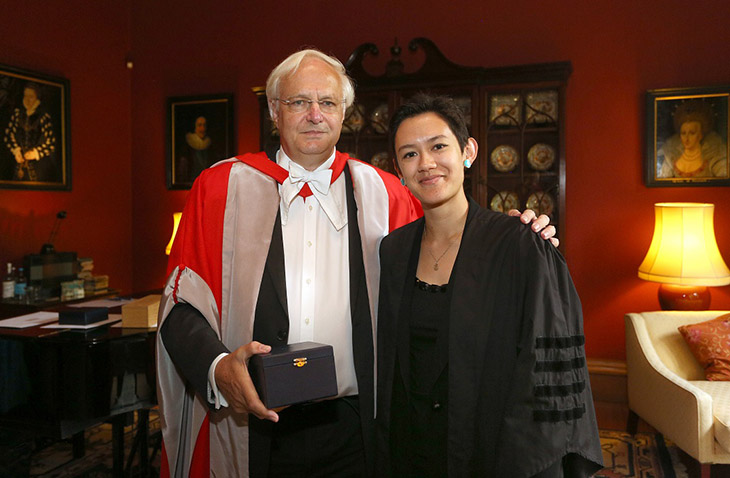 Russell Hughes captained the men's hockey team to their first 1st Division League title in 13 years, won two Cuppers finals - intercollegiate sporting competitions at the Universities of Oxford and Cambridge – with St John's Rugby Club, and captained a boat in the May Bumps. He was an undergraduate army bursar during his time at John's and completed the Reserve Commissioning course at the Royal Military Academy Sandhurst. That led to him spending the next two years of his History degree as a Second Lieutenant in the Cambridge Officers' Training Corps. He starts at Sandhurst full-time in September. He was described by Sylvana Tomaselli, his Director of Studies, as "extremely able, diligent and extremely nice".  He graduated with a first-class degree.

Daisy Irving-Hyman's Natural Sciences supervisor called her an "outstanding and thoroughly engaged student" whose painstaking and time consuming work on her dissertation led to a study hailed as "remarkable".  An exceptional violinist, she played with the Cambridge University Orchestra, was President and Secretary of the St John's Athletics Club and won University colours as a member (and later President) of the Cambridge University Athletics Club (CUAC) in every year of her studies. She was Vice-President of the May Ball Committee in 2017 and fundraised at St John's to support aid efforts in Haiti. She graduated from St John's with a first-class degree.
"These students truly reflect the tremendous talent of students at St John's"
Katherine Ladd not only got a starred first in her English studies at Cambridge, she also founded Treated Right, a project which helps students engage with issues surrounding modern day trafficking and sexual exploitation. Treated Right raises money for charities which work with these issues through an imaginative and successful inter-collegiate baking scheme, and through a website challenging Cambridge students to think about their own 'slavery footprint', and how they might engage with these issues. She was extensively involvement in University theatre as an actor, producer, stage manager, and costume designer and she regularly wrote for The Cambridge Student. She also was a member of St John's Voices and a Christian Union representative.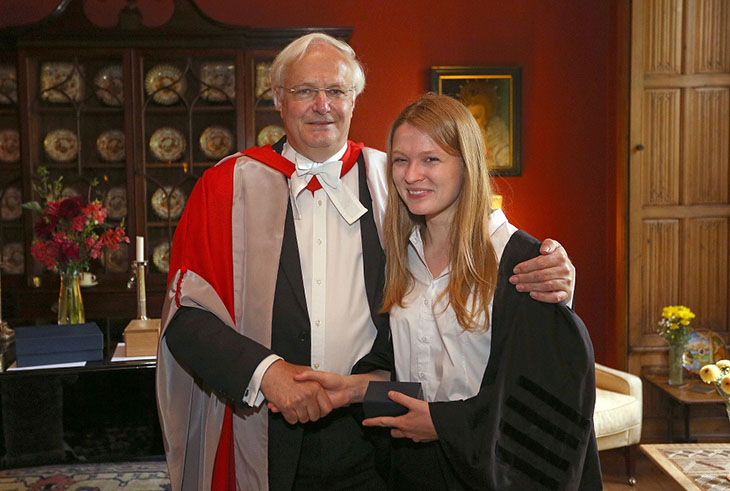 Sportswoman Jennifer McGaley is an award-winning first class student who came in at the top of her class list. She studied Natural Sciences and earned a Blue – the pinnacle of sporting achievement at Cambridge – with the Cambridge University Canoe Club during her time at St John's. She represented the University in the British Universities and Colleges Sport (BUCS) competitions, Varsity canoe polo and the Varsity marathon kayak challenge. She coached beginners as well as holding both President and Secretary roles for the canoe club. She has also competed internationally as a member of Team GB, at the under-21 world championships, and she ranked as high as fourth in the world for Women's Freestyle. She has now been awarded a Vice-Chancellor's Scholarship to build on her academic achievements by pursuing a PhD in the Department of Plant Sciences at Cambridge.

Prolific prize-winning student Caroline Soderman achieved first class results in four successive tripos examinations. She received the Department of Earth Sciences Wiltshire Prize, Reekie Memorial Prize, Winifred Georgina Holgate Pollard Memorial Prize, and Harkness Prize. She has held a United Steel Companies Scholarship since October 2015, was awarded a College Prize in 2015, the Hollinshead-Howles Prize and Quass Year Prizes in 2016, and a Wright Prize and the Hughes Year Prize in 2017. Carrie has also been President of the Earth Sciences Sedgewick Club for the year 2017-18. She is now planning to pursue her doctoral studies in the Department of Earth Sciences. Carrie has also been an active participant in College life, particularly through Lady Margaret Boat Club. She was Chief Cox 2015-17, Women's Vice Captain 2016-17, and coxed the M1 boat to three headships.

Many former recipients of the Larmor Awards have gone on to enjoy high-profile success in a wide range of different fields. Previous winners include the gold-medal winning international lacrosse player Laura Plant; British Consul-General to Istanbul, Judith Slater; Jonathan Miller of Beyond The Fringe fame; the former England Cricket Captain Mike Brearley; the historian Peter Hennessy and the organist and conductor Stephen Cleobury.

Sir Christopher Dobson, Master of St John's College, said: "We honoured six wonderful young people for their talents, brilliance and charm at this year's Larmor Awards. They truly reflect the tremendous talent of students at St John's and we will watch with great interest what this exceptional group will achieve in their careers following their time at St John's."