Award-winning architect shares insights into urban planning
Johnian Keith Griffiths, head of one of the world's most successful architecture firms, returned to St John's to discuss urban density and the lessons we can learn from the largest cities in China.
Keith Griffiths, founder and Chair of Aedas, one of the world's largest architecture and design practices, returned to St John's to share insights gained from his work in Hong Kong and discuss urban planning in China and the UK.
Keith studied Architecture at St John's, receiving an MA in 1976 and a Diploma in Architecture in 1979. Since then, he has become an internationally respected architect and planner, known for his deep understanding of the growth of major cities and their ever-changing society and culture.
For most of his career, Keith has lived and worked in Hong Kong, where he has overseen dramatic shifts in urbanisation and the creation of new mega-cities. He has designed award-winning projects for leading developers throughout Asia, including high-rise residential, commercial and civic buildings.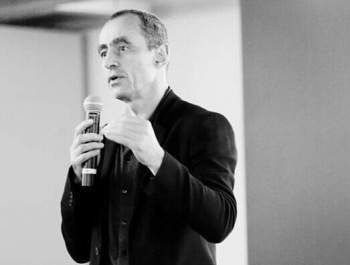 In his presentation at St John's College last week, entitled "Density and the City", Keith discussed the new challenges facing urban planners in Chinese megapolises and what cities in the UK can learn from the design and planning of these vast new urban landscapes.
He also shared his vision for a fully-integrated city of the future, where residential, business and commercial properties share space and are linked in an innovative and aesthetically pleasing way, to create an excellent quality of life for residents and a functional, organic, community.
The full presentation can be listened to on Soundcloud and the accompanying slides can be viewed on Issuu: