"Aquila is now a central part of music-making in College; long may it continue!"
It may have taken 500 years for St John's to get a women's singing group, but the members of Aquila are determined to make up for lost time, Louise Hanzlik learns.
Music has a long and illustrious history at St John's. The Choir of St John's is beloved by fans around the world and has clocked up more than 90 recordings since it was founded in the 1670s. The Gentlemen of St John's have been wowing audiences for 40 years, and in 2013 St John's Voices, a mixed-voice choir for students, was established.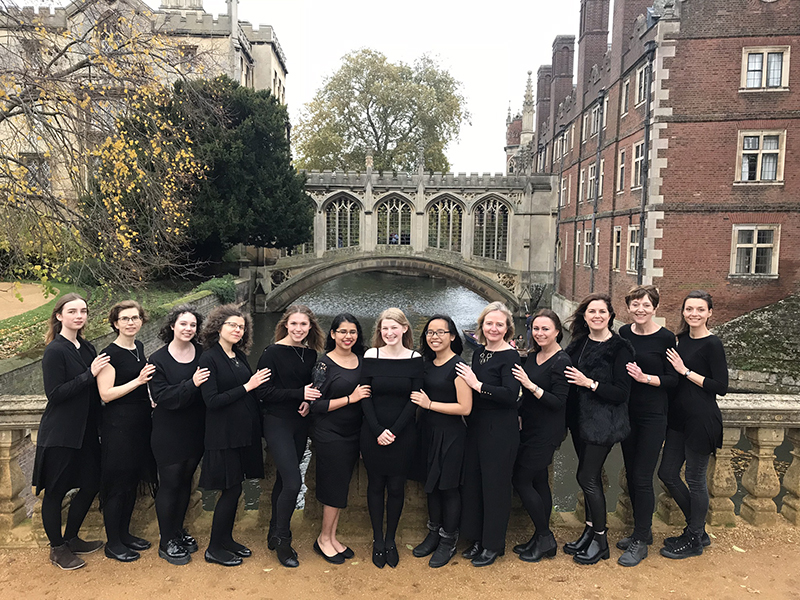 But it wasn't until Andrew Nethsingha, Director of Music at St John's, became Chair of the College Music Society in 2017 that Aquila was born. Aquila, which means 'eagle' in Latin, is the first ever all-female a cappella, or unaccompanied, singing group at St John's.

Andrew explained: "I wanted to create an all-female vocal ensemble to complement the all-male Choir and the mixed-voice St John's Voices. We now have three wonderful choirs: one mixed, one female, one male. I also wanted to create a secular vocal ensemble for the College."

Now female staff, undergraduates, graduates, and Fellows at St John's have the chance to sing in a fun, relaxed environment – and reassuringly, no auditions are required.

Andrew said: "I wanted to bring together all the different constituencies of the College community. There aren't many recreational activities in College which bring such a broad range of people together into one unit – it is a joy to see these singers loving their music-making together. The absence of auditions is another way of widening access – though you certainly wouldn't know that from listening!"

The creation of Aquila was made possible through support from the College Annual Fund – a fund which supports new and innovative projects every year. Any resident member can apply for funding of up to £25,000 for new initiatives that benefit St John's.
Once the financial backing was secured, in 2018 Andrew was able to approach Joanna Forbes L'Estrange, who he describes as 'one of the most talented, inspiring and experienced people in the world in this genre of music-making', to found and lead Aquila.

Joanna is the former Musical Director of the Grammy award-winning a cappella group The Swingle Singers, as well as being a composer. She has coached a cappella groups all over the world, and has also appeared as a judge on Sky One's Sing: Ultimate A Cappella.

She said: "A cappella singing is something that I'm passionate about, so when I was asked to start up the group I jumped at the chance to get involved. I have always loved coaching groups and I get a huge buzz from watching them improve week by week."

Aquila currently has 16 members, who sing a variety of styles of music including jazz, folk, gospel and pop in three or four parts. Joanna records demos of all the vocal lines so the singers can learn the songs entirely by ear and don't need to be able to read music.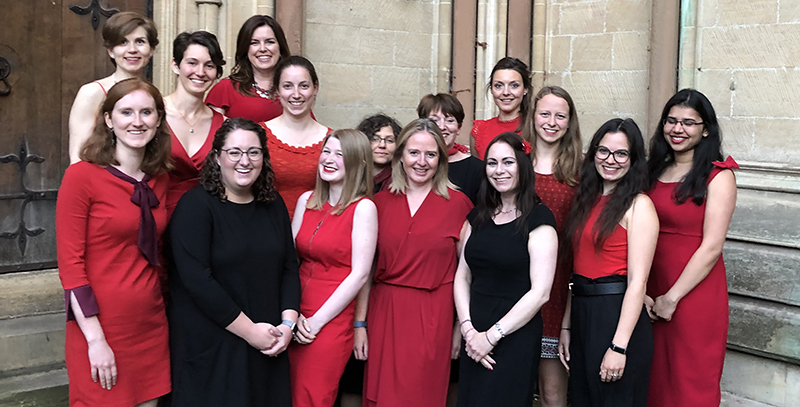 Although the group mainly sings a cappella songs, they also sing some pieces with musical accompaniment – some of the pieces work well when sung with a jazz band, and others with piano. Much of Aquila's repertoire includes pieces that were written, performed or arranged by women, and the group often performs Joanna's own compositions. These have included 'We Will Remember Them', a moving piece written to mark Remembrance Day, 'Give Us Grace', a Jane Austen prayer set to music, and '21st-Century Woman', a gospel-style song written and composed by Joanna that made history by being the first recording session of a song which was written, conducted, sung, played, engineered, produced, mixed and mastered entirely by women. This rousing piece celebrates the diverse roles women play in society, and encourages women to stand up and be counted as the fight for equality continues.

Joanna said: "Although I mostly conduct when we perform, I encourage the singers to listen to each other for entries and coming off, rather than just relying on my direction; for some of our songs, I stand at the side and let the group perform entirely by listening to each other."

Over the last two years, Aquila has performed in numerous venues within St John's – in the Chapel, in the Bar, at private College dinners and at the May Ball – as well as in concerts in the Old Divinity School, including one singing alongside the College's Jazz Band.
Being a member of the group has had a transformative effect on life at St John's for its members. One singer, third-year PhD student and marine ecologist Arlie McCarthy, explained: "Being part of Aquila has helped me find my place in the College. Rehearsals are a highlight of my week, transporting me away from my PhD research for one and a half hours a week. I've also become much more confident, not just with singing, but also performing and presenting my academic work."

Joanna has seen first-hand the positive impact singing can have on people's mental wellbeing. She added: "One student told me she couldn't have got through her finals without Aquila, another said that being in the group had been a highlight of her time at Cambridge."

Aquila will be performing in two concerts at the end of Michaelmas Term. The group will be singing a few numbers with the Jazz Band in the Old Divinity School on December 3 at 7.30pm, with songs including 'Killing Me Softly' and 'Natural Woman'. And on December 5 they will give an informal lunchtime recital (1.10-1.50pm) in the New Music Room, showcasing much of their repertoire. At these informal performances guests can pop in and out on their lunch break and no pre-booking is required.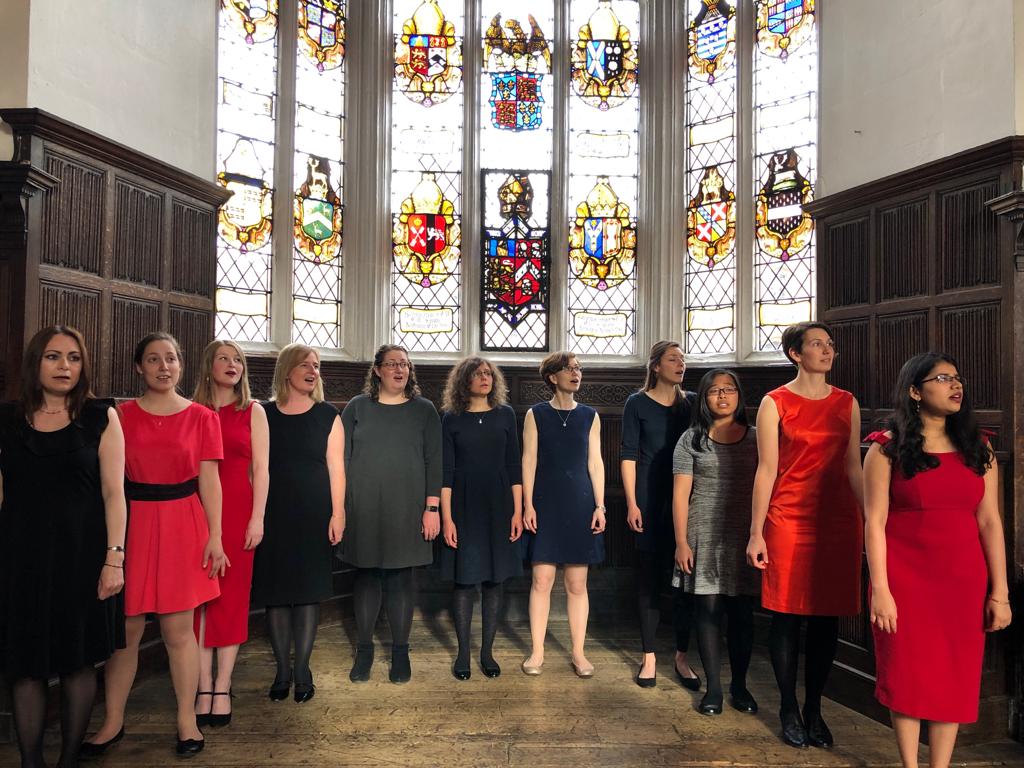 Andrew Nethsingha credits Aquila with being a highlight of his time as Director of Music at St John's. He said: "Hearing and watching the inaugural concert of Aquila in March 2018 was one of the most enjoyable, rewarding experiences of my 12 years as Director of Music – simply joyous. Aquila is now a central part of music-making in College; long may it continue!"

Sarah Dodsworth, Head of the Master's and President's Office, has worked at St John's for 18 years and is one of six members of staff who currently sing in Aquila. She joined Aquila at the first rehearsal and summed up the feelings of many members when she said: "Aquila is amazing! I feel proud to be a member of the College's first all-female vocal music group – well worth the 500-year wait."

Aquila rehearse at 5.15pm every Tuesday evening during term time in the New Music Room, so anyone interested in joining can drop in,or contact Sophie Kirk, College Music Administrator, on S.A.N.Kirk@joh.cam.ac.uk. New members are always welcome.

More information about Aquila
Published: 20/11/2019

Back to College News