Alunus de Insulis, De maximis theologiae. (Basel: Jakob Wolff or Johann Amerbach, before 1492). Purchased June 2012.
De maximis theologiae is a work by the French poet and theologian, Alain de Lille (c.1128-1202), known also in Latin as Alunus de insulis. It consists of 134 maxims outlining the basic principles of theology, one of the most famous of which is: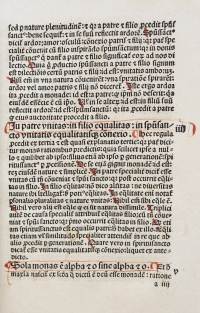 "God is an intelligible sphere whose centre is everywhere and whose circumference is nowhere".
Alain ascribes this particular maxim to Cicero, although later sources attribute it to Hermes Trismegistus.
Little is known personally about Alain de Lille, though he is thought to have lived and taught in Paris for most of  his life. He is the author of many works, including De Planctu Naturae (The Plaint of Nature) and Anticlaudianus. His theological treatises draw upon both Neoplatonic and Aristotelian sources.
On the front leaf, one can see the manuscript initials, date and mark of the rubricator (three crossed arrows).
The volume was acquired with the benefit of the Noël Marshall Fund.