Advent Carol Service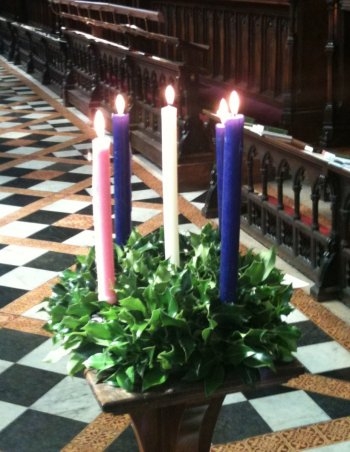 The Advent Carol Services with be held on Saturday 24 November 2018 at 6.00pm and Sunday 25 November 2018 at 3.00pm.  The Sunday service will be recorded by BBC Radio 3 and broadcast on Advent Sunday (2 December 2018) at 3.00pm.
The pattern of the Advent service, in its four sections, reflects the season's growing anticipation, both of the first coming of Christ and of that Day when the prayer 'Thy Kingdom come' is finally and fully answered.
Tickets for these services are free, however priority will be given to members of the College.
Entrance to this Service is by ticket only.
Applications close on Monday 29 October 2018
Application for this service have now closed, applicants will be notified of the status of their application in due course
We very much regret that, following a recent audit of seating capacity in Chapel, we are unable to accept ticket applications from members of the public.  Should you wish to queue outside the Chapel on Saturday or Sunday, we will endeavour to seat as many people as possible in seats which are unclaimed by ticket holders 20 minutes before the commencement of the respective service.  Please note that seats are not guaranteed and queuing is entirely at your own risk. 
Please note that these services are not suitable for toddlers or babies.
If you have any quries about this, or any service, please email the Chapel Clerk or phone on (01223) 338676.