Butler Day - Adventures in Italy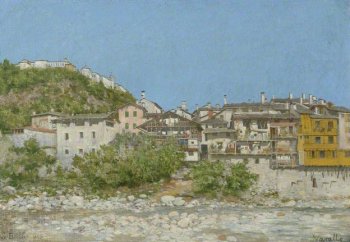 'Landscape, Varallo', by Samuel Butler (oil on canvas, 1885)
Sat, 12/01/2013 -

10:00

-

16:00
To inject some sunshine into winter, our second 'Butler Day' takes Samuel Butler's travels for its theme, investigating his relationship to his adopted country, Italy, and the artworks he found there and produced in response. These events are free and open to everyone – so put the date in your diary and come along!
The programme for the day is as follows:
Exhibition: Old Library, 10.00-16.00
A new exhibition of photographs, artworks, maps and books from the Samuel Butler Collection. Booking is not required for this event – drop in any time between 10am and 4pm.
Talk: Divinity School, 12.00
Samuel Butler has been an unusual protagonist in the late-Victorian cultural debate. Although he was largely ignored by the British intellectual establishment of his time, he has since been considered un grande romanziere e biologo inglese amico dell'Italia, 'a great novelist and English biologist friend of Italy'. This talk by Cristiano Turbil aims to explain the very particular relationship between Butler and Italy. Using examples from Butler's life and travels, alongside official documents, notes and books preserved in the Library at St John's College, Cambridge, we will re-enact why, how, when and where Butler became important in Italy, and see how his work on the Sicilian origin of the Odyssey and his idea of psychophysiology penetrated the Italian intellectual debate.
Talk: Divinity School, 14.00
Believing that his art school education and the closed-mindedness of the Victorian establishment had constrained his natural talents, Samuel Butler spent the latter half of his life as a self-taught traveller, gradually accumulating knowledge of monuments, museums and art works, and sketching in the field. Join Dr Clarice Zdanski, practising painter and Artist in Residence at Franklin College, Switzerland, to hear how her approach to her own work and teaching has been guided by Samuel Butler's theories of art history, and how viewing things 'off the beaten track' can bring a whole new set of artistic possibilities to light.
Talk: Divinity School, 15.30
In 1882 Samuel Butler published Alps and Sanctuaries of Piedmont and the Canton Ticino, a charming travel guide to the little-known churches, villages and alpine ranges of southern Switzerland and northern Italy, which he visited annually. In 2012, PhD student Julia Powles put Butler's words to the test, retracing his footsteps along 376km of alpine routes, and documenting her journey in words and pictures, just as Butler did. This illustrated talk will show Julia's views captured in 2012 alongside Butler's sketches and photographs from the late 19th century, and discuss first-hand the experience of using Butler's guide book as a traveller in the region today.
To reserve a place at any of the talks, please email Rebecca Watts on rew35@cam.ac.uk or telephone the Library on 01223 339 362.
For more information about the Samuel Butler Project, visit the homepage.