Advent Carol Service 2013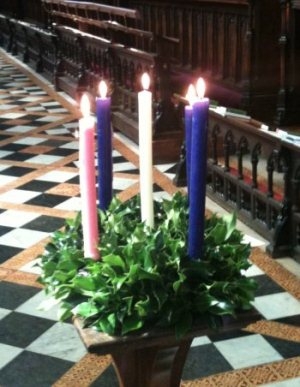 Sat, 30/11/2013
-
Sun, 01/12/2013
Saturday 30 November, 6.00pm-7.30pm
Sunday 1 December, 3.00pm-4.30pm
St John's College holds two Advent Carol Services. Saturday 30 November 2013 at 18:00 and again on Sunday 1 December 2013 at 15:00 (the Sunday Service will be broadcast live by BBC Radio 3)
The season of Advent is traditionally a time of preparation for Christmas, and its observance dates from the sixth century in Gaul. Originally, it stretched from St Martin's Day (11th November) to Christmas Eve, and was known as 'The Lent of St Martin'. This title suggests the parallel between Advent and the Lenten fast. Meditations on the themes of judgement and our ultimate destiny were developed for each of the four Sundays of Advent.
The ancient people of God, the Jews, looked forward to the coming of God's Kingdom when there would be a new order of justice and righteousness. The early Church saw that the Kingdom had been anticipated and experienced through the life and ministry of Jesus Christ, but still prayed 'Thy Kingdom come', looking forward to a second coming and the final consummation of all things.
The pattern of this Advent service (in its four sections) reflects the season's growing anticipation, both of the first coming of Christ and of that Day when the prayer 'Thy Kingdom come' is finally and fully answered.
Application for Tickets to this Service have now closed, we will contact all applicants shortly to advise on the status of their application and will send out tickets in the week commencing 11 November.
If you have any queries regarding your application please email the Chapel Clerk or phone on (01223) 338676.
These Services are unsuitable to toddlers and babies.